Simply the Best Chocolate Brownie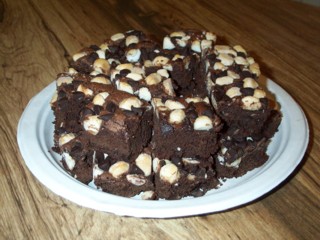 This recipe was adapted by Eric Postpischil from page 42 of Death by Chocolate by Marcel Desaulniers.
Yield
Two batches of 25 brownies each. This recipe can be divided by two for one batch, but I usually make a batch to keep and freeze and a batch to give away. The brownies freeze and thaw reasonably well.
Notes
Macadamias:
Raw unsalted macadamias are best. Roasted macadamias may brown too quickly (and are too expensive). I get them at Trader Joe's, and some natural food stores carry them.
You can use cheaper nuts or omit them. If you omit the nuts, reduce the baking time by 10 to 15 minutes.
Whole macadamias or halves may be used. Halves may look better, since they cover more of the brownie.
Flour: I use cake flour (Pillsbury Softasilk), not all-purpose flour.
Chocolate: I use Callebaut for baking. Most brands may work well.
Recipe
6 oz. unsweetened chocolate (170 g)
4 oz. semisweet chocolate (113 g)
Break chocolate into pieces, perhaps ½ oz. (14 g), for easy melting.
8 T unsalted butter (113 g, 4 oz.)
Melt butter with chocolate in double boiler, about 10 to 12 minutes over low heat. (If you do not have a double boiler, put a little water in a medium pot and put the chocolate and butter in a bowl over the pot, not touching the water.)

Stir to ensure all chocolate is melted or almost melted, then remove from heat and stir until smooth. Put aside.

Line two 9"×9"×2" pans (about 23 cm × 23 cm × 5 cm) with parchment extending over sides. (You can butter the pans instead, but the brownies are easier to remove if you use parchment.)
½ C cake flour (50 g)
4 T unsweetened cocoa (24 g)
2 t baking powder (10 cm3)
1 t salt (5 cm3)
Sift together flour, cocoa, baking powder, and salt. Put aside.
15 oz. semisweet chocolate chips (425 g) (raspberry chocolate chips if available)
Separate chips into one half (for batter) and two quarters (for topping). Put aside.
12 oz. macadamia nuts (340 g, 3 C)
Separate into two halves. Put aside.

Preheat oven to 325 ºF (163 ºC).
6 large eggs
2 C sugar (400 g)
1 t vanilla extract (5 cm3)
1 t rasbperry extract (5 cm3) (or another t of vanilla)
Place eggs, sugar, vanilla, and raspberry into bowl of mixer with two balloon whips.
Mix on high until slightly thickened, about 90 seconds.
Add melted chocolate to egg mixture and mix on medium for 30 seconds.
Add sifted ingredients to batter and mix on low for 10 seconds, then on medium for 10 seconds. Add sour cream to batter and mix on medium for 5 seconds.
Use rubber spatula to combine thoroughly.
Add and combine the reserved half of chocolate chips.

Pour the batter into the prepared pans. (Spread it a little and level the top, but it is okay to leave the corners empty. The center may fall after cooking, so I find the eventual result is more level if the batter is not completely spread into the corners.)

Sprinkle macadamia nuts and remaining chocolate chips over the batter.
Tamp down the toppings a little to set them into the batter.

Bake until toothpick comes out clean, about 45 to 50 minutes.
Rotate around 23 minutes to cook evenly.
(I usually let them bake 50 minutes, maybe even a little more, until the macadamias have browned nicely. If it takes longer than that for the macadamias to brown, you probably need to increase the oven temperature the next time you make these brownies.)

Remove the brownies from the oven. Turn the oven off. Allow the brownies to cool for several hours at room temperature. Refrigerate uncovered overnight. (You can cover them, but the chocolate chips will bloom—develop white spots where the cocoa butter is pushed out. That does not affect the flavor, but the brownies are prettier without the spots.)

Remove each brownie from the pan and cut into 25 pieces. (By eye if you like or by measuring a shade under 1¾" [4.3 cm] on a side if you want even squares.) If you cannot wait overnight, you can cut the brownies earlier, but they may be messy.

Adapted by Eric Postpischil from page 42 of Death by Chocolate by Marcel Desaulniers.