Eric's Germany Journal, Sandi Visits Germany
Thursday, April 10, 2003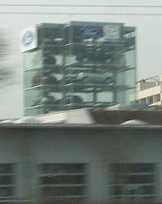 Column of cars.

In the morning, I took the train to Munich to meet Sandi at the airport. I saw this column of cars in a glass building on my first trip to Munich and tried this time to get a picture to show you. It is used by an automobile dealer to show their wares. This is the only shot I had time to get from the train, so there is not a bigger, better-resolution image to show you.

I got to Munich early and had some time to walk around a bit, study the transit system, and check out a few potential chocolate stores before I picked up Sandi at the airport. I say "potential" chocolate stores because all I had were listings from the phone book that were not completely clear about the nature of each business. The best category I could find included importers, wholesalers, and bakers with a few sweets along with straightforward chocolate stores.

Schizoid train.

I did not make any great finds in chocolate stores and headed to the airport. Getting to the airport can be tricky. This sign seems to show that the front half of the S1 train goes to a different place than the back half. The map of the transit system does indeed show that the S1 line splits before reaching the airport.

There is a store at the airport with a bilingual pun: Buyern. (Munich is in the German state of Bayern.)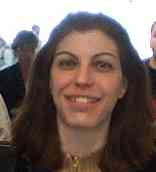 Sandi arrives.

Sandi's plane arrived on time, and we took the S8 to the Hauptbahnhof. I am entering what I learned about getting from Munich's airport to Ulm in a separate web page so future visitors will have step-by-step directions.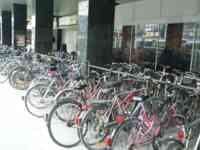 Lots of bicycles.

We stored Sandi's luggage in a locker and set out to see a little of the city. I have reported most of what we saw previously, when I went to Munich for the day. Here is one more picture, which shows part of the reason the average body mass in Europe is lower than in the United States. People actually use bicycles to get around.

We did get to see the whole Glockenspiel show, including a brief joust between two marionettes on horseback. (Marionette is not the right word, because that is a puppet controlled by string or hand. What is the term for a mechanical figure? Hey! Is there any relationship between "marionette" and the name of the square, Marienplatz, or is that just coincidence?)

After eating lunch and viewing the Glockenspiel, I navigated a route including several chocolate stores around the Marienplatz area. Only one is worth visiting when you are in the area. Sandi did some window shopping, and a little in-store non-shopping, examined every plant at a plant store, and so on. For most of the day, the weather was a bit cold but clear and not unpleasant, but it started raining lightly as we walked around.

Sandi has read almost none of my journal pages, so I had to repeat to her lots of things I have explained about Germany, like not walking in bicycle lanes and pushing through crowds.

After exhausting the shopping district, we headed past the imperial residence, surveyed some lesser residential areas, crossed the Isar, and walked through some parks. It was getting late, so we recrossed the Isar and looked for transportation back to the train station. Right about then, it started snowing, and a bit heavily, so we got on a Straßenbahn without knowing where it was going, except that it seemed headed south. I tried to follow its stops on a map and tried to get us off at a useful place. Mostly by luck, we disembarked right next to a U-Bahn stop, and that took us straight to the Hauptbahnhof.

The trip home was uneventful, but it was late by the time we arrived. Sandi's pedometer showed she had walked 25,000 steps in the 30 hours since waking up in Atlanta, during which time she got very little sleep. In spite of that, she wanted to check her email before going to sleep.

Friday, April 11, 2003
Sandi slept until almost 2 p.m., except for waking up briefly. That did not leave us much time. We started downtown and saw the interior of the Münster and walked over to the Crooked House. Then we walked along the Danube for a while. Near the east end of the city, we had company, shown below.
| | | |
| --- | --- | --- |
| | | |
| These ducks were minding their own business. | But this fellow came right up to our feet looking for food. | This swan came over to see what was going on. |
| | | |
| It brought some friends. The swans at the top are coming straight to us. They are turned to fight the current. | Another of those orange-eyed ducks showed up. | Many birds of several types showed up when Sandi broke out the pastry. |
| | | |
| A gull joined in. | But these are fickle friends. They leave as soon as lunch is over and see what's happening across the Danube. | It does look nice over there. |
The swans make sounds like horses snorting. We walked through Friedrichsau, and Sandi wouldn't listen to any of my advice about the city. For example, she wanted to see what was over a hill, and I knew the park ended there, but she insisted, and we ended up walking by a parking lot for the convention center.
Eventually, we walked back into the city. I wanted to try Pflugmerzler for dinner. It is reputed to have the best Swabian cuisine in town. Of course, that advice comes from Lonely Planet, which steered me to the frog at Hotel Bäumle. In any case, the Pflugmerzler said they were full (with some private party?), so we went elsewhere. They did have the Ulm sparrow poster in their entryway, so I may return to ask if they can help me locate a copy. That is a poster showing all 255 sparrow sculptures.
We ate at Kornhäusle, which serves pancakes (or thick crêpes) with a variety of fillings. Kornhäusle was busy, so two other people were seated next to us, Ruth and Nicole, who were situated similarly to Sandi and me—Ruth is newly living in Ulm, and Nicole is visiting. Ruth is German but spent five years in Great Britain doing her Ph.D. and says she has forgotten some of her German because she spoke English so long!
Back at home, Sandi and I tried a little of the sauerkraut juice. Very little. It is very potent. If there is anything in it besides salt and vinegar, I can't tell.

Saturday, April 12, 2003
Sandi slept until after 10, and we did not get out of the house until after 11. We did not have time to do the things I hoped to do. We saw the farmer's market, stopped by a souvenir shop, did some shopping, and then expended a lot of time trying to figure out train options for the next few days. My preferred grocery store closes at 4 p.m., and the mall closes at 4:30 p.m., but the grocery store there stops letting people in at 4 p.m. We split up so Sandi could explore a church for tomorrow and I could try to get to a grocery store before it closed. Even so, I did not make it, and now we have little food for the next few days.

Tomorrow everything is closed, and Sandi wants to spend the remaining days taking trains to other cities, so we will see nothing else in Ulm—none of what my life here is like, no museums, and no more of the city history or flavor. Sandi plans to buy a whole-network pass and ride the transit system (mostly buses) around the area. The local transit system covers a large region. However, since everything is closed, and she is not aiming for any particular attractions, I have no interest in going, so I will stay home.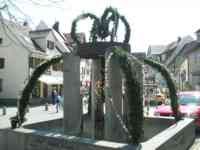 Fountain at entrance to Im Baindtle.

When I came home, there was a large stone fountain by the entrance to Im Baindtle. It has been covered until now, so I thought it was just an inert stone monument. The water was not running, but I suppose it will when the weather gets better. The fountain is mostly stone, but it was decorated with plants and has a crown shape. Update: When I took this picture on Monday, the water was running.

Sunday, April 13, 2003
Sandi rode and walked around the towns around Ulm, and I did laundry and chores and whatnot.

Sandi wanted to visit Heidelberg Monday, so I printed train schedules. It is too late to get the good discounted prices on the fast trains, and Sandi wanted to buy a Baden-Württemberg day pass. The pass is only €21, and up to five people can ride together with just one pass, but you cannot take the express trains or start before 9 a.m. on a weekday. The earliest you can get from Ulm to Heidelberg is 1 p.m., with four hours of travel, and, to get back to Ulm before 11 p.m., you have to leave Heidelberg at 6 p.m. (which get you to Ulm around 9:40 p.m.).

That is eight hours of travel time (including some on the Straßenbahn in Ulm) for five hours of sightseeing. Not a good deal in my eyes. With express trains, the travel time could be cut in half, and you can start earlier and stay in Heidelberg longer.

Things are going badly.

Monday, April 14, 2003
Sandi did not leave the house in time for the Heidelberg trip. She came back around 10:45 a.m. to send email to make a hotel reservation, with the intent of getting back to the Hauptbahnhof for an 11:10 train to I-don't-know-where. The next Straßenbahn after she left the house was at 11:02, so I know she did not make the train.

German culture values planning. Andreas told me there is a German saying that is approximately, "If you do not work with the head, you will work with the feet," meaning that failing to plan causes more work. The value of planning is in German sayings, fare structures, timetables, and business hours. That is why there is a book available that lists every time that every bus in the regional transit system leaves every stop for all of 2003! It also includes the Straßenbahn and regional trains. Once you know the system, it is fairly easy to get anywhere with a little planning. If you don't plan, it is harder to get anyplace unfamiliar.

I saw a bright yellow car with Zitrone painted on it prominently. Zitrone means lemon. The car was leaving an auto dealer. The text was a bit fancy but did not look like a product logo, so I am wondering what that is about.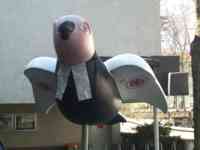 Pastor sparrow.

Ruth said there was a sparrow in front of a church by Ehinger Tor, so I went to find and photograph it. The picture came out better than I expected. The sparrow was in the shadow of the church, and I thought the pictures might be too dark without enough contrast, but they were okay.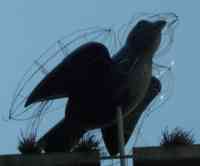 Black sparrow inside wire frame.

Then I went downtown and photographed this black sparrow. It is above the retail stores in the center of town but appears to be in a private residential terrace (there are clothes drying behind the sparrow, out of the photograph). This is the best photograph I could get. From what I can see, the sparrow is completely black. It is inside a sparrow-shaped wire frame, so maybe that is some artistic statement.

Sandi bought some low-fat milk yesterday, and we were wondering why the nutritional information showed Eiweiß in the milk. Eiweiß means egg white, which you do not expect to see in low-fat milk. I realized today that is what they use to mean protein.

Sandi got back after 10 p.m. and had gone to Stuttgart and seen shops and parks.

Tuesday, April 15, 2003
Sandi left early enough to catch the Heidelberg train but did not plan to go to Heidelberg and did not take the Heidelberg map, so I do not know where she is off to. I mostly spent the day working at home.

Sandi did get to Heidelberg, where she saw the castle, and stopped in Stuttgart and visited an art museum there. She is happier now.

Wednesday, April 16, 2003
Sandi plans to go to the town of Füssen and the nearby Neuschwanstein castle. She may stay overnight in a hostel.

Thursday, April 17, 2003
Sandi got home early enough that we had time to go out to dinner. We passed by the Münster while the bells were sounding. Those things are loud. When Simone and I climbed the spire, we passed by the bell room. What would it be like if you were there when the bells started sounding?

Friday, April 18, 2003
We got up early this morning to go to the Hauptbahnhof for Sandi's train to Munich. She is on her way back home now. Things ended okay, but I still wish they were better.

Oh, well. At least while Sandi was here, I had ex-girlfriends on three continents (America, Europe, and Australia).


© Copyright 2003 by Eric Postpischil.