Eric in Germany
Latest Status and News
I lived and worked in Ulm, Germany, from December 12, 2002, to September 17, 2003. While I was there, I wrote a journal of my experiences and recorded about 900 photographs. You will find those in these web pages.

Almost all of the images in these web pages are linked to larger versions that show more detail. Click on an image to see the larger version.
Main Journal Pages

Contents of This Page

Other Pages
Visiting
It is too late to visit me, but here is information in case you ever want to visit Ulm.

Activity Categories: What do you want to do when you come visit? If you would like to hang out in Ulm with me, you can come almost anytime, and I will show you the city. The same goes if you want to use Ulm as a base but will travel to nearby things in Germany on your own. If you'd like me to travel with you, we need to plan when I can take some time off from work. That should be pretty flexible, since it is a fixed-price contract, so my time is my cost. If you'd like to travel through more of Europe, considering joining me on the tour I will take after my job here is done. I won't be able to schedule that until the job is mostly done. However, let me know now if you are interested so we can discuss it.

Hotels: You can stay in the Hotel Ibis, since I stayed there and know it is okay even though you can do better. Or you can try an untried hotel. It would be your choice whether to go up or down in price. After a few people have visited me, I may have more information to report. I have entered information from the tourist bureau and a guidebook, and I recommend Deutsche Bahn's Hotel Reservation Service.

Money: For cash, change your money in the Munich airport. Do not change your money in the United States. For credit cards, check which of your accounts gives you the best rate. Currently, my Visa card gives me the interbank rate plus two percent, while my Mastercard charges significantly more. The bank issuing the card likely adds a fee (even though they provide nothing for it) to the Visa or Mastercard charge.

Munich: After you fly into Munich (or Stuttgart, but there are direct flights to Munich), you have to get to Ulm. See the next paragraph for information on doing that on your own. If you would like me to meet you, then contact me to make plans before buying your ticket. There is a day trip I would like to make in Munich, so I would like to include that in my plans to meet you, either before or after.

Traveling from Munich to Ulm: I have written step-by-step directions for getting from the Munich airport to Ulm. Print those to take with you.
Round-trip Munich-Ulm Deutsche Bahn ticket prices.

| | | |
| --- | --- | --- |
| | One Adult | Two Adults |
| Second class 7-day advance | €35.20 | €52.80 |
| Second class same day | €58.80 | €88.20 |
| First class 7-day advance | €53.20 | €79.80 |
| First class same day | €88.40 | €132.60 |
I recommend buying a second-class round-trip ticket from Munich to Ulm.

If you plan specific travel times, you can buy a cheaper ticket in advance. If you buy a ticket when you get to Munich, it will cost more. 2003 ticket prices are shown to the right. These are for the fast ICE (Inter-City Express) with a Saturday-night stay. There are slightly lower prices for slower trains with more stops and even a very cheap day pass that might be suitable if you do not mind taking a long time to get to Ulm.

Getting from the airport to the Munich Hauptbahnhof takes about an hour from leaving customs to reaching the train platforms, but I would allow more than two hours for first-timers.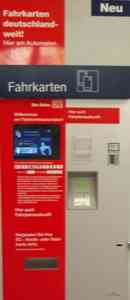 Reserving Train Tickets: I am not sure how to go about this. You can investigate tickets on the net here. Bahncard holders can print the ticket directly from the net. The rest of us either have to have the ticket mailed or pick it up at any Die Bahn machine or, I expect, a ticket counter, and I am not sure which or how or whether they will mail tickets to the United States. We will have to investigate further. I could buy tickets and mail them to you.
Things To Do in Ulm: The German Bread Museum is here. You can watch them developing new strains of wheat, which means, yes, they are actually inviting you to watch grass grow. And you thought it was just a saying. The Ulmer Museum has ancient and modern art. You can poke around the web pages I point to below for other ideas. Ignore the tour of the city; it is in German unless you have a group. If it is a clear day, you can climb 143 meters to the cathedral's viewing platform in the Münster. I have done it once, so I will wait for you at the bottom. There are also various monuments, buildings, and parks to see. You can't see where I work; they wouldn't even let me in to meet people before I started work.
Air Travel: Round-trip tickets from Logan airport to Munich (airport code MUC) or Stuttgart (STR) can be had for under $500. In fact, my seven-hour direct flight from Boston to Munich cost only $370, round-trip. The train ride to Ulm is about an hour from Stuttgart and 80 minutes from Munich. I recommend Munich because there are direct flights from the US to Munich, which is more pleasant and saves more time than the difference in train ride times. Travelocity lets you find low fares before picking dates, although you still have to try several dates before finding one on which seats are available.
Flying into Frankfurt (FRA) is another possibility.
US citizens do not need a visa to visit Germany. You do need a passport. If you do not have one, go to a large post office and get the form now. The form is probably also available somewhere in the State Department's web pages, but I do not have a URL for it.
Avoid scheduling a return flight before 11 a.m., unless you want to stay in Munich the night before. Getting to Munich from Ulm earlier than that can be tricky.
The City of Ulm, Germany
I am living and working in Ulm. Ulm is a city of about 100,000 people on the Danube. It is at least 1,149 years old; there is a historical reference to "Hulma" in 854. Ulm is in the state of Baden-Württemberg on the border with Bavaria. Ulm borders Neu-Ulm across the Danube. Neu-Ulm is a city of about 70,000 people in the state of Bavaria. Ulm is between Stuttgart and Munich, at 48º23'58" north latitude, 9º59'35" east longitude. That is almost 6º north of my home in New Hampshire and 81º east.

A good write-up of the Ulm sparrow story is at the Stein Collectors International web site. [2021: Link is dead.] Some information about Ulm is available at the Ulm Tourist Bureau web pages. There is also some information at the Germany tourist bureau.
The Job
My job was to write a high-performance FFT implementation for European Aeronautic Defence and Space Company (EADS). The contract did not involve a security clearance. The recruiter originally told me he thought the FFT was for a transport vehicle, but I was told very late in the negotation it was for a fighter aircraft. Yet later, after starting work, I learned the FFT is actually for a general library they are constructing, so it is somewhat like the work I was doing for Sky Computers rather than part of a specific final product.

FFT stands for Fast Fourier Transform. A web search for FFT will give you plenty of results; it is an important algorithm. They are paying me to move to Germany and do this because I can make the FFT execute faster than just about anybody else in the world.

The FFT is a fast algorithm to calculate the Discrete Fourier Transform (DFT). To engineers, a DFT takes a sequence of amplitudes (like sound volume recorded by a microphone over time or light intensity recorded by a camera over a picture width) and changes it to a sequence of frequencies. After that, it is much easier to pick out certain frequencies in the sound or to enhance certain features of the picture, such as the sharpness of object edges.

To mathematicians, the DFT is a basis transform in a multidimensional vector space. To software engineers, the FFT is a highly parallel but complicated numeric computation. My job is to write software that calculates the FFT very quickly. To do that, I write individual machine instructions in assembly language, which very few people still do. To get the software to be as fast as possible, I arrange the instructions so that several different instructions can be executed by the processor at the same time. Also, instructions on high-performance processors operate on several different sets of data at the same time. So I have to organize multiple instructions working on multiple data in ways that are efficient. It is worse than any two-dimensional jigsaw puzzle ever could be.
Contact Information
If I return to Germany, alternate information that might be used to contact me will be posted here.

The employer is EADS Deutschland GmbH at Wörthstraße 85, 89070 Ulm. The phone number there is +49 (0731) 392 0.

I had said I would register with the US Consulate General in Munich, but the Munich consulate does not serve Baden-Württemberg. The Frankfurt consulate is in Baden-Württemberg (except that Frankfurt is its own state), but it doesn't serve Baden-Württemberg either—I called twice and got no service either time. When they put me through to the department for US citizens to register with the consulate, the phone just rings and rings. I sent them a letter on February 17, 2003, and have not received any response as of December 20, 2003. If you want to try them, the consulate is at Siesmayerstraße 21, 60323 Frankfurt, Germany. The telephone number is +49 (069) 7535-0.


© Copyright 2002 by Eric Postpischil.