Europe 2009
In the summer of 2009, I traveled to England and Ireland for a week of work and a week of vacation.

Saturday, June 27
I left for London today, but I had started preparing a week before. Each day, I woke, ate, and went to work an hour earlier. By Saturday, I was on UK time and planning to be alert for a full day in London before continuing to Cambridge. So, Saturday, I woke at midnight, even though I did not leave home until 8:30.

The direct ten-hour flight went reasonably well. I might have gotten six hours of sleep on the plane, although it is hard to tell how much time I spent semi-conscious wishing I were asleep.

Sunday, June 28
At Heathrow Airport, there were literally hundreds of people in line at border control. They were in the "all others" line, so I walked past them to the "European nationals" line. There were zero people in that line, so my new Austrian passport served me well. Also, I did not have to fill out the form all the foreigners did, and the only question I was asked was where I had just come from. I think they wave you through as long as you have not come from a city where there has been a recent outbreak of news.

There was no bank ATM in the airport, so I had to buy pounds at one of the rip-off currency exchanges. That is the last time I will do that; I saved pounds and euros from this trip for the next trip, so that I can get away from the airport before I need to buy local currency.

Getting Out of Heathrow
I saw no signs for the London Underground or for getting to Terminal 4, where I planned to take the Blue/Piccadilly line into London. A bus directory indicated a "Help Bus" with service to Terminal 4 stopped at stop 2, but I waited in vain for at least 20 minutes. I gave up and asked somebody for an alternative. That took me onto the London Connect for a train to Terminal 4. It was a long ride for an intra-airport transfer.

Entering Terminal 4, I still saw no signs for London Underground. I crossed Terminal 4 and found the Underground entrance at the far end. Then I descended the stairs, walked through a tunnel, and entered the Underground foyer. There, an Underground worker informed me there was no service into London today! They were doing some "engineering" work. So, back up, across Terminal 4, and into London Connect again.

That train took me to Paddington Station, where they informed me that the Underground's District and Circle lines had no service from Paddington to King's Cross today, so I should follow the footbridge to the Hammersmith & City line. I did, to discover tickets were not sold there. Back across the footbridge, along the platform, into the main railway station, across a bit, and down into the Underground, where I bought an Oyster card. (The Oyster card is like Boston's Charlie Card; it has prepaid credit for local transit at rates discounted from the cash rates.) Then up, across, down, along, up, across, down. After I finally got to King's Cross, the day went more smoothly.

Heathrow Airport is no fun, but I put that story into a box on the right so you can skip it if you do not want to read my rant.

My first stop picked up where I left off in 2003, at the London Science Museum. I revisited Babbage Difference Engine #2 #1. They have it in a transparent case, and it looks like they do not demonstrate it. The Computer History Museum in Mountain View demonstrated the Babbage Difference Engine #2 #2 every day. The science museum also displays slightly over one-half of Charles Babbage's brain. I am not sure what we are supposed to learn from that.

Another interesting exhibit in the computer section is a machine that models the national economy using water. It has valves and other controls to adjust spending on health or edducation, tax rates, savings, and so on.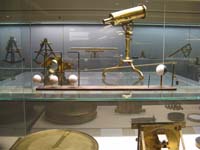 Tidal motion model.

One small hall displays antique science instruments. Here is a tidal motion model that explains why there are (approximately) two tides per day. Spheres on the left model the ocean, the Earth, and more ocean. Strings pull them toward the moon on the right, where weights hang from the strings. The moon's gravity pulls the near ocean most, the Earth a middling amount, and the far ocean least, so their models are pulled by large, medium, and small weights accordingly.

The model rotates around a hole in the center, modeling how the Earth and moon rotate around a point between them. When the model is spun at the right speed, the centrifugal force on the Earth sphere balances the pull of the weight, and the sphere hangs straight down. At that time, the outer ocean sphere hangs out, away from the Earth, because it experiences greater centrifugal force but a lesser pull toward the moon. The inner ocean hangs toward the moon, away from the Earth, because it experiences less centrifigul force but greater pull toward the moon. So oceans on both sides of the Earth are pulled away from the Earth, causing two high tides.

| | |
| --- | --- |
| | |
| Artisan du Chocolat. | Artisan's Couture chocolates. |
After the museum, I had fish and chips at a local shop. Then I walked to Lower Sloane Street to visit Artisan du Chocolat. I took two pictures in front of the shop. One was of the shop, of course. The other was to post to Facebook as evidence I had arrived in London. Since I was not visiting tourist spots, I selected something else distinctive.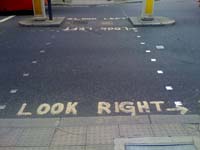 Evidence of London.
Artisan du Chocolat is very nice, and the price for their Couture chocolates is pretty good. It should be your first stop in London.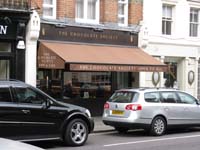 Chocolate Society.

The Chocolate Society was near Artisan du Chocolat, so I walked over to it. Unfortunately, it is closed on Sundays. That is okay because my calorie budget is strained enough on this trip, and I visited before, in 2003.

Around 14:00, a couple asked me for directions to Victoria station, keeping my being-asked-for-directions streak going.

My final task in town was a visit to Bobbin Bicycles. They carry Yakkay helmets, which are designed to look more like regular headgear than bicycle helmets. Unfortunately, Bobbin is also closed on Sundays.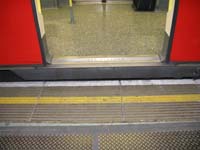 A gap.

Here is one of the gaps the London Underground is always telling people to mind. The picture does not really convey the distance, and this is not the largest drop from train to platform I saw.

Finally, I took the train to Cambridge, where signs at the train station boasted that Cambridge is the "Home of Anglia Ruskin University."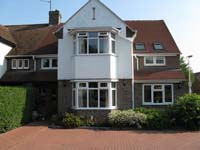 Alington House.

From the train station, I walked to Alington House, a bed and breakfast I picked for its proximity to the train station, the city center, and the work site. I also saved Apple a bunch of money, because it is fairly cheap. I hope Apple appreciates that. Some of my colleagues also booked Alington House, but a couple stayed at Crowne Plaza in the center of town for five times as much money, and they needed a rental car too. The Alington rooms were small, as I expected, and Alington was the smallest, most informal of the inns I have stayed in so far. For example, after breakfast, they use the dining room for ironing linens.

I photographed and weighed my samples from Artisan du Chocolat. What torture to have to carry fine chocolate for hours before I can taste any. It was hot in London and Cambridge, but my chocolate survived well enough.

Monday, June 29, to Tuesday, June 30
In the morning, Richard, another Eric, and I walked to work. Before the morning ended, I had preliminary results. They were good, so I knew the week would go well.

| | |
| --- | --- |
| | |
| The Wrestlers, a Thai restaurant. | Red Lion, a Thai restaurant. |
Here are the two places where we went for lunch Monday and Tuesday. I do not know who chose Thai two days in a row, but we did have more variety the rest of the week. Besides lunch, there is not much to say about the work days in Cambridge, partly because I cannot tell you what we were doing. Someday, though, everybody will want one. There were plenty of bicyclists on the streets. There were not as many as in some cities, still many more cars than bicyclists, but bicycling in Cambridge is soemthing regular people do, not just athletes and environmentalists. Most of them did not wear helmets.

We went into town for dinner, passing the Eagle Pub, where Francis Crick and James Watson announced their discovery of how DNA carries genetic information. I had a quick chance to survey a few of the chocolate stores in town, including Hotel Chocolat, Thorntons, and Chocolat Chocolat, none of which I characterize as noteworthy.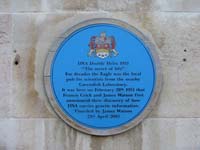 Plaque for DNA announcement.
Wednesday, July 1
Robert, one of the locals we were working with, took us punting. Robert punted us up the Cam, and a few of us took tried it on the way back. It is not straightforward. You have to push backward to move the boat forward, but you also have to get it pointed in the right direction, which requires pushing left or right to start it turning and pushing the other way to stop it turning. You can also trail the pole in the water to use as a rudder. The pole has to be pulled hand-over-hand out of the water, dropped in, and twisted out after it has been pushed into the mud. When the pole is on your right, pushing the boat right requires pushing the pole left under the boat.

| | | |
| --- | --- | --- |
| | | |
| The Cam. | The Cam. | Punting dock. |
| | | |
| Boarding. | Starting out. | Leaving the dock. |
| | | |
| Passing under the Mathematical Bridge. | Clare College and King's College Chapel. | Approaching north dock. |
| | | |
| North punt dock. | Plant life in the Cam. | Whale skeleton. |
If feels funny in this part of Europe because everybody speaks English, which is not what I am used to in Europe.
After punting, we ate at PizzaExpress.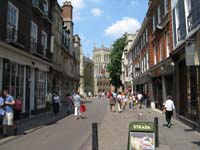 Rose Crescent Street.
Thursday, July 2
I had completed the essential tasks and some others on Wednesday, and my team back in California had not sent anything new by Thursday morning, so I took the day to go into town. (Trading it for Friday, a vacation day in the US but not so much here.) My first stop was Deveres Chocolate Company, which turned out to be a small shop retailing some ordinary Belgian chocolates.

Then I headed for the center of town and got you this video (8.6 MiB) of the Corpus Clock.

College buildings viewed across the Cam.
For lunch, I had my first pasty at West Cornwall Pasty Company, a "traditional" pasty. Then I explored the downtown/river area some more before starting a self-guided walking tour, Cambridge Past and Present, a podcast I had downloaded at home. It was a decent tour, and an iPod tour is a nice way to see a bit of town. After the tour, I walked back to the hotel.

Friday, July 3
Again there was nothing new from California, so I made some final measurements I had thought about Thursday. Also, we received an update to part of the system, so I reran all of my tests. That completed my work, and everybody else had good results too, so we packed up. Most of us left around noon, but Eric and Richard stayed somewhat longer.

I was largely insulated from the news media while traveling in Europe. This was a good time for that, since it shielded me from the overdose of Michael Jackson coverage.

Saturday, July 4
Saturday was a travel day. Eric and I took a local bus to the train station and the train to London. I saw Eric off on his way to Heathrow airport, and then I cached my luggage at Euston station. (I managed to stuff my notebook, its case, and my jacket into my carry-on bag, so I was freehanded in London.)

My TD Bank card was rejected by an ATM, even though I called TD Bank before leaving to inform them I would be using the card in England, and they told me the withdrawal limit was $762 per day. Yes, they actually said $762. However, they meant zero, as in "You did not use that card for a year, so we canceled it without telling you, and we are not telling you now." Fortunately, my Chase card worked, although that limits the cash I can get per day to a little less than I would like.

| | |
| --- | --- |
| | |
| Wilton & Noble. | Melt. |
Still, I had enough money for chocolate, so I set off for Ackerman's. What I found instead was Wilton & Noble, selling Ackerman chocolate. The Ackerman chocolate price was 20% higher, but, after tasting both, I think they have the prices the wrong way around. Wilton & Noble's chocolate is tolerable at the price they ask, although I recommend Artisan or Melt instead.

Melt was my next stop. It is a much nicer chocolate store. In addition to several truffles, I bought a few bars to take home. My chocolate reviews focus on confections such as pralines, truffles, and other filled chocolates, so I do not buy bars much. However, Melt had several intriguing bars, including a pine nut and raisin bar and a sea salted caramel bar, and I figured they might travel well enough to make it home in good condition.

That finished my required work for the day (sampling chocolate stores), so I took a walk using one of the cards from City Walks London, part of the City Walks line. It was a decent route, passing through unexpected terrain, including Regent's Park, a canal, some burrowing warthogs, a pirate castle, some canal locks, under and over various bridges, and through Camden market.

Path in Regent's Park.
Field in Regent's Park.
Leaving the park.
Hills. What are those doing in London?
Canal.
Burrowing warthogs.
Canal.
Pirate Castle.
Approaching Camden Town.
Locks.
During the two partial days I was in London, I used nine of the Underground's twelve lines, several simply because I was forced onto alternate lines by closures due to engineering work. Camden Town station had a working line direct to the Angel station, so I visited the bicycle shop, now open, before leaving town. I saw the Yakkay helmets and covers, but they are quite expensive (£95). Also, the helmets have only a few air holes, which the cloth covers block, so I am concerned they will be hot. I expect they are designed for the casual short rides that are common in Europe and not for sporting use. However, I think they might be too hot even for my 20-minute ride to work, unless I slowed it down quite a bit.
In the afternoon, I took a train to Liverpool and checked into the Britannia Adelphi Hotel. Perhaps it was a grand hotel 180 years ago, but it has not been well maintained or upgraded. I am accustomed to small hotel rooms in Europe, but have some sense about it. My room had a large, wood, upholstered chair that neither fit under the desk nor allowed room to pass to the other side of the bed. There was no Internet service. Although it was cool on ground level, my room on the fifth floor was hot, and there was no air conditioning or through-ventilation, just a window that could be opened only a few inches.
However, I was prepared by reviews before I booked to the hotel and accepted the shortcomings because the hotel is in the city center and very close to the two train stations I used in Liverpool. I will spare you other shortcomings of the hotel. No, wait, I cannot resist. No batteries in the television remote. A tissue box holder mounted so it would not hold the tissue box. A shower curtain too high or too short to stay inside the tub. Television by bad antenna reception, not cable. Okay, now I am done.

Sunday, July 5
Part of Albert Dock.

Sunday, I did tourist things. I was up and out of the hotel before most things were open, so I walked around a little of the city. At the docks, I found the Fab 4 Store. Then I encountered San Francisco Cabin, which appeared to be some sort of food stand. Unfortunately, it was closed, and I could not tell what kind of food Liverpool thought was San Francisco food. (I returned around dinnertime Monday, and it was closed then too.) Also, I was asked for directions again, less than 24 hours after arriving in town.

At Albert Dock, I visited the International Slavery Museum and the Merseyside Maritime Museum and walked around the rest of the dock. There are some shops and restaurants and a few boats perhaps using the place as an actual dock, and The Beatles Story.

Then I took the Yellow Duckmarine tour [2021: No longer operating after safety issues]. It was a reasonable tour for the price (€10, much less than the $35 for the Boston Duck Tour) but not the most fascinating tour.

| | | |
| --- | --- | --- |
| | | |
| The Yellow Duckmarine. | Entering the water. | In the water. |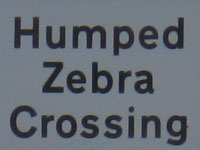 Humped Zebra Crossing sign.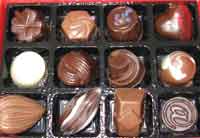 Chocolate Cellar chocolates.

We have humped zebras in the United States, but not humped zebra signs. There was another road sign in Cambridge I did not get a photograph of. I think it said "Adverse Camber." (A humped zebra is a speed bump with black and white stripes.)

Liverpool has a huge pedestrian shopping area, containing multiple malls and plazas and so on. At the edge is The Chocolate Cellar. It is not bad, but they are not making the best use of their Callebaut chocolate.

Further on I saw an impressive Dr. Who cake in a closed bakery, but I could not get a good photograph through the window.

| | |
| --- | --- |
| | |
| Part of Liverpool ONE. | Chavasse Park. |
The newest mall in the shopping area is Liverpool One. It seemed nice because of the open design, the high views, restaurants, pedestrian traffic flow, and it is airy, light, and sunny. The roof of one of the buildings has a small park.

Monday, July 6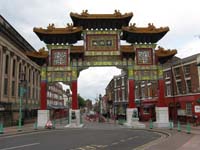 Chinese gate.

The Yellow Duckmarine tour guide had pointed out Liverpool's Chinatown and said Liverpool had the largest Chinese gate outside China. I went back Monday around 11 to scout for a restaurant, but the place was deserted. The restaurants and shops extended only one block, on which I saw only one other person. Even if the restaurants are closed on Monday, it certainly was not the bustling community that San Francisco's Chinatown is. Liverpool's Chinese community is one of the oldest in Europe, but it has shrunk in recent years.

| | |
| --- | --- |
| | |
| Liverpool seen from World Museum. | Cacao pod, cacao beans, cacao butter. |
Since the Adelphi Hotel did not have Internet service, I stopped by the library and used my iPhone to catch up on my email. Next door was World Museum Liverpool. Elsewhere in town, I found the National Conservation Centre. It has a small but interesting exhibit about examining and restoring museum and gallery objects, like doing a CT scan of a mummy, examining paint chips to figure out a sculpture's original colors.

When I saw a place calling itself American Pizza Slice I had to test it. To my surprise, the cheese pizza was passable, certainly closer to New York pizza than some pretenders I have had.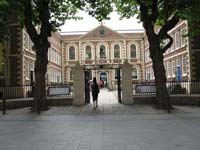 Bluecoat.

To the left is Bluecoat, the oldest building in Liverpool's city centre, built 1717-25. That seems young for the oldest building in a European city. It was built as a charity school and is now an arts center.

Tuesday, July 7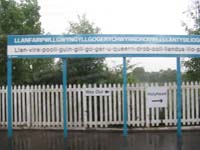 88% of the Llan­fair­pwll­gwyn­gyll­go­ger­y­chwyrn­drob­wll­llantys­ilio­gogo­goch sign.

Tuesday morning, I took an early train to Holyhead. I did not realize I was going to pass Llan­fair­pwll­gwyn­gyll­go­ger­y­chwyrn­drob­wll­llantys­ilio­gogo­goch, the town with the longest officially recognized place name in the United Kingdom, or I might have prepared to capture the whole sign in one photograph. Unprepared, on the fly, I only caught 88%. The name was created in 1860 as a publicity stunt.

| | |
| --- | --- |
| | |
| Leaving Holyhead, United Kingdom. | Approaching Dún Laoghaire, Ireland. |
In Holyhead, I boarded a ferry to Ireland, my 13th country (not including those I only passed through in transit). The ferry docks in Dún Laoghaire, south of Dublin. I quickly got an impression that the people are friendly but speak too softly. I bought a bus pass and headed to Dublin. The pass is interesting; it has an antenna embedded in the paper, and you just hold it on (probably even just near) the reader. All the buses I rode in Dublin were double-deckers.
The ABC Guesthouse is decent. My room was not quite as small as in Alington House, perhaps the size of the Adelphi room but laid out much better. And the hotel has WiFi, so I was connected for the rest of my trip.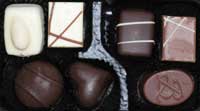 Butlers' chocolates. That smudge is from the packaging; I did not put a fingerprint on the chocolate!

I had lunch near the hotel and went into town for an initial orientation. Unlike my usual preparation, I set off without a detailed map, and it took me a while to find my way into town. I keep an eye out for a street map but did not find a good map until I reached the city tourism office.

Years ago, Butlers Chocolates contacted me and asked me to review their products. As with many chocolatiers, I could only list them in my directory and add them to my long queue of places to review. This trip gave me the opportunity to try out their chocolate cafés in Dublin. Unfortunately, I found the experience disappointing. Their chocolates were more what I classify as Standard, not Fine. Perhaps their beverages and pastries were better, but those are not what I review.

My hotel room was at the top of the stairs, so I had a skylight. I was concerned because sunset was at 21:52 and sunrise was at 5:06. (Dublin is at 53.37° north latitude.) With twilight, it was dark for only 5½ hours, from 22:43 to 4:15. However, a shade covered the skylight very well, and I slept better than most nights at home.

Wednesday, July 8.
Oops, I spoke too soon about the hotel. It had water pressure and hot water issues. Other than that, it was nice. They kept trying to feed me a big breakfast, but that is a vacation calorie trap, even with a day full of walking.

I took a no-fee, tips-only tour with New Europe Tours. Here are a few things from the tour.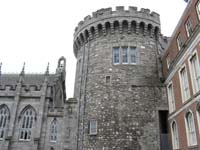 Dublin Castle.

Here is part of Dublin Castle. It is a little starter castle. Ireland has not been into castle-building as much as other parts of Europe. Outside the castle is a field that covers what used to be the black pool (Dubh Linn) that gave Dublin its name. I returned later to get a better photograph, so that is below.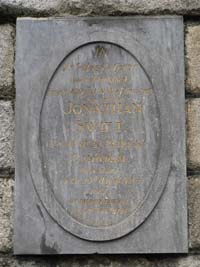 Maybe Jonathan Swift was born around here somewhere.

The stone to the right marks a place near where there used to be a building in which it is reputed that Jonathan Swift was born.

| | |
| --- | --- |
| | |
| Christ Church Cathedral. | Former Viking buildings. |
Leftmost is Christ Church Cathedral. Next to that are markings showing a former Viking house and grounds. Nearby, not shown, our guide showed us where more Viking artifacts were discovered but not excavated, so the city could proceed with modern development.

The tour paused for lunch (Queen of Tarts, yum) and then continued over the River Liffey via the Ha'penny Bridge, named for the original toll, past the Houses of Parliament and Trinity College, and into Saint Stephen's Green.

| | |
| --- | --- |
| | |
| River Liffey. | Ha'penny Bridge. |
After the tour, I continued east to explore more of the town. The dock area seemed to be going through some ups and downs. There were signs of revival and renewal projects not yet bearing fruit.

I made my way back to Trinity College and visisted Infectious: Stay Away. It seemed more entertainment than informative, and I like my science exhibits to exhibit science.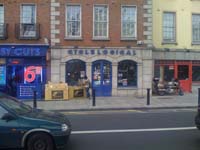 Punny bicycle store.
During my days in Dublin, I frequently visited O'Connell Street. It is a main street, site of the former Nelson Pillar and now Spire of Dublin, a bus transfer center, and a retail area.
Dublin appeared to have many bus routes. I saw plenty of three-digit route numbers and two-digit-plus-letter routes. Catching a bus to the hotel from O'Connell Street was a bit tricky. There were nine bus routes I could use to get to the hotel, and they had different stops along O'Connell Street, with more than a bus length between them. So I had to position myself near the middle, scout the buses coming down the street, and hustle to the matching stop, trying to remember whether it was ahead of or behind me.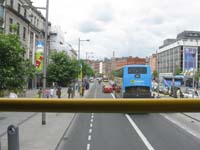 View from top deck of bus.
At most bus stops, signs listed all the origin times for all the buses serving the stop. Unfortunately, I had no idea where those origins were or how long it took the bus to get from the origin to the stop. Of course, being European, the service was frequent enough that particular bus times were usually not important.
Observation suggested pedestrians do not have the rights of way in Dublin they have in other cities. I do not just mean that there are a lot of drivers (and pedestrians) pushing the limits like in other cities. It really seemed like the rules were different. Even in calm traffic away from the center of the city, I saw drivers cutting off pedestrians to turn into a driveway.
In the evening, I went looking for a place to eat in Dublin. Milano looked interesting, and I was reading the menu when I realized it was the same place as PizzaExpress in Cambridge.

Thursday, July 9.
| | |
| --- | --- |
| | |
| Sphere sculpture at the math building. | Museum foyer. |
| | |
| Extinct giant deer. | Double Helix sculpture at biology building. |
Thursday morning, I signed up for the evening Ghostbus tour.

Then I went to Trinity College for the self-guided Science Safari: The Trinity Trail using audio downloaded to my iPod. The tour started with Usher's calculation of Earth's age, not good for a science tour. It included another scientist adjusting their age calculation from 2.5 billion years to hundreds of millions of years because they did not want to allow time for Darwin's ideas to have worked. The tour picked up from there, but the Cambrige podcast tour was better.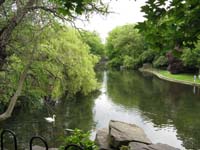 Park in Saint Stephen's Green.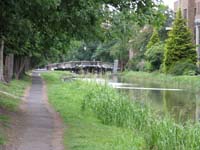 Canal.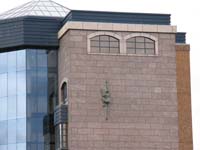 Climber.
There is not much to write about the rest of the day; I spent a fair amount of time just walking around and seeing the city. A few sights are shown along the right. I had lunch at Gallaghers Boxty House. I looked for building numbers from time to time to figure out where I was, but their scarcity suggsted the city council had banned public display of building numbers. I only recall seeing three scofflaws during my visit.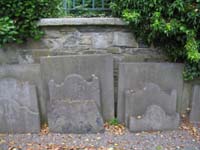 Relocated gravestones.
The Ghostbus tour was okay but rather weak. To the left is a photograph from a cemetery where they dug up all the bodies, cremated them, and moved the headstones to the edges.

Friday, July 10.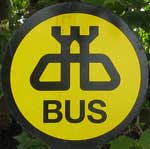 Dublin Bus logo.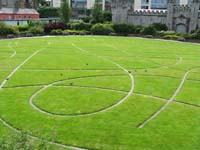 Dubh Linh field.

Friday, I made a last push for chocolate but came up empty. Butlers had been disappointing, so I investigated Confectioners Hall but found no confectioners. I backtracked to Candy Cafe and found coffee and sandwiches, plus a few mass market candy bars. I walked a long distance (away from the major bus routes) to a point marked "Chocolate Factory Park" on the official city map that I got in City Hall, and there was no chocolate, no factory, and no park. Judging by the ruins and the construction barriers, there might have been something there at one time, but they really ought to update the map. I picked up some chocolates at Butlers and Thorntons to take home as a consolation.

To the left is a picture of the Dublin Bus logo. I thought it was clever, combining the "d" and "b" of Dublin Bus into a castle tower.

Below that is the field over the former Dubh Linh I returned to photograph for you. The design is an artistic Celtic design; it does not have any particular meaning I can find.

I tried to open an account at Ulster bank, to have an easy way to pay for an occasional mail-order purchase from a European merchant and to manage cash on future vacations. Ireland would be a good place for that, since the accounts are denominated in Euros and they speak English. The receptionist initially said I could, but it turned out I lacked sufficient proof of address. My California driver's license is insufficient for Irish legal evidence, even though it is under the jurisdiction of a famous former European national. So next trip, I have to bring six months of utility bills or bank statements.


Saturday, July 11.
Saturday was the trip home, which was uneventful. As usual in Europe, a convenient bus took me to the airport, and the flights to Heathrow and San Francisco were routine. As usual in the United States, I had a long wait for a bus to the train station and another long wait for a train home.


© Copyright 2009 by Eric Postpischil.