Chocolate Store Reviews and More
I review chocolate confections (pralines, cordials, bonbons, and other chocolates with stuff in them). Here is a web site with reviews of solid chocolates and chocolate bars. Here is more information about what I will and will not review. Use the geographic index to stores by location.

Some of my favorite chocolatiers are Jacques Torres, L.A. Burdick, Christopher Elbow, La Carambole, Pierre Hermé, and Ginger Elizabeth. Some other notable chocolatiers are Patrick Roger, and XOX.
Reviews
My personal reviews.
Directory
Store addresses.
Notes
Explanatory notes.
Indices
Indices to reviews and directory.
Reviews
This page has reviews of stores I think worth reviewing.
My directory page has address and phone information for many other stores.
Alegio Chocolate
I was introduced to Alegio Chocolate on a chocolate crawl and bought a selection to taste at home. The Raspberry had a good balance with strong raspberry and good chocolate working together. The Orange was similar but slightly milder. The Santa Domingo was an unusal combination of green olive, licorice, currants, and apricot. Those flavors actually stood to the side a bit to present the chocolate at center stage. The Espresso worked well with a slightly salted caramel. The Habeñero had a little bite to it, while the Honey was of course sweet. Throughout the pieces, distinct chocolate flavors were presented well.

Alegio knows what they are doing with chocolate. Unfortunately, their price is quite high, which prevents me from recommending them, except possibly on a "try once" basis.

Type: Fine. Price: $115/lb. in 2007. Chart: Yes. Conclusion: Good but too expensive.
Store: 1511 Shattuck Avenue / Berkeley, CA 94709. 1-510-548-2466.
Store: 522 Bryant Street / Palo Alto, CA 94301. 1-650-324-4500.
Store: 11 Maiden Lane / San Francisco, CA 94108. 1-415-399-9922.
Anette's Chocolate Factory
Anette's Chocolate Factory has a nice variety of chocolates, more than your usual Standard assortment. Examples include the Peach Cobbler, Roasted Hazelnut Morsel, Mint Truffle, Triple Berry, and Himalayan Salted Caramel. They were a bit hit and miss for me, but I would say their milk or dark Ensemble (12 truffles, 18 others) or Anette's Assorted (30 others) boxes are a good deal.

The Peanut Crunch started with a good light crunch and revealed distinct but light toasted peanut flavor. That was my favorite, and I also enjoyed the Apricot Cream, Marshmallow Cream, and Tart Cherry. I would prefer stronger chocolate flavors in Anette's chocolates. The Dansk Bar sounded promising with "chocolate truffle layered over marzipan and vanilla caramel," but I was disappointed. The flavors were not brought out well, and the texture was firmer than I expected. I also found the Triple Berry Cream too sweet to enjoy the fruit and chocolate flavors, so I recommend you select your favorite pieces from the case if you are in the store.

Type: Standard. Price: Truffles $43/lb., others $30/lb. in 2008. Shipping: $16. Chart: Color. Conclusion: Good variety, worth visiting when in Napa.
Orders: Web.
Store: 1321 First Street / Napa, CA 94559. 1-707-252-4228.
Artisan du Chocolat
I was delighted with Artisan du Chocolat's Couture chocolates. You would do well to make Artisan your first stop in London. The flavors range across fruits, nuts, herbs, and spices and are very well done. My favorites were the softy and crunch Feuillantine and smooth Honey, followed closely by the cooperating flavors in the Coriander Praline and the Banana and Thyme and the slightly piquant Sea Salted Caramel. The collection also shines with the Orange Blossom, Passion Fruit, Lavender, and other pieces.

The Couture pieces have uniform shapes, rounded rectangles, differing largely in the decorations printed on their flat tops. I suspect that eases production and enables the good price of £30/lb. ($50/lb. in 2009). Artisan should not be missed when you are in London.

The O chocolates are more of a novelty, disks with a thin filling. While the flavors are okay, the fillings are too small to contribute much. So I leave these pieces to people who just want chocolate with a little bit of something else. At £42/lb., they do not enjoy the same price attractiveness as the Couture chocolates. I did not try the truffles or salted caramels but suspect you will not go wrong sampling them.

Type: Fine. Price: Couture £30/lb. in 2009. Shipping: £17.50. Chart: Color. Conclusion: A must in London.
Orders: Web.
Store: 89 Lower Sloane Street / London SW1W8DA / United Kingdom. +44 (0) 20 7824 8365.
See web site for other stores, including Selfridges London.
Aurora Grace Chocolates
Aurora Grace's flavors are faithful to their bonbon titles and descriptions. The Raspberry Rose was one of my favorites, with a fairly strong raspberry flavor that was not acidic or sour, and the rose complemented it nicely. The Blackberry Lavender had a nice blackberry jelly that was accompanied well by the lavender. Its chocolate stayed in the background but worked well with the piece. Varied pieces like Carrot Cake, Hazelnut, and Salted Honey Tahini also showed good execution in their flavors, although I would have liked some to be stronger. The only off-note for me was the Birthday Cake, which had nice flavors but was a smidgeon crunchy and did not come together as a birthday cake effect.

I was delighted with Aurora Grace and will give their chocolates as gifts.

Type: Fine. Price: $101/lb. in 2022. Shipping: $20. Chart: Text. Conclusion: Excellent, faithful flavors, will give as gifts.
Orders: Web.
Store: 517 South 5th Street / Philadelphia, PA 19147. 1-201-597-0333.
Bissinger French Confections
Bissinger's toffee is pretty good. The pieces in their French Collection and Signature Classic assortments were good quality but did not have a lot of flavor for me. For example, I did not taste much blackberry in the Blackberry Caramel, and the Pecan Nut Ball was too sweet with not enough nut flavor. The price is high for Standard chocolates; you can get some nice Fine chocolate at the same price.

Type: Standard. Price: Toffee $28/lb., other $33-36/lb. in 2005. Chart: Drawings. Conclusion: Too expensive for Standard.
Orders: Web.
Store: 3983 Gratiot Street / Saint Louis, MO 63110-1776. 1-800-325-8881.
See web site for stores in Saint Louis and Minneapolis.
Bridgewater Chocolate
Take classic chocolates, make them with good chocolate, and upgrade the design and execution a notch, and you have Bridgewater's assorted chocolates. You can taste the quality and care that goes into these chocolates. I liked the peanut butter pieces quite a bit, as well as the Irish and almond toffees. Not all the pieces moved me, but you should try for yourself.

I recommend Bridgewater's assorted chocolates, including the toffees, which you can buy separately. However, their marzipan, truffles, and bars do not impress me the same way, although nothing is particularly wrong with them. The truffles had an airy mousse-like filling. The orange truffle was pleasant, but the hazelnut and raspberry were distant in those truffles. The bars with bits of various fruits, nuts, or other items had a more appealing chocolate flavor than most chocolatiers' bars. The fruits added a bit to the flavor but were a minority portion. The marzipan was standard.


Type: Fine. Price: $34/lb. in 2006. Shipping: $22. Chart: Color. Conclusion: Assorted chocolates are very good.
Orders: Web.
Store: 559 Federal Road / Brookfield, CT 06804. 1-203-775-2286.
Burdick Chocolate
Larry Burdick originated Burdick Chocolate with exquisite delicious chocolate pieces as a small manufacturer at the western edge of New Hampshire. Under new ownership, head chocolatier Michael Klug has carried on well, doing a great job making and presenting a variety of ornate fine chocolates. The pieces in Burdick's Signature and Everyday assortments differ from each other well, so that one is entertained by the changes in flavor, style, and shape. The flavors range from intense chocolate to balanced to strong non-chocolate flavors, and the sweetness ranges from bitter to very sweet. Some flavors are familiar, and some are exotic.

Both Larry Burdick and the company today are among the best chocolatiers, and maintaining this quality level over decades is an accomplishment. Do not miss this. If you cannot get to the cafés in Harvard Square, Walpole, New York, or elsewhere, order on the web. Burdick Chocolate is well priced for this quality and reasonable for shipping and makes an excellent gift.

Type: Fine. Price: $82/lb. in 2023. Shipping $0. Chart: Color. Conclusion: Best choice for a fancy gift and a must when you are in Harvard Square.
Orders: Web or 1-800-229-2419.
Store: 47 Main Street / Walpole, NH 03608. 1-603-756-2882.
Store: 52 Brattle Street / Cambridge, MA 02138. 1-617-491-4340.
Store: 220 Clarendon Street/ Boston, MA 02116. 1-617-303-0113.
Store: 156 Prince Street / New York, NY 10012. 1-212-796-0143.
See web site for other stores.
Cacao Atlanta
In Cacao Atlanta, Kristen Hard offers some notable and novel truffles. The Cola Truffle piqued my interest the most. It plays on Atlanta being home to Coca-Cola, I have not seen cola combined with chocolate elsewhere, and it is well executed. The cola is combined nicely with the chocolate in this piece.

The Pecan Penuche also plays on local products, Georgia pecans. Its flavor makes nice use of pecans but is a little sweeter than I would like. Two pieces make excellent use of spices. The Aztec has a deep chocolate flavor, strong enough to stand up to the blend of six chilies and spices that kick in after a few seconds. In the Cayenne Passion Fruit, the cayenne and passion fruit play nicely with and against each other and with the chocolate. I often find that "hot" spices detract from chocolate, but Hard has blended these well.

Those were my favorites of the Bean to Truffle Collection. They are novel enough that I am pleased to have tried them once, but the exceptional price prevents me from recommending the collection. The other pieces in my box were well done but not highlights for me. The Pistachio Marzipan did not present the pistachio or marzipan flavors well, the Nougat Torrone does not feature much chocolate flavor, and the Gianduja seemed very slightly bitter.

Cacao Atlanta has additional truffles available in the boutiques but not available online. I have not had opportunity to try them but suspect they would be excellent. I sampled some non-truffle products that were available online but was not excited by them.

Type: Fine. Price: $124/lb. in 2012. Shipping: $12. Chart: Numbered. Conclusion: Several notable and novel pieces but very expensive.
Orders: Web.
Virginia Highlands: 1046 North Highland Avenue / Atlanta, GA 30306. 1-404-892-8202.
Buckhead: 3035 Peachtree Road NW, Suite A150 / Atlanta, GA 30305. 1-404-228-4023.
Factory Store: 202 Permalume Place / Atlanta, GA 30318. 1-404-437-8585.
Cacao & Cardamom
The Five Spice Praline in Cacao & Cardamom's C&C Signature line was a beautiful blend of spices, combining as if to make a new flavor. Chocolatier Annie Rupani has done a masterful job bringing out flavors and this and other pieces, like cardamom in the Cardamom Rose and sesame in the Black Sesame Ginger. The Pineapple Fennel was fun, with good strength in the fennel accented and not dominated by the pineapple. I did find the strawberry somewhat weak in the Strawberry Szechuan, and not all pieces were stars, but none were duds. I would like the chocolate to play a larger role; it mostly served as a vehicle for other flavors and was not prominent in most pieces.

Highly recommended.

Type: Fine. Price: $98/lb. in 2021. Shipping: $35. Chart: Color. Conclusion: Must try.
Flagship store and lab: 5000 Westheimer, Suite 602 / Houston, TX 77056. 1-281-501-3567.
Store: 2013 West Gray / Houston, TX 77019. 1-713-814-5914.
Candinas Chocolatier
Candinas Chocolatier is a small manufacturer run by Markus Candinas. His truffle assortment includes two very nice nut pieces, with a very fine crunchy texture and good flavors. The truffles have thin shells and medium-strength flavors. Another piece was sweet and fruity, quite appealing. However, without a chart, you do not know what to expect. The web site also offers no selection of pieces. The marzipan piece I liked seems to be gone. Much of the assortment is plain or mild ganaches or other "just chocolate" pieces that do not interest me. Given that, though, the milk chocolate truffle was spot on, and the flavors are nice.

Type: Fine. Price: $41/lb. in 2006. Chart: None. Conclusion: Fine Swiss chocolate.
Orders: Web or 1-800-845-1554.
Factory store: 2435 Highway PB / Verona, WI. 1-608-845-1545.
Store: 11 West Main Street / Madison, WI 53703.
La Carambole
It is not enough that the bonbons of La Carambole explode with flavor. Rita, the owner, founder, and chocolatier, also presents multiple unconventional flavors masterfully woven together. I was completely surprised that the Wabi Sabi's flavors, pistachio, wasabi, roasted rice, seaweed, tuna, and chocolate, worked together, but they did, delivering an experience that was somehow both a natural chocolate bonbon and an exotic sushi flavor. Similarly, in the Green Pumpkin Beanie, the pumpkin seed oil, nutmeg, pear, tonka bean, and chocolate combined in a dance of flavors with pumpkin in the lead. Even the least unconventional pieces, like the Vegan Passion Decadence with its passion fruit, vanilla, hazelnut, and chocolate, presented rich blends of balanced flavors.

To my recollection, no other chocolatier blends this many novel flavors in one bonbon. It is a joy to experience it done so well. La Carambole ships to limited countries, so I had to use a parcel forwarder, but it was well worth the effort.

Type: Fine. Price: €130/lb. in 2022. Shipping: €10, limited countries. Chart: Text. Conclusion: Not to be missed.
ChocAllure
In ChocAllure's bonbons, Liron Pergament-Gal demonstrated mastery of chocolate making. Flavors were faithful, distinct, and well balanced. The Raspberry Lemonade presented an intriguing combination, both flavors present separately while they worked together and with the chocolate. The Apple Pie presented a delicate apple flavor, a crunchy cookie crust, and chocolate that enveloped the pie composition without smothering it.

My primary complaint is the pieces ended too soon. The Cassis-Hazelnut could benefit from stronger hazelnut flavor.

Type: Fine. Price: $132/lb. in 2022. Shipping: $15. Chart: Online. Conclusion: Expensive and worth it.
Pick-up by appointment: 24 Gary Road / Needham, MA 02494. 1-857-928-9236
Chocolat Abeille
I enjoy finding artisan chocolatiers when I travel. Chocolat Abeille (French for bee) is a gem in downtown Omaha. Their general assortment includes a variety of beautiful pieces including fruit, tea, and other flavors. Among these, the Caramel Ganache presented its chocolate flavor nicely, while others tended to be stronger in their fruit or other flavors. They are made in small batches and may sell quickly; the pieces that were available varied slightly over several visits in the course of a week. My favorite was a larger special piece (priced to match), the Hazelnut Banana Crisp, with a nice balance between its banana, hazelnut, and chocolate flavors.

Chocolat Abeille produces honey with their own bees.

Type: Fine. Price: $88/lb. in 2018. Chart: None. Conclusion: A gem.
Store: 421 South 11th Street / Omaha, NE 68102. 1-402-315-9006.
Chocolat Céleste
Chocolat Céleste is a mixed bag; I have enjoyed some pieces but not all (relative to experience expected for the price), and prices have escalated. I suggest the Grand Cru collection. Although pricey, $139/lb. in 2012, it is a rare opportunity to taste criollo (a type of cacao, from which chocolate is made). I enjoyed the criollo pieces in the collection. They should be approached as a tasting experience: Cleanse your palate with water, smell, taste, let the chocolate dissolve, and take the time to experience it. The collection also has non-criollo pieces that I found a bit flat and dry compared to the criollo.

Céleste's other pieces have covered a range. The flavors have been generally medium strength, usually with good balances. A raspberry piece had a good body, with the raspberry distinctly present but not forefront.

Chocolat Céleste offers USPS as a shipping option, which I prefer over UPS and FedEx for residential service.

Type: Fine. Price: $109/lb. and up in 2012, toffee $40/lb. Chart: Some color charts. Conclusion: Good but pricey.
Orders: Web.
Store: 652 Transfer Road, Suite 16A / Saint Paul, MN 55114. 1-877-644-3823. 1-651-644-3823.
Chocolat Michel Cluizel
Michel Cluizel has a store in Paris that is irresistable in both its appearance and its chocolate selection. Upon arrival, you will see their wonderful window and shelf displays and the chocolate fountain. Here I discuss the store. For the Michel Cluizel brand more generally, see this entry.

The store was formerly called La Fontaine au Chocolat and featured a fountain of flowing chocolate. However, I more admired the cacao pods made of chocolate and the wonderful tortoises and other animals. They were works of art in chocolate.

After I finished looking, I enjoyed the excellent balance of chocolate and raspberry in the framboise. The pistache was great. The noisette had a good hazelnut, but the chocolate was a bit weak. The Chocoblock looks like the chocolate-nut bark you find in so many stores, but it was superb. It contains assorted nuts and particularly brings out the pistachio flavor.

Type: Fine. Price: €51/lb. in 2010. Chart: Color. Conclusion: A must in Paris.
Chocolate Dream Box
The Chocolate Dream Box is a treasure at the southern tip of Silicon Valley, not far from Fleur de Cocoa. Chocolatier Holly Westbrook uses mostly classic compositions, such as fruits and nuts, to good effect. I sampled a pound assortment with not a false note in the batch. Along the way, I encountered the Duo with hazelnuts in peak texture and a medium-light but distinct hazelnut flavor. The Exquisite truffle had a good dark chocolate ganache with fruity notes as promised. At 72% cacao, the Black Truffle was not intense chocolate but was rich and pillowy.

Generally I found the flavors moderate in strength. I prefer strong flavors, particularly my favored hazelnut. However, these are no slouches, and the various flavor combinations were well balanced. The few alcohol pieces used the liqueur flavors well without letting the alcohol bite.

The milk-chocolate-covered toffee was very good. I do not think the dark chocolate or white chocolate showcase the toffee as well. Lest my praise and high marks for the Chocolate Dream Box make you giddy, let me note that not everything was perfect. The crunch of the Hazelnut Crunch felt just a bit soft, and the chocolate flavor in the Lion Heart was blunted. And the price is high.

Type: Fine. Price: Pralines $72/lb. in 2013. Chart: Color. Conclusion: A hidden treasure.
Store: 15557 Union Avenue / Los Gatos, CA 95032. 1-408-356-2626. 1-877-761-6251.
The Chocolate Garden
On hiatus as of October 1, 2018, no return date stated.
The Chocolate Garden's dark chocolate raspberry and dark chocolate cherry truffles are excellent. Their flavors are powerful, and the truffles are large and sumptuous. These are classed as soft truffles because they do not have a hard shell, but they are quite firm.
The milk chocolate orange truffle is also excellent, but I am not as fond of the others. I had to work to taste the hazelnut in the milk chocolate hazelnut, and the chocolate flavors did not seem strong to me in the milk chocolate, dark chocolate, or darkest dark chocolate. I wonder if the cream they are using is a little unusual. (The web site gives a hint: In addition to heavy cream, the truffles contain butter and butterfat.)
I do recommend The Chocolate Garden. You can get a box of all one flavor. The price is good for this quality, and they offer inexpensive USPS shipping.
Type: Fine. Price: $39/lb. in 2005. Chart: Map. Conclusion: Superb truffles.
Orders: Web or 1-269-468-9866.
Store: 2691 Friday Road / Coloma, MI 49038.
The Chocolate Truffle
The Chocolate Truffle has a nice selection with some chocolates not readily available elsewhere. The Peanut Butter Crunchies are a unique blend of chocolate, peanut butter, and a crunchy texture.

You will also find truffles, assorted pieces filled with creams and jellies and pretzels and nuts and caramel, and other goodies and novelties.


Type: Both Fine and Standard. Price: Assorted, most $34/lb. in 2022. Conclusion: A nice shop.
Orders: Web.
Store: 494 Main Street / Reading, MA 01867. 1-877-335-3630. 1-781-944-7155.
Note: May close briefly at times for vacation. Check schedule before going.
Some products available at Au Chocolat, Indulge, and Sweet Mimi's Chocolates.
Chocolaterie (California)
Chocolaterie (formerly Blue's Chocolates and Chocolatier Blue) features fine chocolates of diverse flavors. One of my favorites was the Sweet Potato Casserole, for its novel flavor. The sweet potato flavor was well presented and balanced with the chocolate. The Hazelnut was also excellent. Hazelnut is a traditional flavor in chocolates, but the natural hazelnut flavor shone in this piece without being bitter. Other favorites included 75% Dark, Lemon, Pistachio, Passion Fruit Caramel, Candy Cane, and Pear. The PB Crunch was crunchy and had a nice peanut flavor with a pleasant tang.

Some of the pieces had flavors I thought were too mild or combinations that missed the mark slightly. The Grapefruit with Rosemary did not capture either flavor for me. In the Peanut Butter and Strawberry Jam, the peanut butter and jam flavors were excellent, but the chocolate flavor was lost.

Overall, I would give Christopher Elbow the edge over Chocolaterie, for some similar chocolates with stronger flavors at a comparable price. However, Chocolaterie has a better price and some very good and interesting pieces worth experiencing.

For full effect, I suggest eating Chocolaterie's pieces whole, rather than in smaller bites, especially the milder pieces. The Cookies & Cream had notably more character when eaten whole. Some of the pieces I received may be holiday flavors, so they may not be available on a regular basis.

Type: Fine. Price: $71/lb. in 2012. Shipping: $0. Chart: Color. Conclusion: Worth trying, nice gift.
1964 University Avenue / Berkeley, CA 94704. 1-510-705-8800.
The Chocolaterie (Georgia)
Note: The Chocolaterie has changed owners since this review, and they have new pieces. The Chocolaterie is a delightful find in a suburb of Atlanta. They have a variety of truffles with flavors that are both fanciful and familiar. The Cookie Dough Truffle gives a good impression of its namesake and is both enjoyable and playful. As with the Malted Milkshake Truffle, the flavor composition conveys a luxurious feel. These and several other flavors weave multiple flavor sensations without losing them in a blend.

The Mom's Apple Pie Truffle had a good apple flavor, a background of pie crust flavor, and was well accompanied by white chocolate. I did find it too playful with non-chocolate flavors to take it seriously as a chocolate piece. The Chocolaterie also has simpler and more direct flavors, such as the Epicurean Truffle and the Hawaiian Pink Sea Salt Butter Caramel.

My least favorite of those I sampled was the Almond Florentine. I found it dry, and the texture was coarse. However, finding your favorites among their many varieties will make your visit worthwhile.

Type: Fine. Price: $103/lb. in 2023. Chart: None. Conclusion: Must visit in area.
Orders: Web.
Store: 3099 Main Street / Duluth, GA 30096. 1-678-513-2700.
Chocolaterie Bernachon
Bernachon is famous for quality, but it was disappointing to me. Bernachon's chocolate, which they make from raw cacao beans, is very good, and their pieces that are mostly chocolate are very good. However, some of their other pieces flopped for me. One such was the Créole, which has marzipan with rum-flavored currants. I did not like its composition at all. The pralines with liqueur also did nothing for me. (Eat them whole. The liqueur will spill when you bite into them.)

Some pieces I liked were the dark chocolate Palets d'Or, Le Cocktail (with a blend of nuts, was what fine chocolate should be but not the oustanding piece I expected from Bernachon's reputation), Le Métis (praline, marzipan, and pistachio, was an unusual melange and interesting), L'Aveline (hazelnut praline, was very good with sharp flavors that were not overpoweringly strong), La Truffe (a very good truffle), Le Chuao Pepitos (strong chocolate), La Nougatine (good caramel), and La Truffette (an orange flavor that blends well with the chocolate).

Le Gianduja was lifeless. La Noisette was okay, but the hazelnut flavor seemed a bit off to me.

The ballotin and its contents looked very nice. The look was distinctive and not frilly. However, I would not say a pre-mixed ballotin is worth the price. Stick to the pieces you like.

Type: Fine. Price: €34/lb. in 2003. Conclusion: If you go, stick to the mostly-chocolate pieces.
Chocopologie
Chocopologie was originally reviewed as Knipschildt Chocolatier. I had Knipschildt chocolates from two sources: Cocoa Bella and Whole Foods Market. The pieces from Cocoa Bella were excellent. This includes Hannah, a piece with caramel and sea salt, and Lilac.

On the other hand, the pieces from Whole Foods Market were not as impressive. The Elizabeth, Antoinette, and Madeleine were good. The Jeanett had a strong mint flavor that overpowered its white chocolate. The Sophie is marzipan with lemon, which is interesting. I wanted more marzipan, but it was good. Not everything worked. The Valentina is a chewy caramel with lavender. Lavender is aromatic, but that was distracting, and it did not contribute a pleasing flavor. The Patricia certainly had chili but was weak on tangerine. These were fine for grocery store chocolates, but lackluster for the price, $51/lb. The box has drawings illustrating the pieces, but I was unable to match several pieces to the drawings.

Type: Fine. Price: Depends on source. Chart: Drawings (not useful). Conclusion: Purchase directly for better price.
Orders: Web.
Currently (2022-01) no stores of their own, may be working on a cafe in Norwalk, CT.
Christophe Artisan Chocolatier
Christophe Artisan Chocolatier has some nice pieces, and I would visit when in town. My favorite pieces were the Praline, with a good hazelnut flavor balanced with chocolate, and the Orange, also well balanced. The Cappuccino Cheesecake truffle was a bit novel and was pleasing, but its flavors weakened quickly.

Christophe's pieces are attractive and well made, but I would like the chocolate to be stronger, and sometimes the milk chocolate seemed a bit too milky.

Type: Fine. Price: $75/lb. in 2017. Shipping: $16. Chart: Color. Conclusion: Not bad, but I would not seek it out.
Orders: Web.
Store: 90 Society Street / Charleston, SC 29401. 1-843-297-8674.
Christopher Elbow Artisanal Chocolate
Christopher Elbow's beautiful and colorful chocolates were also wonderful tasting. Most of the pieces were sweet and fruity, with medium-strong flavors.

Elbow's pieces are mostly square ganaches or round caramels. Many of the caramels were dominated by a sweet fruit caramel, with chocolate from the crisp shell playing a lesser role. The chocolate was a little stronger in the Fleur de Sel, which was wonderful to bite into. The Bananas Foster is also notable because four flavors, chocolate, banana, caramel, and rum, are each noticeable and distinct, working together but not diminshing each other.

The ganaches generally delivered stronger chocolate flavors, especially the deep chocolate flavor of the Venezuelan Dark, which seemed stronger than its 70% cacao. In contrast, the Madagascar seemed to have a fruity chocolate. The paté de fruit in the Raspberry was amazingly strong, although not completely outstripping the chocolate.

Some pieces delivered milder flavors, such as the Bourbon Pecan and the Honey Vanilla. Sight and taste are not the only senses stimulated; the French Lavender and the Cinnamon had particularly nice scents.

I rarely recommend chocolates at this price level, and I certainly cannot make Christopher Elbow a regular treat, but I do recommend experiencing these exquisite chocolates. They would also make a superb gift. (Alternatives at this quality but somewhat cheaper are Burdick and Jacques Torres.) While I recommend Elbow's chocolates, the toffees did not stand out for me.

Service was very good, and the shipping cost is not bad in today's market.

Type: Fine. Price: $111/lb. in 2023. Shipping: $20. Chart: Color. Conclusion: Expensive but compelling.
Orders: Web.
Store: 118 Southwest Boulevard / Kansas City, MO 64108. 1-816-842-1300.
Store: 401 Hayes Street / San Francisco, CA 94102. 1-415-355-1105.
Chuao Chocolatier
Chuao Chocolatier's pralines include combinations of banana with caramel, feta with chocolate buttercream, and raspberry with hazelnut. Chuao (pronounced "chew-wow") uses Venezuelan chocolate with French and Belgian techniques.

I have liked Chuao in the past but think their products have changed, perhaps to support larger production and distribution. My 2014 order was somewhat disappointing, not up to the $84/lb. price. Ingredients seemed to be good quality, but the flavors were generally not strong, and the chocolate flavors were weak. The honey combined nicely with the nut flavors in Nut & Honeylicious. But the nut flavors, which are often my favorites, were mild in this and other pieces. Among the stronger flavors were the raspberry and strawberry in the Framboise and Strawberry Seduction, but even these were medium strength at best and without strong support from the chocolate.

Warning: Chuao sent me unsolicited commercial email and continued after being told to stop. They stopped after I wrote (in physical mail) to one of the owners, but I received new spam ten years later.

Type: Fine. Price: Pralines $84/lb. in 2014. Shipping: $11. Chart: Color. Conclusion: Disappointing.
Orders: Web or 1-888-635-1444.
Store: The Lumberyard, Suite C-109 / 937 South Coast Highway 101 / Encinitas, CA 92025. 1-760-635-1444.
Store: Del Mar Highlands Shopping Center, Suite A-1 / 3485 Del Mar Heights Road / San Diego, CA 92130. 1-858-755-0770.
Cocolotte (formerly Anna Shea Chocolates)
Anna Shea Chocolates changed owners in 2021 and is now Cocolotte. The following review is from 2019. A post-transition order was still pretty good but not quite as good as I recalled. As of May 2023, the web site does not have online ordering except for Grubhub. To order, call 1-847-428-5446.

Anna Shea Chocolates is an experience not to be missed. The flavors, ingredients, technique, and artistry are excellent, including an excellent color chart and playful names. The assortment includes a variety of flavors including fruit, cinnamon, liqueurs, and some playful flavors like red velvet and birthday cake. The assortment was light on nut flavors, which tend to be my favorites.

"Birthday cake" is a difficult flavor to convey in a chocolate, but Anna Shea nailed it. The Candied Bacon Caramel also presented the bacon flavor better than other bacon-chocolate attempts I have experienced, but there were still some chewy bits in it that I feel detract from fine chocolate. Other pieces that were excellent without compromise include the Aged Balsamic Caramel, the Haiku (green tea ganache), and Krystle's Banana Foster.

Some pieces lagged. The hazelnut in the Hazelnut was too weak. The Puleo was the only piece in which the alcohol detracted from my experience. The Marzipan could have played up its marzipan more. Mostly the assortment contained good compositions and strong, balanced flavors, including good use of chocolate to support or complement other flavors.

Type: Fine. Price: $120/lb. in 2021. Shipping: $20. Chart: Color. Conclusion: Very nice.
Orders: 1-847-428-5446.
Store: The Arboretum of South Barrington / 100 W. Higgins Road, Suite E5 / South Barrington, IL 60010. 1-847-428-5446.
Côte de France
Côte de France is an elegant little shop. They have a very diverse assortment—the pieces I had were quite different from each other—and every piece was a hit. A hazelnut praline was nice and had a medium flavor that stood well even though it was not strong. The caramel piece was hard and chewy.

Type: Fine. Price: €48/lb. in 2010. Chart: Color, incomplete. Conclusion: My favorite in Paris.
Orders: Web.
25 Avenue de l'Opera / Paris / France. +33 (0) 1 42 61 41 46.
3 Avenue Mozart / Paris / France. +33 (0) 1 42 88 17 79. Near La Muette station.
12 Rue d l'Isly / Paris / France. +33 (0) 1 43 87 54 81.
5 Place des Ternes / Paris / France. +33 (0) 1 47 63 29 20.
See web site for current list of shops.
Dalloyau
I was pleased with the assortment of chocolate pieces I bought from Dalloyau. It contained a good marzipan and a very good jelly piece. In some nut pieces, there was a good balance of chocolate and nut flavors. The flavors had a moderate intensity. My interest did not last through the entire assortment, though.

Type: Fine. Price: €43/lb. in 2003. Conclusion: One of the better stores in Paris.
DeBrand Fine Chocolates
The Connoisseur Collection is an assortment of delightful flavors, but it is weak on chocolate. Many of the pieces are very sweet or creamy or fruity but have little or no chocolate flavor. Some do, such as the Aztec with its chocolate flavor that is simultaneously strong and delicate. In spite of the poor representation of chocolate, I would be tempted to recommend the Connoisseur Collection for the other wonderful flavors, including passion fruit, chai tea, orange and pistachio marzipans, and hazelnut. Unfortunately, the product I received weighed 5.5 ounces, much less than the 6.7 ounces claimed. This makes the price $105 per pound, which is hugely overpriced.

The Classic Collection is ordinary quality but expensive price. The creams are very sweet, and the chocolate flavor is not strong in most pieces. The peanut butter flavor in the peanut butter piece is quite strong.

Warning: DeBrand sent me unsolicited commercial email.

Type: Standard to high Standard. Price: $33/lb. (Classic), $105/lb. (Connoisseur) in 2003. Conclusion: Skip it.
Orders: Web or 1-800-482-4373.
Store: 10105 Auburn Park Drive / Fort Wayne, IN 46825. 1-260-969-8333
See web site for other locations in Fort Wayne and Indianapolis.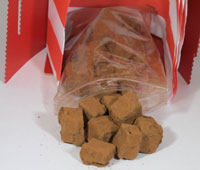 Diane Krön Chocolatier truffles. (Big image.)
Diane Krön Chocolatier
Diane Krön Chocolatier's K Truffles are traditional truffles, dusted in cocoa powder instead of enrobed in chocolate. They deliver a deep, luscious chocolate and cream sensation. I suggest tasting these once to experience a true truffle. Unfortunately, the price is too high for me to recommend otherwise. (Diane Krön Chocolatier was originally reviewed as K Chocolatier.)

I also tasted the K Ginger, K Pomegranates, and K Pecan Krisps. While nice, they are not as notable as the truffles.

Type: Fine. Price: $99/lb. in 2012. Conclusion: Worth a try once.
Orders: Web.
Store: 9606 Little Santa Monica Boulevard / Beverly Hills, CA 90210. 1-310-248-2626.
Store: 3835 Cross Creek Road / Malibu, CA 90265. 1-310-317-0400.
Dilettante
Dilettante claims confectionary descendance from Julius Rudolph Franzen, pastry chef to Franz Josef, Emperor of Austria and King of Hungary. I have only their truffles to judge them by. Unfortunately, I prefer other pieces with a greater variety of components and expression. Truffles are too often an overdose of chocolate and cream. Dilettante may move up on my list when I have more experience with their products, such as their gift box assortment.

Type: Fine. Conclusion: Their truffles do not stand out.
Orders: Web or 1-800-482-0281.
Store: 416 Broadway East / Seattle, WA 98102. 1-206-329-6463.

Sunday to Thursday 11 a.m. to midnight, Friday and Saturday 11 a.m. to 1 a.m.

Store: 1603 First Avenue / Seattle, WA 98101. 1-206-728-9144.

Monday to Saturday 10-6, Sunday 11-5.
Donnelly Chocolates
Donnelly's chocolates have well-developed chocolate flavors. Many pieces use strong flavors of spices, fruits, or nuts. I recommend identifying each piece before biting into it—the chocolate-banana combination is better when you expect it than when you are surprised. The cardamom piece is similarly better savored when you are prepared to sense the cardamom. (This spice is not used as much as its distinctive flavor and scent warrant. If you are not familiar with it, I recommend smelling and tasting a little separately before trying Donnelly's cardamom-chocolate combination.)

The peanut vanilla caramel piece stands out. Donnelly's chocolate leans toward the bitter.

The ordering process on their web site is excellent. It is simple and fast and offers choices of light, dark, or mixed, without alcohol, and without nuts. Shipping is expensive, like other fine chocolatiers.

Type: Fine. Price: $75/lb. in 2003. Conclusion: Good but expensive.
Orders: Web or 1-888-685-1871.
Store: 1509 Mission Street / Santa Cruz, CA 95060. 1-831-458-4214.
Elisabeth Brussels
I found Elisabeth Brussels' chocolates to be well done but with light flavors. For example, the Trianon was a nice piece with caramel and wafers, and its caramel and chocolate flavors are mild. However, the Massepain Pistache was just okay.

Type: Fine. Price: €17/lb. in 2003. Conclusion: Good if you like light flavors.
Orders: Web.
Stores: 43 and 49 Rue au Beurre / 1000 Bruxelles / Belgium. +32 (02) 426 01 78. Near Grand Place.
Store: 55 Rue du Marché aux Herbes / 1000 Bruxelles / Belgium.
Store: 55 Rue de l'Etuve / 1000 Bruxelles / Belgium.
es 4 sense
es 4 sense offers nice bonbons that play with familiar flavors. They were my favorite in Barcelona. I recommend trying es 4 sense although the price is somewhat high.

Type: Fine. Price: €89/lb. in 2022. Conclusion: Barcelona favorite.



Fauchon
Fauchon was a disappointment. They had a fancy gourmet shop on Park Avenue with attentive staff. But their chocolates did not match and are not suited to Fauchon's prices. Their pastry is better. I tried a cherry macaron in New York and an Auguste in Paris and found them to be delicious.

Type: Fine. Price: $45/lb. in 2001. Conclusion: Not recommended.
Orders: Web.
Store: 26, place de la Madeleine / 75008 Paris / France. +33 (0) 1 47 42 60 11.
See web site for more stores in Paris and around the world.
Galler
Two of the three Galler pieces I tried were bitter. One piece, a praline, was unpleasantly bitter. I can enjoy bitter chocolate, but it does not work when it combats other flavors. The bitterness worked better in a piece with a stronge orange flavor. It was still not to my taste, but it might work for some people.

Type: Fine. Price: €15/lb. in 2003. Conclusion: Misses the mark.
Store: Rue au Beurre 44 / 1000 Bruxelles / Belgium. +32 (02) 502 0266.
Store: Rue de Bodenbroeck 17 / Bruxelles / Belgium. Near Grand Sablon.
Store: Rue de Commerce 13 / Wavre / Belgium. +32 (010) 22 96 85.
Store: Rue du Pot d'Or 2 / Lüttich / Belgium. +32 (04) 221 30 50.
Store: Rue Céleste Balthasart 30 / Vaux-sou-Chèvremont / Belgium. +32 (04) 361 07 17.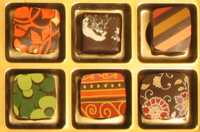 Garrison Confections' Seasonal Collection. (Big image.)
Garrison Confections
Note: Since this review, Garrison has moved and apparently stopped operating their web site.

Garrison Confections's main attraction is the Seasonal Collection, which features twelve new flavors about every three months. Generally I like new experiences, so that is fine by me, but do not get attached, because your favorite piece will vanish. I tried the collection in April 2007 and was impressed by some pieces, notably the fruit patés. The Pabana was particularly nice, good flavors blended well, including a novel fruit flavor. The 91% was also very nice, unusual for me since I generally like more than chocolate alone. The pieces with alcohol were less appealing to me, as usual. The Chocolate Peanut Butter Pie was a bit piquant with a nice balance. The Coffee Almond Praline started well but finished weakly.

Although there was some nice work in the collection, I cannot recommend it due to the high price ($75/lb.) and the shortcomings.

I do recommend Garrison's Ultimate Toffee. It was a very good toffee and only $17/lb. It does have only a thin layer of chocolate that could be thicker.

Garrison has other novelties, but the toffee was best. The Ultimate Nougat Bar suggested something I would like to see chocolatiers try—remaking classic candy bars with fine ingredients. Unfortunately, the Nougat Bar fell short. It felt too empty of flavor, and the first three ingredients do not impress (dried egg whites, sugar, and potato starch).

Garrison's pieces generally were not a good showcase for chocolate; it played only a minor role in most pieces. While ordering, I was put off by the lengthy legal terms. I would rather a chocolatier tell me more about their products than about how all shipping problems will work against the customer, and the seller does not want to be bothered with anything like ensuring their product is delivered well.

Type: Fine. Price: $75/lb. in 2007. Shipping: $27. Chart: Map. Conclusion: Too expensive, not a good showcase for chocolate.
Store: 72 Ledge Street / Central Falls, RI 02863. 1-401-725-0790.
Ghirardelli Chocolate Company
Ghirardelli is a famous chocolate manufacturer that originated in San Francisco. Ghirardelli was purchased by Lindt and no longer maintains their former standards.

Type: Below Standard. Price: $13/lb. in 2004. Chart: Individual wrappings. Conclusion: Do the tourist thing once and move on.
Ghirardelli products are sold in many stores, including baking products in grocery stores.
Tourist attraction: Ghirardelli Square / 900 North Point Street, #52 / San Francisco, CA 94109. 1-415-359-9335.
Office: 1111 139th Avenue / San Leandro, CA 94578-2631. 1-510-483-6970.
Ginger Elizabeth Chocolates
The lucky residents of Sacramento have a treasure in Ginger Elizabeth Chocolates. The Hazelnut Praline was excellent, with evocative hazelnut. The Almond Rocher had a great texture. Its almond was well balanced with the choolate although it could have been stronger. The Peanut Butter Croquant also had an excellent balance with the flavors brought out well, including a little zip to the peanut butter.

I would have liked more salt in the Fleur de Sel Caramel and stronger peppermint in the Fresh Peppermint, but overall I was very pleased with the selection. Ginger Elizabeth's prices are in line with the super premium market.

Type: Fine. Price: $80/lb. in 2019. Shipping: $10. Chart: Color. Conclusion: Very nice, a must in Sacramento.
Orders: Web.
Store: 1801 L Street, Suite 60 / Sacramento, CA 95811. 1-916-706-1738.
Store: 2413 J Street, Suite B / Sacramento, CA 95816.
Jacky Pédro
Jacky Pédro is the third generation in a 70-year history of chocolatiers. He operates a little store in Alençon, about two hours from Paris. I really enjoyed it and hope some of my readers can visit.

One piece had a very good blend of hazelnut and almond with a fine crunchy texture. The marzipan was very good; Jacky Pédro brought out the flavor well. He must have sense of humor and self-confidence to label one of his products Le Crottin du Pin. To avoid spoiling your appetite, I will not translate the name, but the piece is a cocoa meringue with a chocolate cream filling. It was nice and very unusual and just a bit bitter. I also strayed from chocolate and tried the Patés de Fruits, which were very good.

Jacky Pédro is just down the street from Glatigny, which was closed during my visit, but I am told you should visit Glatigny while you are in Alençon.

Type: Fine. Price: €29/lb. in 2003. Conclusion: A treasure.
Store: 39 Grande Rue / 61000 Alençon / France. +33 (0) 2 33 26 00 47.
Jacques Torres Chocolate
Jacques Torres' products are excellent, and there is not much to detract for that. A correspondent recommended the Alizé Heart of Passion, but the nut pieces are my favorites, with the Heart and other fruit pieces second. Most of the nut pieces, such as the Heavenly Hazelnut, had the fine crunchy texture of a praliné. The Cinnamon Praline was also a great nut piece, with hazelnuts. The European Peanut Butter had sort of an airy taste to the peanut butter. The Heart had a nice pop to the passion fruit flavor enveloped by chocolate flavor. The Creamy Raspberry, Fresh Squeezed Lemon, and Love Bug were also excellent fruit pieces.

The Pistachio Marzipan and Bandol Breeze (apricot pâte de fruit and marzipan) were too weak for my taste, but most of Jacques Torres' pieces had both good non-chocolate and chocolate flavors. The Golden Espresso was another very good piece. Mom's Chocolate Peanut Brittle did not quite work for me, but Grandma's Chocolate Peanut Butter Crunch was excellent, with a great roasted peanuts flavor and complementing chocolate. In spite of my few quibbles I, most of Torres' pieces are done to near perfection, and I would class Torres with Burdick. Both are near the same quality. Burdick uses a bit more exotic flavors while Torres takes familiar flavors to great heights.

Type: Fine. Price: $114/lb. in 2022. Shipping: $15. Chart: Color. Conclusion: Superb chocolate.
Orders: Web or 1-929-337-8856.
Store: 66 Water Street / Brooklyn, NY 11201. 1-718-875-1269.
17 Grand Central Terminal (Lexington Passage) / New York, NY 10017. 1-929-427-0988.
See web site for stores.
Jean-Paul Hévin Chocolatier
I tried Jean-Paul Hévin's Chocolate Apéritifs au Fromage (€46/lb. in 2003), Boîte Gourmande (€47/lb.), and Les Truffes Natures Boîte (€34/lb.). I missed the English page when ordering, or I would have seen "Aperitive Cheese Chocolates," "Gourmet Gift Box," and "Plain Truffles."

Chocolate Apéritifs au Fromage is chocolate-covered cheese. That was an unusual combination, new to me. The flavors are balanced and modest, but the cheese prevails. The Boîte Gourmande contains plain square wafers of chocolate, Florentins (chocolate cookies, square wafers covered with a honey and nut confection), mendiants (chocolate disks topped with nuts and dried fruit), and chocolate sticks containing candied orange peel. All are good. These are little chocolate delicacies, to be savored. The dried fruit arrived still fresh and full of flavor.

Les Truffes Natures Boîte is a box of truffles. I find most truffles uninteresting and am not attracted to these. However, this is an excellent price for truffles of this type, so I recommend them to those who like truffles.

Two of the boxes contained less than the advertised amounts. The Fromage was 126 grams instead of the 140 claimed, and the Gourmande was 188 instead of 200. My prices per pound are based on the lower amounts. The Truffes was over, 211 grams instead of 200.

Type: Fine. Price: See above. Conclusion: A must in Paris. Shipping is too expensive.
Kate Weiser Chocolate
Kate Weiser's pieces were very attractive, the flavors were not bad, and some of the compositions were interesting and appealing. Unfortunately, most of the flavors were too weak. I can only recommend the pieces with stronger flavors, including the Pistachio, Cookie Monster, Ninja Turtle, Key Lime Pie, Peanut Brittle, Cherry Almond, Lavender Apricot, and Salted Caramel. That is a broad enough range (fruit, nut, and other flavors) that most people would find several things to like and can craft an order likely to please themselves. The Pistachio blended its pistachio and hazelnut flavors nicely. The Cookie Monster is a novelty piece rather than traditional flavors but is well executed with its cookie base and vanilla bean ganache. In contrast, the title flavor in another novelty piece, the Sweet Potato, was very weak. Additionally, the chocolate flavor in many pieces is not well represented.

The Raspberry and the Mango Habanero were borderline, and I very much wish the latter were stronger, because the mango flavor was quite appealing. (However, the weakness of the habanero was a positive as it prevents the spiciness from interfering too much.)

Kate Weiser does not ship while it is hot into Dallas. It was well into autumn before I could place an order.

Type: Fine. Price: $81/lb. in 2017. Shipping: $35. Chart: Color. Conclusion: Order selected pieces only.
Orders: Web.
Store: 3011 Gulden Lane, Suite 115 / Dallas, TX 75212. 1-469-619-4929.
Store: 8687 North Central Expressway, Suite 400B / Dallas, TX. 1-469-619-0605.
Kee's Chocolates
The chocolates of Kee's Chocolates had generally good compositions; the chocolate was combined well with other flavors. The Black Sesame was particularly novel, crunchy sesame seeds with prominent flavor and somewhat subdued chocolate. The flavor of the Smoked Salt was also unusual, an interesting sensation. Others were more ordinary. Unfortunately, I did not find them good enough to justify the price.

Type: Fine. Price: $116/lb. in 2022. Conclusion: Too expensive.
228 Columbus Avenue / New York, NY 10023. 1-917-965-2216.
Kollar Chocolates
Kollar Chocolate's pieces show excellent technique: They have good flavors, the flavors are generally well expressed, the chocolate is good, and the pieces are attractive and physically well crafted. However, I did not get a great sense of depth of flavors or blending of them. By and large, the flavors in each piece seemed distinct from each other and did not combine to form an experience absorbing to the senses.

The Cardamom and Fennel Pollen offered nice experiences of those spices. More familiar flavors were found in the Almond Praline and Peanut Butter. I found the chocolate flavor better in the Earl Grey than in the 72% Dark Chocolate. However, no piece wowed me, and I cannot recommend these at the price.

Type: Fine. Price: $101/lb. in 2018. Shipping: $28. Chart: Color. Conclusion: Excellent technique.
Orders: Web.
Store: V Marketplace / 6525 Washington Street / Yountville, CA 94599. 1-707-738-6750
Lenôtre
Lenôtre is a nice store, and their chocolate pieces were pretty good. The flavors were generally delicate but prominent and distinctive. I prefer strong flavors, so Lenôtre is not one of my favorites, but it is quite good, and I recommend it if you like mild or moderate flavors.

The Pistache was very good as a pistachio piece but only a good chocolate. The Surprise Caramel is good and left a nice aftertaste. There are some nice hazelnut pieces.

Type: Fine. Price: €38/lb. in 2003. $58/lb. at Las Vegas in 2004. Conclusion: Good Paris choice for delicate flavors.
Store: 44 Rue d'Antenil / 75016 Paris / France. +33 (0) 1 45 24 52 52.
Store: 15 Boulevard de Courcelles / 75008 Paris / France. +33 (0) 1 45 63 87 63. At Villiers station.
Store: Paris Las Vegas (Bally's) / 3655 Las Vegas Boulevard South / Las Vegas, NV 89109. 1-702-946-7000.
See web site for more stores in Paris and worldwide.
Leonidas
Leonidas makes fine chocolate, but it is not the best quality, and sometimes the flavors seem a bit off to me.

Type: Fine. Price: $33/lb. in 2008. €6.2/lb. in 2003. Conclusion: Purchase occasionally.
Web.
Store: 230 Park Avenue / New York, NY 10169. 1-212-661-4820 and 1-800-603-7320.
Store: 3 Hanover Square / New York, NY 10004. 1-212-422-9600.
Store: Rue au Beurre 34 / 1000 Bruxelles / Belgium. +32 (02) 512-8737.
Check phone books and web site for other stores.
Li-Lac Chocolates
Li-Lac Chocolates is a terrific chocolatier. They have yummy moist marzipan "rolls" (really fingers), a good raspberry jelly bar, and some nice hazelnut truffle squares. Their raisin bar has a tangy blend of strong chocolate and raisin flavors, although it contains few whole raisins.

Type: Fine. Price: $39/lb. to 48/lb. in 2004. Conclusion: Stop by when in New York and mail order occasionally.
Orders: Web or 1-866-898-2462.
Store: 40 Eighth Avenue (at Jane Street) / New York, NY 10014. 1-212-242-7374.
Store: Grand Central Terminal / 324 Market Hall / New York, NY 10017. 1-212-370-4866.
Lindt
Lindt sells both imported chocolates and chocolates made in the United States. Try the hazelnut and amaretto truffles. Lindt's quality has suffered since they targeted a larger market, but you might still find a piece or two that you like.

Type: Standard. Conclusion: Marginal.
M Cacao
Expertise was evident in the bonbons of M Cacao's chef's collection. The del ginger, bourbon pecan praline, and tea lemon presented delicate flavors, and the palet de cuivre delivered an intense chocolate flavor well. Overall, I prefer stronger flavors, but the bonbons are worth trying.

Two other boxes, seriously‽ truffles and garden caramels, were less attractive to me.

Type: Fine. Price: $115/lb. in 2022. Shipping: Free at $85. Chart: Color illustrations. Conclusion: Try the bonbons.
Orders: Web.
Workshop, walk-ins okay: 6 Chestnut Street, Suite 211 / Amesbury, MA. 1-617-334-5777.
La Maison du Chocolat
I was pleased with La Maison du Chocolat's chocolates in Paris, and the prices there were reasonable. Unfortunately, my experience with their New York stores are less pleasing, in both quality and price, so I cannot recommend them. In France, I recommend sampling their chocolates to find your favorite pieces.

Type: Fine. Price: $112/lb. in US in 2012, varies widely by box selection, cheaper in France. Conclusion: Good in France.
Orders: Web.
Store: 1018 Madison Avenue / New York, NY 10021. 1-212-744-7117.
Store: Carrousel du Louvre / 99 Rue de Rivoli / 75001 Paris / France. +33 (0) 1 42 97 13 50.
La Maison du Chocolat Artisanal
La Maison du Chocolat Artisanal is a superb shop with assortments of fine chocolates from several chocolatiers. The price is excellent even for Bruxelles (where chocolate is cheap). The marzipan pieces were very good, and I enjoyed everything I sampled from La Maison du Chocolat Artisanal.

It was very warm when I visited Bruxelles, and Maison was the only store in Bruxelles considerate enough of their customer to suggest protecting chocolates from the heat of the day.

The shop in this location in 2021 is named Choco Bel. I do not know if it is La Maison renamed or is a new business.

Type: Fine. Price: €13/lb. in 2006. Conclusion: My favorite shop in Bruxelles.
Store: Rue Marché-aux-Herbes 67 (a.k.a. Grasmarkt 67) / 1000 Bruxelles / Belgium. +32 (02) 513 78 92.
MarieBelle
Warning: MarieBelle sent me unsolicited commercial email and continued after being told to stop.

MarieBelle's chocolates have fun designs, but the flavors did almost nothing for me. The Swiss chocolate is a thin shell around the fillings and contributed little to the taste. Good ingredients were used, and the flavors, when I could detect them, were well done. However, even pieces I would expect to have prominent flavors, like the Pineapple or Mandarin, were weak. The Spices piece was good, and the Hazelnut Praline was good except for the slightness of the flavor. I could not recommend these at half the price, let alone the $100/lb. charged.

I also tried the cheaper Croquettes au Chocolat, chocolate given a crunchy texture with buttery European cookies, but they also did almost nothing for me.

MarieBelle sent unsolicited commercial email. Their shipping policy is bad. They pick the shipper and require expensive overnight delivery, charge $32 for less than two pounds, and deny responsibility if you do not stay home to receive the package. The web site does not offer a choice of pieces. My 25-piece box contained duplicates, so that only 14 flavors of the 27 depicted on the chart were in the box.

Warning: I gave MarieBelle a unique email address. Sometime later, I received phishing email sent to that address.

Type: Fine. Price: Chocolates $100/lb., croquettes $37/lb. in 2006. Shipping: $32. Chart: Color. Conclusion: Overpriced and underflavored.
Orders: Web.
Store: 484 Broome Street / New York, NY 10013. 1-212-925-6999.
Store: Lunettes et Chocolat / 25 Prince Street / New York, NY 10012. 1-212-925-8800 or 1-866-925-8800.
(Corporate name Maribel's Sweets, Inc.)
La Marquise de Sévigné
Their hazelnut piece had a good flavor at first, but it did not last through eating the whole piece. There were some good pieces and some strong flavors, but overall the assortment was average for fine chocolates in Paris (which is of course a high standard).

Type: Fine. Price: €30/lb. in 2003. Conclusion: Just average for fine Paris chocolate.
Mary Chocolatier
Mary Chocolatier has some excellent chocolates. I was surprised by their cream mocha because I usually do not like creams much. The cream mocha was very very good—the cream flavor has a full body and is expressed well. The marzipan in dark chocolate was very good too. A milk-chocolate hazelnut piece had a good, strong hazelnut flavor.

A dark-chocolate hazelnut piece had a light but definite hazelnut flavor. Another piece had yellow marzipan in milk chocolate, but it did not taste like marzipan. I do not know what they were trying for, and it did not do anything for me.

Mary loses points for not labeling the chocolates in their display case or having a brochure, and the person who served me appeared reluctant to describe pieces or help me select according to my tastes.

Type: Fine. Price: €20/lb. in 2003. Conclusion: Required stop in Bruxelles.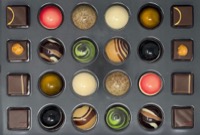 Melissa Coppel Chocolatier bonbons (Big image.)
Melissa Coppel Chocolatier
The flavors in Melissa Coppel's bonbons popped. The flavors were faithful, right on spot, and the pieces were expertly made. I have two complaints: The pieces were not bigger, sigh, and the cost was very high. But I found them compelling. I enjoyed both the novel compositions, as in the Marsala Custard Ganache - Coffee Praliné and the Yuzu Ganache - Pistachio Marzipan, and the more familiar pieces, like the Crunch Gianduja and the Peanut Butter Ganache - Peanut Butter Duja.

Type: Fine. Price: $190/lb. in 2023. Shipping: $15. Chart: Text map. Conclusion: Compelling, but high price may limit it to special gifts.
Orders: Web.
Store and school: 9001 West Sahara Avenue / Las Vegas, NV 89117. 1-702-850-4118
Melt
I visited Melt while in transit through London and was only able to sample a few pieces. My favorite was the Crispy Croquant, a hazelnut feuillantine with superb texture, excellent hazelnut flavor, and a nice scent. The Raspberry and Mint marvelously combined those flavors with a soft raspberry ganache and crystallized mint leaves in a white chocolate shell. The Sea Salted Praline and Gianduja Dome were also very good. The Sea Salted Caramel trailed a bit behind. It lost points for falling apart when bitten into and a strong note in the caramel that did not quite harmonize with the rest of the piece for me.

As with many premium chocolatiers, because of the price I can only recommend sampling a few pieces.

Type: Fine. Price: £54/lb. in 2009. Conclusion: Very nice but very expensive.
Mendocino Chocolate Company
Mendocino's works are playfully artistic.

Type: Standard with Fine influence. Conclusion: Mail order once in a long while.
Orders: Web.
45050 Main Street / Mendocino, CA 95460. 1-707-937-1107.
410 North Main Street (Highway 1) / Fort Bragg, CA 95437. 1-707-964-8800.
Michael Recchiuti
I happened upon Confections by Michael Recchiuti in a gourmet food store and followed up with a trip to their San Francisco store. Recchiuti's chocolates are very good, with fascinating chocolate flavors and nice blends with other flavors. Several Varietal pieces feature different strains of cacao beans, a good opportunity to compare flavors.

The lemon in the Lemon Verbena seems like an indirect flavor; it is not strong, and it supports the chocolate. The Sesame Nougat is a great piece, a novel combination. Recchiuti's pieces generally have good chocolate flavors accompanied well.

I am not a fan of the box assortments and prefer to select my favorite pieces from the display cases. Additionally, the boxed chocolates cost much more than a la carte, and the boxes I have measured were slightly underweight (a few percent).

Type: Fine. Price: A la carte $63/lb., boxed $103/lb. in 2016. Chart: Good drawings. Conclusion: Very good.
Orders: Web or 1-800-500-3396 or 1-415-826-2868.
One Ferry Building, #30 / San Francisco, CA 94111. 1-415-834-9494.
801 22nd Street / San Francisco, CA 94107. 1-415-489-2881.
Michel Cluizel
I was very impressed with the chocolates at Chocolat Michel Cluizel in 2006, when it was called La Fontaine au Chocolat. I have also sampled Michel Cluizel through their New York store and other retailers, but those experiences have not risen to the level of the Paris shop.

Type: Fine. Price: New York: $80/lb. in 2012. Conclusion: Prefer the Paris store.
Moonstruck Chocolatier
Moonstruck has some truffles with a variety of novel, fresh, and attractive shapes. The hazelnut truffle brought out the flavor of its whole hazelnuts well. The cherry kirsch truffle was okay, and the apple brandy was too mild.

Moonstruck ought to be better for the price they are charging. However, if you do sample Moonstruck, I recommend trying an assortment spread across Moonstruck's varied pieces.

Type: Fine. Price: $64/lb. in 2008. Chart: Color. Conclusion: Presentation good but does not stand out in taste.
Orders: Web and 1-800-557-6666.
Store: 608 Southwest Alder Street / Portland, OR 97205. 1-503-241-0955.
See web site for Moonstruck cafés.
Neuhaus
Neuhaus is a Belgian chocolatier with stores throughout the world. They have a number of hazelnut pieces. I like their Troika (marzipan and gianduja) and Paolo (hazelnut praline with whole hazelnut).

Prices might vary by outlet. The $61/lb. I paid at Macy's in San Francisco in 2008 was too much, but the €17/lb. I paid in Bruxelles in 2003 was a good deal. I do not recommend an expensive Neuhaus box as a gift, but, if you select your preferred pieces at a counter at a good price, Neuhaus is okay.

Type: Fine. Price: $61/lb. in 2008. Chart: Color. Conclusion: Okay when convenient and reasonably priced.
Store: 922 Madison Avenue / New York, NY 10021. 1-212-861-2800.
Store: Saks Fifth Avenue, 8th Floor / 611 Fifth Avenue / New York, NY 10022. 1-212-940-2891.
Store: ABC, 888 Broadway / New York, NY 10003. 1-212-254-7400.
Store: 460 Grand Central Terminal / 42nd Street / New York, NY 10017. 1-212-972-3740.
Store: 2151 Broadway/ New York, NY 10023. 1-212-712-2112.
Store: 410 University Street / Seattle, WA 98101 / 1-206-340-1747.
Store: Pacific Place / 600 Pine Street / Seattle, WA 98101. 1-206-340-1747
Store: International Plaza, Suite 277 / 2223 North West Shore Boulevard / Tampa, FL 33607. 1-813-354-0010.
Store: Grand Place 27 / 1000 Bruxelles / Belgium.
Store: Gallerie de La Reine / 1000 Bruxelles / Belgium. +32 (02) 512-6359.
Norman Love Confections
Norman Love Confections is an artisan chocolatier with a wonderful colorful presentation in a clever package. The 36-piece assortment makes a visually impressive gift. I am seeing more clever and creative packaging from chocolatiers, including ideas and art that should be preserved for display.

However, it is the chocolate that counts here. Norman Love falls short. Although the pieces were visually great, quite polished, and perfectly executed, they did not use chocolate well. Perhaps a third had a good chocolate presence. There were quite good non-chocolate flavors, including peanut butter, pistachio, lime, and pumpkin. The Peanut Butter & Jelly was very good but not good enough to justify putting them in an expensive confection.

The assortment comes with three each of 12 random flavors, unless you enter a particular request when ordering. There were a few pieces I could not match to the chart. My order arrived with cold packs and lots of insulation.

Type: Fine. Price: $86/lb. in 2006. Shipping: $18. Chart: Yes. Conclusion: Beautiful gift but not for chocolate lovers.
Orders: Web.
Store: 11380 Lindbergh Boulevard / Fort Myers, FL 33913. 1-239-561-7215.
Pierre Hermé
Pierre Hermé was a delight. A friend suggested I try their macarons, but I could not resist sampling the chocolates, and they were excellent.

The Corso was the most novel piece, combining olive oil, salt, and chocolate. I was skeptical, but the olive oil was presented nicely and worked well with the chocolate. My sensations of the Pietra alternated between the chocolate and hazelnut flavors; they were balanced nicely. Generally, Hermé's pieces had good chocolate and nice flavors, although I did not agree with all of the balances. I did not taste the caramel or salt very much in the Makassar, and the raspberry in the Ispahan could have been stronger.

Overall, it was a very nice assortment, and the price is good for this quality of chocolates, so I recommend Pierre Hermé strongly. They have shops in Paris and Tokyo and appear to ship only in Europe.

Type: Fine. Price: €58/lb. in 2022. Chart: Online. Conclusion: One of the best in Paris.
Pierre Marcolini
I was unimpressed at Pierre Marcolini in 2003. The Massepain Pistache was unremarkable. The dark chocolate in the Noisettine Fondant was so strong it almost overpowered the hazelnut. The ingredients and components in the piece were good, but the composition was not great. In the Trianon Fondant, the dark chocolate exterior did overpower the filling, and the wafers were soggy, not crisp. At Fortnum & Mason in London, I tried another piece by Pierre Marcolini, the Gianduja Citron, and it was good, a nice blend of hazelnut and lemon.

In 2021, I was happier with Marcolini's quality and flavors but do not think they measure up to the price. The Cœur (heart) pieces were my favorites.

Type: Fine. Price: €76/lb. in 2021. Chart: Color. Conclusion: In Brussels, cross the street to Wittamer.
Orders: Web.
Store: Place du Grand Sablon 39 / 1000 Bruxelles / Belgium. +32 (02) 514 12 06.
See web site for additional stores in Europe, Dubai, China, and Japan.
Planète Chocolat
Planète Chocolat sells most of their chocolates in prepared boxes, so I could not pick out my preferences. Some pieces, mostly truffles, are available separately. The pieces in the box I got had textured tops that I could not match up with the diagram, so I could not tell what was what. Planète Chocolat's chocolates look fancy, but that does not make them taste fancy, and I would rather pay for taste than looks.

A hazelnut piece was good and would be okay for the price on its own, but most other pieces, although good quality, left me unmoved. A few pieces are composed well, with good blends of mostly mild flavors.

Type: Fine. Price: €16/lb. in 2003. Conclusion: Uneven collection.
Puyricard
I was pleased with my Puyricard box. The flavors were clean and clear. The pieces were traditional flavors, many of them nut pralinés, including at least eight variants on a hazelnut praliné (plain, with coffee, with walnut, with almonds, with nougatine, crispy, and more). That is more a reflection of the large number of pieces in Puyricard's collection than it is of limited variety; there is also a raspberry mousse piece, a green tea piece, a peppermint ganache, and others. One of my favorites was the milk chocolate Kervin, and I often find milk chocolate frames a nut praliné flavor better than dark chocolate does, but the dark chocolate Pierre was a very nice pairing of hazelnut praliné with dark chocolate; they complemented each other well.

Puyricard's 75 bonbon varieties (not all in one box) were detailed on 12 pages of a full-color 44-page booklet that came with my order. (The rest of the booklet covers other products and company information.)

Puyricard's price is good if you are in France. Shipping to the US is of course expensive, but the charge to ship two 750-gram boxes still left the total price better than some less satisfying chocolatiers in the US.

Type: Fine. Price: €53/lb. in 2023. Shipping: €99 to the US. Chart: Color. Conclusion: Recommended.
Regis Chocolatier
I liked Regis Chocolatier's Noir Orange bar. The orange flavor was brought out well. I do not usually like simple chocolate bars, but I recommend this one.

However, Regis' collection of chocolate pieces is erratic. I liked some, and I disliked some. Some were nice, some were good, and some were "just chocolate." This is not what I expect from fine chocolate. Overall, the flavors were moderate strength.

Type: Fine. Price: €41/lb. in 2010. Chart: None. Conclusion: Paris has better.
Robin Chocolates
Robin Chocolates' Lemon Basil was my favorite piece. It featured an excellent lemon patê with a strong but not overpowering flavor, and the chocolate flavor combined with it. In this and Robin Chocolates' other pieces generally, the chocolate held a good presence. The Mango Coconut featured a spot-on balance of mild flavors of chocolate, mango, and coconut; it was a superbly executed piece.

Those were my favorites, with honorable mentions going to the Blackberry Sage, Chocolate Caramel Fleur de Sel, PB & J, Amaretto, and Passion Fruit Honey. Some of the pieces with alcohol or habanero were not to my personal taste, as such pieces often are, but they were well done nonetheless. I found no missteps in the collection. My only complaint would be of some weak flavors.

Type: Fine. Price: $78/lb. in 2021. Shipping: $22. Chart: Color and online. Conclusion: Pleasant experience.
Orders: Web.
Store: 690 South Airport Road, Building B, Suite D / Longmont, CO 80503. 1-720-204-8003.
Schakolad Chocolate Factory
Schakolad's Butterscotch Truffle was very good, and the hazelnut cup was good. Some of the other pieces were unexciting. The Orange Truffle was orangey, but its white chocolate does not contribute, and the marzipan and buttercrunch were weak.

Type: Fine. Price: $25/lb. in 2004. Chart: Color. Conclusion: Okay for the price.
See's Candies
See's Candies makes some nice chocolates for their price class. I developed a fondness for See's Peanut Crunch and Peanut Butter Patties. Ghirardelli is the classic San Francisco chocolate name, but it has lost its luster, and See's will actually be more enjoyable to eat.

(I own stock in See's parent company, Berkshire Hathaway.)

Type: Standard. Price: $17.50/lb. in 2013. Conclusion: Choose See's over Ghirardelli when bringing back a gift from a San Francisco trip.
See web site for orders and stores. Stores are primarily in the western United States, with a few retailers elsewhere.
Stick With Me Sweets
Let me say first that Stick With Me Sweets's Bourbon Maple Pecan stunned me. Its flavors were intense and compelling. Several of the pieces in the 24-piece box were little flavor bombs. In some, the flavors were moderate strength yet still had some compelling quality that drew me in. The flavors were pervasive and full.

The Wild Strawberry was also strong, very nice for strawberry. Some pieces were classics like the House Dark and some were playful like the PB & Jelly or the Speculous S'more, and they were all well done, not a false note among them. My biggest flavor criticism might be that the Gianduja Hazelnut was a little sharp for hazelnut, whereas I prefer a broader, smoother flavor.

The Mint Chocolate Cookie had good flavors, but I did not find the composition as compelling as in the other pieces. It seemed a little incohesive, although the components were good. The Raspberry Rose was not as strong as other pieces but was still excellent. The pieces were in thin shells of white, milk, or dark chocolate. All of the shells contributed good flavors, but I might like a little more of them.

The biggest drawback to Stick With Me Sweets is the price. However, this is an experience I would not want to miss, so I recommend trying a box at whatever size suits you. The web site did not offer options to choose your own pieces (just "surprise me!", nut free, and gluten free), but you can enter requests in the special instructions section when checking out. The box came with a chart of color drawings that identified most pieces, but a few were hard to match to the drawings, and limited edition pieces may not be in the chart.

Type: Fine. Price: $144/lb. in 2022. Shipping: $20. Chart: Color drawings. Conclusion: Some fantastic pieces. Recommended.



Telluride Truffle
Telluride Truffle's theme is cute. Their triangular truffles are mountains, some capped with white chocolate snow or decorated with ski trails. Other chocolatiers have used mountain themes, but Telluride's distinctive presentation charmed me more than expected.

By and large, the truffles are nice. In the Class 5, the chocolate led, and the raspberry was a good partner. The Black Diamond made good use of chocolate. The Rocky Top had a mild pleasant coffee flavor. The Powder Day was a good firm white chocolate. Mostly the strengths were medium, although the hazelnut was weak in the milk chocolate Mud Season.

The truffles are packaged in a row, as in the above image (which unfortunately does not convey the triangular shapes well), in a triangular box. A mild drawback is that the box unfolds and opens flat, which is not convenient for holding the remaining truffles until you can eat them. I recommend trying Telluride once. The price is a bit high, although the reasonable shipping price partly compensates for that.

Type: Fine. Price: $59/lb. in 2006. Shipping: $9. Chart: Color. Conclusion: Entertaining, a bit overpriced.
Orders: Web or 1-866-543-0108.
Store: 101 Elkhorn Court / Telluride, CO 81435. 1-970-728-9565.
Orders: Flavors.
Teuscher
Teuscher flies chocolates in daily from Europe. They are good, but they are more pretentious and expensive than good. I recommend the Champagne truffle (and I thank the correspondent who recommended it to me). Teuscher may appeal to fans of Swiss chocolate. I prefer Belgian and find Swiss flavors to be off the mark or too mild.

My 2005 purchase in San Francisco was slightly underweight. The chocolate felt powdery to me. The Ground Orange Gianduja was good, with orange pervading the piece, and the Hazelnut Gianduja was okay. However, the Marzipan and Honey Crunch were lackluster, and the Buttercrunch Chip was a bit dry. The weight of my 2006 Palo Alto purchase was correct. The White Gianduja was pretty good, medium-strength hazelnut flavor with some crunch.

Type: Fine. Price: $134/lb. in 2022. Conclusion: Okay for Swiss fans. For others, their high quality is not as high as their price. Use Burdick instead.
Store: 230 Newbury Street / Boston, MA. 1-617-536-1922.
Store: 307 Sutter Street / San Francisco, CA 94108. 1-415-834-0850.
Store: Stanford Shopping Center / Palo Alto, CA 94304. 1-650-384-0916.
See web site for other stores around the world.
The Truffle Shop
Chef Willem DeGroot's amaretto truffle made my head spin. The amaretto flavor works very well with the large amount of alcohol in the truffle, and I recommend it highly. However, the hazelnut truffle is too much liqueur and not enough hazelnut. The Black Tulip truffle has a startling appearance; it is covered with sharp tufts of chocolate. Its strong cognac flavor is not to my taste.

Among the non-alcoholic truffles, the Black Forest has a wonderful cherry flavor, and the raspberry cream is a strong puree of fresh raspberries. The peanut butter is weaker. The filling is like a dense whipped cream with a light peanut butter flavor. A thicker center might be better, and the chopped peanut decorations interfere with the flavor.

I delayed sampling The Truffle Shop because the prices and shipping costs are so high, amounting to $7 per 1.3-ounce truffle when six truffles are ordered. The amaretto truffle may have been worth the experience once in a lifetime, but I have to say the rest are overpriced. The $25.50 cost for six truffles includes wonderful packaging: a nice gift wrap on the box, individually wrapped truffles in hand-assembled cups and wraps and rings. The presentation is exquisite. The $15.95 shipping paid for two-day FedEx, styrofoam packaging, and an unnecessary gel refrigerant in January, with no cheaper option available.

Still, you can customize an order to pick the best flavors, so you might want to try The Truffle Shop once.

Type: Fine. Price: $51/lb. in 2002. Conclusion: Experience once, give as a gift once.
Orders: Web or 1-800-366-3538.
Store: 408 Broad Street / Nevada City, CA 95959. 1-530-265-3539.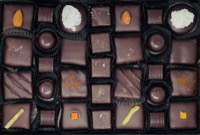 Valerie Confections Grand Assortment. (Big image.)
Valerie Confections
Valerie Confection's Grand Assortment was largely traditional chocolate pieces—toffee squares, caramels, truffles, and mint mendiants. They were elevated by a luscious chocolate flavor, most noticed in some of the truffle and caramel pieces. The assortment featured an array of toffees with various accents, such as almond, salted, orange, and ginger. The orange and ginger flavors were well done, and I find variety entertaining, but I did not feel they enhanced the toffee otherwise. The best feature of the assortment was the good chocolate flavors evident in some of the pieces.

Most of the chocolates I recommend at this price are modern pieces with diverse flavors. But few chocolatiers deliver pieces with the prominent chocolate flavors in Valerie Confections' Grand Assortment. Not every piece was strong in chocolate, but I find Valerie Confections worth trying.

Type: Fine. Price: $109/lb. in 2023. Shipping: $17. Chart: None. Conclusion: Worth trying.
Orders: Web.
Store: 1936 West Glenoaks Boulevard / Glendale, CA 91201. 1-213-739-8149.
Store: 1665 Echo Park Avenue / Los Angeles, CA 90026. 1-213-250-9365.
See web site for retailers across the United States.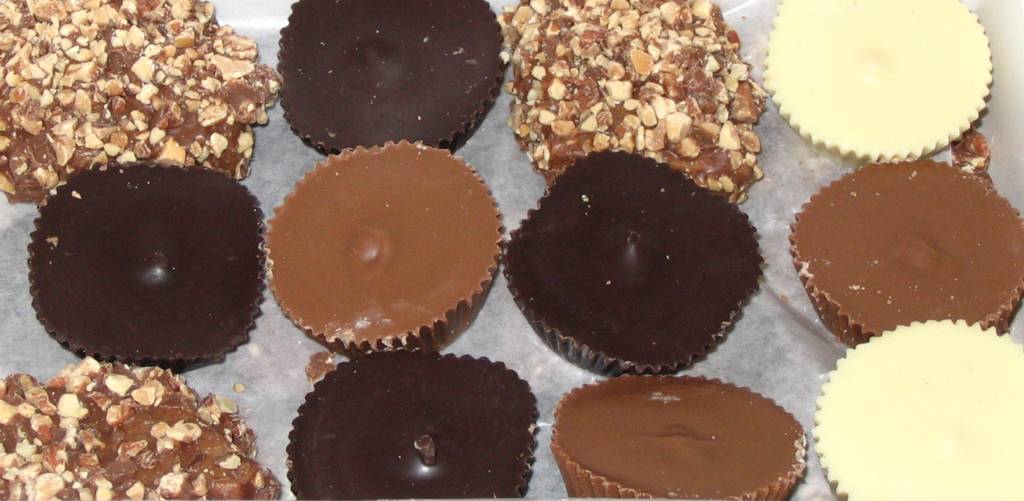 Buttercrunch and peanut butter cups. (Big image.)
Varsano's Chocolates
Varsano's looks like your average chocolate shop, so I was not expecting much, but their chocolates surprised me. Their uncommon white chocolate peanut butter cup was very nice, and the milk chocolate was good too. Marzipan is a favorite of mine, but only when it is elevated from a plain hard paste to something fluffier and more flavorful, and Varsano's does that with an excellent chocolate-covered pistachio marzipan. I also liked the chocolate-covered graham cracker. The chocolate they use for covering their pieces is appealing. However, the buttercrunch tasted very weak to me, and the truffles did not impress me in 2006 as they did during my first visit.

In any other city, Varsano's would be a regular stop, but of course there is so much competition in New York City that Varsano's will have difficulty being noticed, especially with the nearby Li-Lac Chocolates.

Type: Standard. Price: Chocolates $21/lb., truffles $25/lb. in 2006. Conclusion: Worth a visit, and one of the best marzipans available.
Orders: 1-212-352-1171.
Store: 172 West 4th Street / New York, NY 10014. 1-212-352-1171.
Vosges Haut-Chocolat
Vosges' truffles are mild. This works well in the Woolloomooloo, which delivers a macadamia flavor that is pervasive without being strong. However, the other pieces are generally too mild for my taste. You might expect the curry in the Naga or the wasabi in the Black Pearl to be prominent, but they are weak. The flavors are present, but you have to work at tasting them.

The Xocatyl is a milk chocolate truffle with vanilla and an interesting texture, just a bit of friction in a smooth filling.

I cannot recommend Vosges, largely due to the extravagant pricing. Additionally, several boxes I purchased in 2006 were greatly underweight (13.1 ounces versus 16). The discrepancy in 2012 was much smaller but still measurable.

Type: Fine. Price: $107/lb. in 2016. Conclusion: Too mild and overpriced.
Orders: Web or 1-888-301-9866.
Store: 2950 North Oakley Avenue / Chicago, IL 60618. 1-773-435-0094.
Store: Terminal 1 B Concourse / O'Hare Airport. 1-773-894-4613.
Store: Terminal 3 B Concourse / O'Hare Airport. 1-773-894-3535.
William Dean Chocolates
The 36-piece assortment I ordered from William Dean Chocolates contained a broad selection of chocolates and flavors, from the familiar peanut butter or even childhood favorite peanut butter and jelly, to fine lavender or port and plum. The Port and Plum was one of my favorites of the box. The flavors interplayed nicely and had some depth. The Mexican Mango was a superb mango puree with a little bit of spiceness. The PB Krunch had a strong peanut flavor roasted just right. The WD 64%, a straight chocolate piece, was another of my favorites.

The chocolatier, William Dean Brown, plays with a variety of flavors in the assortment. The pieces included Cappuccino, Apple Pie, Hazelnut, Grapefruit and Tarragon, Strawberry Caramel, and more. I regard the Apple Pie highly for execution of its theme; it contained an apple layer and a crumb layer that were faithful to the theme, but the chocolate had a minor role in that piece. Indeed, the amount of chocolate flavor in the assortment varied and was not always the star.

A few pieces, such as the Tropical Caramel, were somewhat mild. Overall, I quite enjoyed the assortment and recommend it.

Type: Fine. Price: $86/lb. in 2020. Shipping: $18. Chart: Color. Conclusion: Definitely worth trying, and a good gift.
Orders: Web.
Store: 2790 West Bay Drive / Belleair Bluffs, FL 33770. 1-727-593-0656.
Wittamer
Wittamer's Cœur is a half-milk and half-dark heart shell filled with gianduja and a few chopped nuts, which I liked. A crème fraîche piece was very good, although the cream could be a bit tangier. Generally, Wittamer's pieces had a good balance of flavors.

Wittamer also has a café at Place du Grand Sablon 12.

Type: Fine. Price: €21/lb. in 2003. Conclusion: Very good.
Woodhouse Chocolate
Woodhouse Chocolate has some very nice pieces; you should definitely visit when in St. Helena or even Napa. However, not every piece lives up to their price level, so be selective about your assortment. I found the shifting flavors of orange, cream, marzipan, and chocolate in the Fiori di Sicilia made it a fun experience, although its chocolate is a minor player. I particularly recommend the Pecan Caramel for an excellent pecan flavor, which mixes well with the chocolate, and the Peanut Croquant, again for a good medium-strong peanut flavor that mixes well with chocolate.

The Raspberry Chambord had a very nice flavor in a very light mousse. The Pistachio is a novel blend of pistachio and gianduja (hazelnut chocolate) and was quite good.

The Quatre Epices was well balanced blend of four spices. Wild Cherry had a nice piquant cherry flavor the first time I tried it but was milder on a later occasion. The Praline Noisette was good with a sharp hazelnut flavor, and the Mocha Cream was good, but some of the other gianduja pieces were mild or weak. The Honey had mild flavors with not much honey shining through. The cinnamon of the Cinnamon Toast was present but stood alone, not partnering well with the chocolate.

The toffee was sweet even for my sweet tooth but good.

Type: Fine. Price: $85/lb. in 2008, toffee $61/lb. Chart: Color. Conclusion: Very good.
Orders: Web or 1-800-966-3468.
Store: 1367 Main Street / Saint Helena, CA 94574. 1-800-966-3468
XOX Truffles
XOX Truffles makes classic small hand-rolled truffles. Truffles are chocolate and cream mixed with other flavors. The filling is rolled in cocoa, finely chopped nuts, coconut, or other items.

These truffles are bite-size, so you can get 20 truffles in just 4 ounces, allowing you to sample every variety. They are generally very good, with strong chocolate flavors and nice blends. The packaging is simple; the truffles are in a single plastic bag in a box.

I definitely recommend XOX Truffles at the in-store price, but the online price is only for fans.

Type: Fine. Price: $40/lb. (in store), $80/lb. (online) in 2008. Shipping: $20. Chart: None. Conclusion: Quite good.
Web.
Store: 754 Columbus Avenue / San Francisco, CA 94133. 1-415-421-4814.
zChocolat
zChocolat uses a single shape for most of its chocolates, distinguished by numbering from 0 to 24 and a special Z chocolate. Most were well composed with either a balance of blending flavors or a well chosen contrast. A few did not make that mark for me, notably two with coffee flavors and two that were simply nuts in chocolate.

The Z Chocolate was the star. It presented a chocolate flavor (dark, milk, or white) with an accompaniment of soft caramel and praliné.

Many pieces featured nut pralinés or pastes, and there was significant variety, including hazelnut, almond, pistachio, walnut, and various combinations, some with fruit flavors as well. The 3 was the fruitiest, and the most different from the others in the collection, featuring caramel, passion fruit, coconut, and mango in dark chocolate. The passion fruit dominated, and the chocolate flavor seemed a bit lost.

Something was also lost in presentation. The uniformity of the pieces made for a bland appearance. An open box showed an array of blocks. The nearly identical undecorated chocolates lacked the attractiveness of of other chocolatiers' colorful pieces with diverse shapes and decorations. And, while creative effort has clearly gone into zChocolat's collection, I found the pieces pleasant but not compelling.

Ultimately, the chocolates fell short of the price. zChocolat is at the extreme end of the price range. Shipping was very reasonable (€18 for world-wide shipping, free with purchase of three items, and duty was included), but the price is still beyond what I would recommend even for chocolates that impressed me substantially more.

Type: Fine. Price: Nominally €123/lb. in 2021 but occasional two-for-one promotions may reduce that, with free or cheap shipping. Shipping: Free with three items in 2016, €18 in 2021. Chart: Color, numbered. Conclusion: Not worth price.
Orders: Web. Toll-free from North America: 1-800-529-9512.
Office: 5, rue Fabrot / 13100 Aix-en-Provence / France. +33 (0) 4 42 91 43 65.
© Copyright 1996-2022 by Eric Postpischil.