Eric's Germany Journal, London
London, May 31, 2003
After disembarking in London, there is an immigration control point. Almost everybody was in the line for European nationals, and the line for everybody else was empty, so I had no wait. Now I have a Channel Tunnel stamp in my passport.


Instructions for tourists at a crosswalk.

I will jump ahead for a moment and tell you that London is just like you would expect it to be. It is a lot like the US except for the differences you know about from literature and British television shows and so on. There are black cabs, double-decker red buses, red telephone booths, and cars going by with nobody in the drivers' seats. The culture and the ways things are done are more like the US than they are like Germany or Belgium. That is my impression coming to London after living in Germany for five months (and seeing Paris and Bruxelles). Any differences between London and a big US city seem small compared to the differences between the US and Germany. Maybe if I had gone to London directly from the US, the differences would seem bigger.

For example, in Germany and Belgium, restaurant service charges are completely included in the prices. Tipping is much less than the US. London is somewhere in between the US and Germany. The service charge is not in the prices, but many restaurants add it in separately (with a notice on the menu). Another example is that the two hotel rooms I have seen in London have fixed shower heads, not the hose attachments used in Germany and Belgium.

After immigration, I bought British pounds with euros. The exchange rates are awful. The spread between buy and sell rates is around eight or nine percent. I will certainly not want to change any money from pounds back to euros, so I want to buy only as many pounds as I need. (When you go to England, look for a currency exchange place that promises to buy back the local currency you do not spend at the same rate you paid for it.)

British currency is similar to US currency in that the coin sizes are disordered. The twenty-cent coin has a smaller diameter than the ten-cent coin, and the writing on them is hard to read. Also, the two-cent piece is huge and attracts attention beyond its value. Euros are much better designed. The low-value euro coins are copper-colored and increase in diameter as they increase in value. The next higher coins start at a small diameter again but are silver-colored and thicker and increase in diameter as they increase in value. Finally, the one- and two-euro coins are distinctively multicolored (gold and silver) and distinctively heavier than the lesser-value coins.

I bought a weekend London transit pass and entered the Tube (also called the Underground). It really is tubular; the passages are tubular, and the trains are tubular. The trains are also not very big. I think if I stood on tiptoe in some of the cars, my head would touch the ceiling even at its highest point.

Access to the Tube is controlled as in Paris—you have to use your ticket to get in, and you have to use it again to get out. They do not trust you like they do in Belgium and Germany.

I made my way to the hotel. There they told me they would put me up at an affiliated hotel on the same block for the first night, and then I would have to move back. That is annoying, especially since my room was prepaid. In the new hotel, the overhead light in the first room was not working, so they moved me to another room. I dropped my luggage, took what I needed, picked up some pamphlets about London, and headed out. (Now I have three beds, one in Nashua, one in Ulm, and one in London; and I have money in four countries in three currencies.)

Buckingham Palace.
I went first to Hyde Park. There is a Hard Rock Cafe there, so I got another shot glass for Cathleen's collection. Near Hyde Park is Buckingham Palace, so I went there.

After seeing the palace, I took a night tour of London on a double-decker bus. [2021: An old link I had here is dead; this company offers night tours but might be different from my experience.] The tour went by Hyde Park, Paddington Station, Baker Street, Piccadilly Circus, Trafalgar Square, Big Ben, Buckingham Palace, and Scottland Yard and over Tower Bridge and London Bridge (the new one, not the old one that is in Arizona now).

| | |
| --- | --- |
| | |
| Houses of Parliament. | Tower Bridge. |
The tour stopped a couple of times for picture-taking, resulting in the photographs seen to the right.

Back at the hotel, I looked over the pamphlets I had picked up to plan the next days. In addition to information about tourist attractions, I picked up a London transit system fare booklet. It is over 50 (narrow) pages!

The transit system here has some problems. You have to show photographic identification to buy a seven-day transit pass, and your identification number is written in the pass. Apparently London officials are so concerned that people would buy a seven-day pass and then share it that they waste labor and time inspecting identification and making people wait in lines. How much revenue would they lose from people sharing tickets? In most cases, a commuter will need their pass every weekday, and if you tell them not to share it, most will comply. The few passes that are shared will mostly result in a few additional rides outside of peak times. For that, it is not worth the expense of making people wait in line, which wastes the time of the people waiting and the employees inspecting the identification. I saw lines to buy tickets in the stations repeatedly during my stay, even at off-peak times like Sunday and after the morning rush.

I picked up a falafel sandwich at a Lebanese restaurant near the hotel for dinner. When judging prices, I have to remember to convert currencies. When I came to Europe, I could treat euros like dollars, since they were trading at nearly one-to-one. Now it is 1.17 euros to the dollar, and pounds are even higher, 1.63 to the dollar.

Sunday, June 1, 2003
Sunday I woke up with signs of an oncoming cold, primarily an itch in the back of the throat. Somebody in Bruxelles gave me a cold.

I checked out of my room and took my luggage to the other hotel. They did not have a room ready, so I just left my luggage there.

I set out to take a closer look at some of the things the tour passed. I went back to Hyde Park and walked to the northeast corner, Speakers' Corner. Parliament designated that spot for public oratory. I was too early, though, so I left for now and walked down Oxford Street. It's a shopping street and did not look interesting to me. I did see two people wearing formal riding attire riding horses down the street.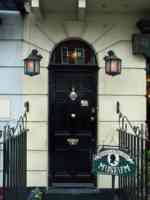 221B Baker Street.

Intersecting Oxford Street is Baker Street, and I walked to 221B Baker Street, where there is now a museum and shop.

Around the corner and down the street is Madame Tussaud's wax museum. I located it but did not go in, since I had other plans for the day.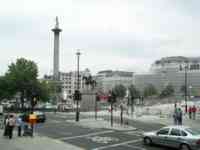 Trafalgar Square.

I hopped a bus back to Speakers' Corner, and four people were talking. One was a religious fanatic, one must have been a religious fanatic but did not seem very zealous, and two were trying to do some entertaining talk together. None were very interesting.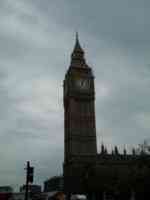 A clock tower.

I took the Tube to Charing Cross station. It is next to Trafalgar Square, and from there it is a short walk to Big Ben.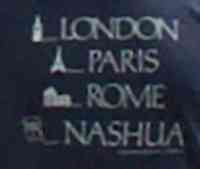 Obligatory t-shirt in London.

I asked some people to take my picture with Big Ben in the background, so I am well on the way to completing the set for my London-Paris-Rome-Nashua t-shirt.

I went back to the hotel to put my luggage in my room. Near the hotel is a movie theater. The Ulm theaters have not shown any English-language movies while I have been there, so I have not seen a movie in six months. However, aside from consuming my time in London, seeing a movie here would cost £8, which is around $13. For that price, I will buy the DVD instead. Prices in London seem generally high.

The hotel in Bruxelles is now the second-least value I have gotten. Both the London hotel room for my first night and the room for the remaining nights are tiny. There is barely space to put my bag and take things out of it. This is another reason not to use that travel agent again (like I need more reasons). I hoped it would be a bit better to use a hotel an agency had made arrangements for rather than picking someplace randomly, but I doubt it.

In addition to the small hotel room, I am tired of lugging my luggage and being on the road, so I am looking forward to going "home" to Ulm. That will only be a temporary respite, though; I still want to go home to Nashua.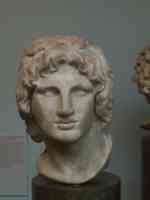 Alexander the Great.

In the afternoon, I visited the British Museum. I took a short tour and spent a while in the museum. The British Museum has objects from all over the world, because apparently history happened all over the world, even in Lykia, which nobody knew about, except the Lykians. They did not tell anybody, but the British Museum got their stuff after they died. Maybe I will put a clause in my will saying that famous museums are not allowed to have any of my stuff.

Propaganda was alive and well over two thousand years ago. Alexander the Great had sculptors and painters portray him with a youthful, clean-shaven face, long hair, and a dynamic turn of the head.

The British Museum also has dead Egyptians on display, wrapped in strips of cloth. Maybe my will should say something about cremation too, just to be sure no museums try anything.

I bought a funny book in the museum shop, Stone Age News. It is written like a newspaper but set in the Stone Age. There is a missing-persons report about the Neanderthals, a story on a new way of gathering food called farming, homemaking tips for your cave, and so on.

Outside the museum, I had a dinner of overpriced fish and chips.

Finally, I went back to the hotel to rest. Some evening I plan to get out in London, but I have been walking for days.

Monday, June 2, 2003
In the morning, I bought cold medicine. It kept the symptoms at bay during my stay in London, so I was able to enjoy the vacation without noticing the cold too much.

At the Tube station, people were waiting on line to buy tickets. The machines that sell single-trip, round-trip, and day passes were not busy, so I think most people were on line to buy longer-term passes, as I mentioned above.

I went to Victoria Station to scout for luggage storage on Wednesday, in case I wanted to leave my luggage there while I did something in the city, so I would not have to go back to the hotel before going to Gatwick airport. It would cost £5 per piece of luggage, which means $16 for my two bags, plus there is a line to give them your luggage. They do a security screening on the luggage. Since the luggage does not have to go anywhere particular, like on a plane, I would think it would be easier to put the luggage somewhere where a bomb wouldn't hurt anybody rather than (try to) screen every luggage item ever submitted for storage.

I looked at the main train information display board but could not understand how one was supposed to use it to figure out what track their train was on. German train displays and many airport displays are sorted by time, so you can find your train or flight in the list very quickly. The Victoria Station board was not arranged by time. It seemed to be arranged partly by destination, but one train goes to multiple places, so you have to know which of your train's destinations it would be listed under. I suppose that is most likely its final destination, but that still requires knowing more about your train than might be printed on your ticket or discovered in the process of preparing your itinerary.

From Victoria Station, I walked to the Chocolate Society, which I had seen from the tour bus, and then to King's Road and Sloane Street. I think that is where I saw Harrod's and went in.

Harrod's is quite an experience. It appears fancy without being pretentious. The store is quite busy, in terms of both the decor (lots of lights and sights) and the people (lots of people and activity). I bought a couple of things from their food department but was not impressed.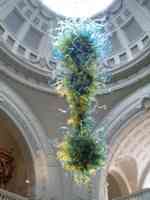 Glass sculpture in Victoria and Albert Museum.

Next I visited the Victoria and Albert Museum. It has an eclectic collection, in their words, "calligraphy and graffiti, Medici and Gucci, stained glass and fibre glass." Hanging in the main room just in from the entrance, they have this glass sculpture that looks like a balloon-animal maker went mad.

Several rooms display fakes and forgeries. The two rooms below are filled with plaster casts of sculptures and pieces of architecture.

Plaster casts of sculptures and architecture.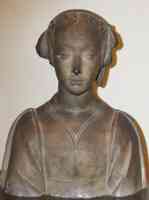 Wooden bust.
The bust at the right was thought to be a copy of one in the Louvre ascribed to Desiderio da Settignano, but one the Louvre is probably a forgery by Giovanni Bastianini and may be a copy of this one.

| | |
| --- | --- |
| | |
| Old chess board with computer. | Backgammon board on reverse of chess board. |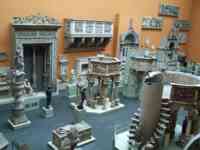 Another view of the plaster casts.
Tower Bridge.
After the Victoria and Albert museum, I went to the Tower Bridge Exhibition. They boast it is an award-winning exhibit, but I did not find it very interesting. When the bridge was planned, designs were solicited, and committees rejected them, one got selected, and they built the bridge.

The arms of the bridge that lift are counterbalanced and moved hydraulically, and they used pumps and steam engines. Nothing new there. Of course, part of the interest is that it was built over a century ago, when such a feat was new.

Former Tower Bridge engine room.
These may be the original steam engines. The coal shown in the furnace is not burned in the exhibit. There are lights to simulate glowing coals, but the lights are green instead of red.

Paying for the exhibit also gets you to the upper walkway, with its view of London.

| | | |
| --- | --- | --- |
| | | |
| View east from Tower Bridge. | View west from Tower Bridge. | View of Tower of London from Tower Bridge. |
| | | |
| Tower Bridge seen from near the Tower of London. | Tower of London seen from Tower Bridge. | Thames seen from the center of the Tower Bridge. |
Away from the bridge, I did not have long to wait for the next opening time, so I was able to get these pictures.

Next I took the Tower of London tour. Yeoman Warders, also known as Beefeaters, give the tours, and I found the tour worthwhile. (The cost for entry and the tour is £12, nearly $20, and that does not include a guide book.) The pictures below show various parts of the grounds and structures inside the Tower of London. The White Tower is the original tower of London. It is somewhat convoluted inside and is pretty sizeable.

| | | | |
| --- | --- | --- | --- |
| | | | |
| Former moat. | Street inside Tower grounds. | Yeoman Warder giving a tour. | Traitor's Gate. |
| | | | |
| Ravens kept to avoid ill fortune. | Site of scaffold. | Field. | Prisoner's view of scaffold site from White Tower. |
| | | | |
| White Tower. | Stairwell inside White Tower. | Treasury, housing the crown jewels. | Walkway. |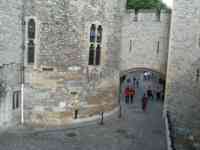 A view inside the Tower of London.

The scaffold site is where Queen Anne Boleyn; Margaret, Countess of Salisbury; Queen Katherine Howard; Jane, Viscountess Rochford; Lady Jane Grey; and Robert Devereux were killed.

The Traitor's Gate is where some famous or infamous prisoners are said to have been brought into the Tower.

The ravens are kept because there is a saying that the monarchy will fall if the ravens leave the Tower of London.

The crown jewels are housed in the compound, so I got to see those on the fiftieth anniversary of the queen's coronation. The crown jewels are very sparkly. Even the 340-year-old crowns are shiny gold and sparkly jewels. The oldest item I saw was Sir Edward's crown from 1661. I would have expected to see more wear after 340 years of polishing. Whoever takes care of the crown jewels ought to show the folks at Versailles how to polish their dusty mirrors without wearing them out.

Next I went to Piccadilly Circus. That's a shopping area with a (new) statue in the middle, and that's about it. At a nearby Waterstone's, I found a science fiction book on my to-buy list, so I have a little more reading to occupy future train rides.

I looked for someplace to have dinner, and it was surprisingly difficult to find dinner near Piccadilly Circus. There is a chain restaurant called Pret-a-Manger (Ready to Eat), but it closes at 6 p.m. Maybe that makes sense in business areas, but Piccadilly Circus is active throughout the evening. There were other restaurants open but not many vegetarian options. I thought vegetarianism was somewhat popular in Britain. Some places offered salads, but Europeans seem largely unaware of how to make a good, hearty salad. I found a place with a good pizza (although still not enough tomato sauce) and another place with Indian vegetarian cuisine, choose the pizza, ate, and went back to the hotel.

Tuesday, June 3, 2003
In the morning, I called an airport shuttle service and made a reservation for the next day. They recommended arriving at the airport two hours ahead of time and said they would pick me up between 9:30 and 10 a.m. for my 2 p.m. flight. That is four hours expended just for getting to the plane. I suppose the Eurostar train is better time-wise even with its check-in procedure. When I scheduled my 2 p.m. flight, I thought I might have time to do something in London in the morning, but that is not likely given the shuttle schedule.

In the Tube, I saw an ad for the London Transport Museum that implied a London bus can lean farther than you before falling over, 28º. I wish I had time to go to the museum and see buses falling over.

The London Tube is easier to navigate than the Paris transit system. The transit lines are shown with consistent colors on maps and signs, and there is usually just one route stopping at each platform. However, there is more than one route at a platform sometimes, and then the trains are poorly labeled.

Sarah Michelle Gellar.
I went to Madame Tussaud's and paid the £19.99 entry fee. That is around $32.50, but it is about worth it, once anyway. The displays begin with movie and other entertainment stars, most of whom are unimportant. I did find one worth photographing. The figures may look shiny in my photographs, which were taken with the flash. (Just like in the television show: "I don't look that good in direct light."—Buffy the Vampire Slayer.) In the diffuse light at Madame Tussaud's, the figures do not appear so shiny; they are pretty lifelike.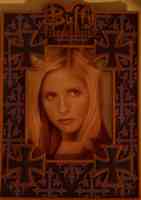 Buffy the Vampire Slayer photo.

I was a little surprised Sarah Michelle Gellar made it into Madame Tussaud's, because she is so recent compared to most of the other people portrayed. Also, they had photographs in Buffy the Vampire Slayer-theme frames for sale, and you know, from my Paris trip, that a trip is not complete without some Buffy souvenir, so I bought one. For the record, I am a fan of the show and would have preferred something reflecting the entire cast or show rather than a Sarah Michelle Gellar item. Not that I don't like Gellar, but the entire cast and production team are responsible for the show.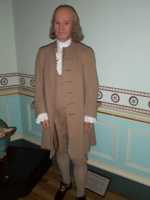 Benjamin Franklin.

After the movie stars, Madame Tussaud's has figures of important people. Here is a figure of Benjamin Franklin that was modeled from Benjamin Franklin himself, in real life in 1783, not later from paintings.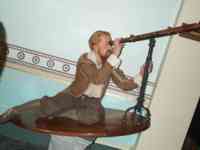 Galileo Galilei.

Another important figure at Madame Tussaud's is Galileo Galilei.

Madame Tussaud lived from 1761 to 1850 and was born Marie Grosholtz. According to a sign at the museum, "During the [French] Revolution, Marie was commanded to take death masks of notable Royalist and Revolutionary victims of the guillotine, many of whom she had known."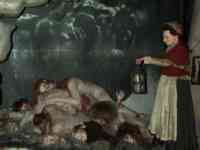 Marie Grosholtz looking for Marie Antoinette's head.

The scene to the left shows her searching for the guillotined head of Marie Antoinette.

Blade that beheaded Marie Antoinette.

They also have the guillotine blade that beheaded Marie Antoinette in 1793.

Madame Tussaud's plays games with their figures. Currently, they have George Bush and Tony Blair posed together while Jacques Chirac, Vladimir Putin, and Gerhard Schröder are a separate group. [This was the time of the Iraq war when Blair sided with the US while many other countries did not support the US path.]

I went back to Piccadilly Circus to have lunch at the vegetarian Indian place. On the way, I stopped at Fortnum & Mason, which I first learned about from Jessica. Fortnum & Mason is another fancy department store, but, where Harrod's is busy in decor and people, Fortnum & Mason is quiet. Their confection department offers English, Swiss, and Belgian chocolates. The Belgian chocolates are mostly Pierre Marcolini, which I tried in Bruxelles, but I bought a few pieces I hadn't tried in Bruxelles. I passed on the English chocolates and bought several of the Swiss, which were disappointing.


Houses of Parliament.
London Eye.
In the afternoon, I went to the Embankment station to take a walking tour. While waiting for the tour to begin, I took the photographs here. The observation wheel on the left is the (British Airways) London Eye and is about 135 meters high. It offers rides with views out over London. Notice that the wheel is supported only on the far side, so the rider's view north to most of London is never blocked by any part of the structure.

The walking tour is named "'Somewhere Else' London." The prospectus describes it as "a goulash of a walk... real Cockney—unaltered Dickensian London..." The tour guide used to take London Zoo's elephants for walks in Regent's Park. The walk was okay but not colorful enough for me. I was looking forward to the "Jack the Ripper Haunts" walk that evening.

After the walk, I went to the Science Museum. The Science Museum is superb. I wish I had gone there earlier. It closed at six, and I had only about an hour in the museum. It is not dumbed down like many other science museums. Their exhibits show things that are explained or show you the work that went into learning and developing science and technology. Too many science museum exhibits promote a spectator approach to science—the visitor is invited to gawk at the wonders, as if they were magic and understanding them were impossible. The few exhibits I had time to see at the Science Museum in London were thorough and showed the parts making up the whole, allowing you to see that real work was done by people, not magicians.

Materials House.

The Materials House to the right is made of 213 layers of different materials, including metals, plastics, ceramics, composites, natural organic materials (cotton, wood, silk, leather), and elastomers. The edge of each material is visible everywhere, but the surface of each is visible in only one place. The object by itself is art, but the exhibit includes good information on how it was designed and constructed, the properties of the materials, and so on.

Another good exhibit shows the design, construction, and assembly of the London Eye. The museum exhibit discusses the materials used in the wheel, how the wheel is held together, how the hub of the wheel is supported on only one side, and how it was constructed and raised into place.

Charles Babbage's Difference Engine.
Here is the real treasure of the museum. They built Charles Babbage's Difference Engine Number 2!

Charles Babbage designed the Difference Engine Number 2, a mechanical calculating engine, and had it partially constructed in the mid-1800s but never finished. To demonstrate that the reasons for not finishing were political or social and not technical, the Science Museum built one of its own.

They used "materials closely matching those available to Babbage—cast iron, steel, and [bronze]." Although modern manufacturing techniques were used, "care was taken to make parts no more precisely than Babbage could have." It has about 4,000 parts and weighs around three tons.

The Difference Engine evaluates and prints polynomials and has thirty digits of precision. Like today's computers, the printer comes separately. The sign says the printer was not constructed, but the device in the lower left picture looks a lot like a printer, and I saw a news story a while ago that said constructing the printer was the next project. I do not know if the sign has not been updated or the pictured object is just a mock-up.

Manchester University Differential Analyser.

Also in the math and computer section is the Manchester University Differential Analyser, a more recent calculating machine.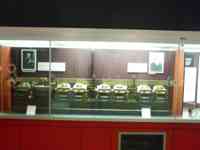 Kelvin's Harmonic Analyser.

Nearby is Kelvin's Harmonic Analyser. I did not know anything like this existed—it performs a Fourier transform mechanically. The machine's tracing point is moved along the curve to be analyzed. That movement causes the disks to rotate, in turn moving the spheres and the recording rollers. Then the machine shows the first six Fourier components of the function and its average value.

After the museum closed, I tried to get back to hotel to transcribe my notes of the day and move pictures from my camera to my computer, but there was some problem with the yellow Circle line, so I took a green District line train and changed trains. Then I grabbed dinner, dropped my stuff at the hotel, and went back to the Tube to get to the "Jack the Ripper Haunts" walk.

My train was delayed repeatedly, stopping for several minutes at a time both at stations and between stations. It took 46 minutes to go the 12 stations. I missed the walk. To go back to the hotel, I took the Circle line again, and I tried going around the long way. Now that I had no time pressure, it took only 28 minutes to go 15 stations. Oh, well, it gave me time to catch up on my notes.

Wednesday, June 4, 2003
Today was the day to travel back to Ulm, and it would be a day of waiting: Wait for the shuttle to the airport, stand in line for airline check-in, stand in line for security screening, wait for the plane, wait for the S-Bahn, and wait for the intercity train. To use up the last of my British currency, I bought Arthur C. Clarke's 3001 at the London airport. I finished reading Greg Bear's Vitals on the plane, started 3001, and finished it on the train to Ulm. That gives you an idea of how much time I spent waiting and riding today.

It turned out I need not have waited for the airport shuttle, since it did not show up. When I called to find out why they had not shown up, they said they had no record of my reservation and it was too late (3.6 hours before my flight!) for them to get me to the airport on time. So much for the "reliable" in their advertising. I walked to the Tube, took a train to Victoria Station, bought a Gatwick Express ticket, and got to Gatwick 1.8 hours before my flight and £9.4 cheaper than the shuttle service. The only disadvantage was having to carry my luggage. (The Tube has many stairs.)

At the airport, I had time for lunch (and money to spend since I had not spent it on the shuttle) and some quick shopping. I tossed my final £0.62 into a fountain, presumably to go to some charity.

I left London without anybody having asked me for directions, unlike Ulm, Paris, and Bruxelles.

The flight went fine and delivered me to München, where I passed through immigration as a German resident. It is strange to come "home" to Germany. It is home temporarily; here I can relax in the knowledge that I have a somewhat comfortable base to operate from. But it is temporary.

If you are going to go to London, I recommend spending as little time there as you can, partly because it is expensive. If I were going back, I would try to get in and out by train and stay as few nights as possible.


© Copyright 2003 by Eric Postpischil.