Eric's Germany Journal, Bruxelles
Bruxelles, May 28, 2003
The train reached Bruxelles and confusingly stopped at Bruxelles-Nord. After a pause, it started again, we passed through some tunnels under the city, and then we reached Bruxelles-Midi.

As I left the train station, I checked the posted map to familiarize myself with the area around the station. I already knew my hotel was northeast of the station, but I wanted to check the details. It took me a minute to figure out the map. It did not depict north at the top. East was at the top of the map, and I am not sure it was due east, nor did I see any compass or other symbol alerting the reader to this. Another map I found posted on the street later in my visit showed west at the top of the map. It is hard to match up streets on different maps or with your memory when the maps are drawn differently.

I confirmed the route to my hotel, walked there (about a kilometer, with my bags) and checked in. The hotel registration form asks for your profession, in case the police want to know. I dropped my stuff in my room, which is tiny. It is the least value for the euro I have gotten so far. However, it was fine, and the hotel was only six blocks from lots of chocolate stores near Grand Place, the tourist center of Bruxelles. It was mid-evening (early by European standards) and light out, so I went to see Grand Place.

Grand Place. The picture on the right contains two chocolate stores and a chocolate museum.
Grand Place is a large town square surrounded by big, old buildings. The buildings are used as shops, museums, banks, town hall, restaurants, and a visitor information center. It was not light enough to get good pictures. The photographs here are from the next day.

Godiva, Neuhaus, and Leonidas have stores in or adjacent to Grand Place, but I did not come to Bruxelles to try chocolate I can get in the US (and not the best compared to what Belgium has to offer), and I had to save my calories for new adventures.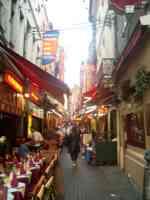 Street full of restaurants.

I went looking for dinner, but you almost do not have to do that in Bruxelles—dinner will come looking for you. There are a huge number of restaurants around Grand Place. If you walk down the street, waiters come out to pitch their restaurants, tell you about meals, and ask you about your preferences. That happened six times while I walked just a few blocks!

Bruxelles is different from the German cities I have seen, in building design, building arrangement, traffic design and flow, and other things. Some of it is little things, hard to describe, like how buildings are placed relative to each other, and I certainly don't know the words to describe the architectural differences, so I will just have to leave it there.

Thursday, May 29, 2003
Today and tomorrow are holidays in Belgium. Almost all the stores in the tourist areas were open, but some elsewhere in the city were not open Thursday.

This would be a very full day. The previous night was warm, so I expected to be unable to carry chocolates around. That means I would have to buy small samples at each store and eat them quickly. It got hot enough in the afternoon that my sample from one store, just three pieces, started melting before I could finish them. In New York a few years ago, I prepared with insulated containers and cold packs. That allowed me to bring samples home to share with other people and enjoy after the trip, but it takes labor and preparation, so I decided not to do it this time.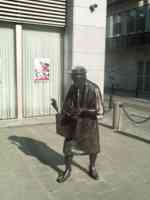 A statue in Bruxelles.

I started the day by walking to Grand Place, to explore the area around it more than I had the night before. On the way, I passed this statue. I have the feeling I have seen it before but do not know if it is famous and I should know it.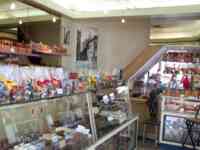 La Maison du Chocolat Artisanal.

I found La Maison du Chocolat Artisanal open before most stores and the clerk eager to help. Expecting a day full of chocolate, I bought only few pieces, and I ate them right away. Maison charges only $13/lb. That is a low price for chocolate, so I was not expecting good quality, but I was very surprised. Their chocolates were superb. I will tell you right away what cost me eight hours of walking to learn: Maison was the best chocolate I had all day. If you go to Bruxelles, head straight for Maison.

As more stores opened, I started navigating more purposefully instead of just wandering in exploration. Bruxelles streets are very confusing. First, the names are in two languages, and sometimes the names are very different from each other. For example, after you learn that Rue Royal and Koningsstraat (Royal Street and Kings Street) are the same thing, it makes sense, but while looking for Rue Royal on a map, you would never guess that Koningstraat is it. Another street has the very different names Rue du Marché Aux Poulets and Kiekenmarkt.

Second, the maps I have do not show the streets very well. The scale is such that some street names have to be abbreviated or broken into pieces or separated from the street. The map I have with a coordinate grid has very large squares, so looking up a street in the index still leaves you with a large area to search in. I also found different maps hard to match with each other. On the streets themselves, street signs are on the sides of many buildings at intersections, but not all, and they are often located so that they are not visible from the intersection itself (you may have to go around the corner a bit) or are so far away they are unreadable. As a pedestrian, it is difficult to find street signs. In a car, which is less maneuverable, it must be worse.

Even allowing for street names and markings, I am not sure why it seems harder to navigate in Bruxelles than in the German cities I have been in. German cities have numerous short streets and twisty streets like Bruxelles, but I have been able to navigate the German cities almost instantly upon arrival.

Anyway, I spent some time wandering the area around Grand Place, for several reasons. I wanted to learn my way around, my mother wanted more items from a store she had visited several years ago, and there were several stores on my search list in the area and others waiting to be stumbled across. The following events occurred while I was near Grand Place, but I am no longer sure of the order. It was a long day.

I happened across Brussels Pralines. Their chocolate would be fine anywhere else, but it is just average in Bruxelles. Still, that is pretty good, as there are several lesser stores that are tourist traps and should be avoided. We will get to those later. Soon thereafter I visited Le Temps du Sucre, which is skippable.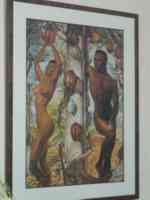 Painting by Pedro Centeno-V.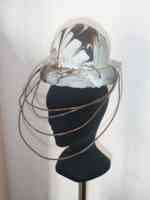 Chocolate truffle hat.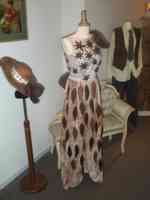 Chocolate-theme dress.

I visited the Museum of Cocoa and Chocolate (now Choco-Story Brussels, which is in Grand Place. If you have been to the Imhoff Stollwerck Museum in Köln, then you can skip the Museum of Cocoa and Chocolate in Bruxelles. It is small—three floors, but just four or five rooms, and not a lot of information. It does have some chocolate-theme clothing, which is mostly unwearable, and this nice reproduction of a painting. (I had to take the photograph at an angle to avoid reflections from exterior windows.) It is signed "Pedro Centeno-V," who may be Pedro Centeno Vallenilla.

Various chocolate museums commonly present information about how chocolate is made. Here is the general process, extracted from pages 32-37 of The Ultimate Encyclopedia of Chocolate by McFadden and France.
Cacao (ka-kow) trees grow within 20º of the equator.
After a tree is about three years old, it grows cacao pods.
The pods are cut open to reveal fruit and beans.
The beans are enclosed in banana leaves and fermented for several days.
The beans are dried for ten to twenty days.
The beans are cleaned, roasted, cooled, and cracked open.
The nibs inside the beans are separated from the husks.
You can eat the nibs, but they are usually ground to 25 to 50 microns, producing chocolate liquor.
To make cocoa powder and cocoa butter, the liquor is pressed, squeezing out the cocoa butter and leaving a residue that is ground to make cocoa powder.
To make eating chocolate, the liquor is mixed with sugar, cocoa butter, and possibly powdered or evaporated milk.
Then it is ground between a series of rollers. Some chocolate is finished at this point.
Better chocolate is conched in a shell-shaped machine that agitates it for several days, removing bitterness.
Finally, it is tempered by cooling it slowly, at which point it can be used in molding or enrobing machines.
That's a lot of work for a little chocolate.

The museum also mentions that one-ton blocks of chocolate (almost enough to last me a year) have been used for shipping. One exhibit mentioned the International Cocoa Genebank in Trinidad, which led me to this good article [2021: Link is dead, perhaps see this article], which says the Genebank has a living collection of over 2,500 varieties of cacao.

After the museum, I went to the tourist information office in Grand Place to ask about things to do in the city. Of course, I don't care what else is in the city while there is chocolate to be had, but walking to various sights would both burn off the calories and add something to the walks to the more distant chocolate stores. A woman in the tourist office drew me a nice route that went by shopping areas, a cathedral, a park, the royal palace, the palace of justice, the museum of art, more shopping, and other landmarks.

Of course, this is Bruxelles, so I didn't get a single block before finding another chocolate store. One of the access streets to Grand Place houses the chocolatier Galler. Galler holds a royal warrant, but I am not greatly impressed. Their chocolate is good, but that is not enough to make a good chocolate piece. One of the pralines I had was unpleasantly bitter. I can eat very bitter chocolate and enjoy it, but bitterness does not work when it combats other flavors. The bitterness worked better with another piece's strong orange flavor. It still was not to my taste, but it might work for some people.

I circled the streets outside Grand Place looking for that store for my mother, but I found no sign of it. I proceeded on to Planète Chocolate, but it was closed for the holiday.

The streets around Grand Place and in other old or tourist areas are brick or cobblestone. I think in Bruxelles they do that to preserve history and tourist attractions. In Ulm, they use brick streets in some areas because it fits the current use of the areas.

I found another chocolate store, Valentino, and tried it. You can skip it. Then I finally made it out of Grand Place and set out on the tour laid out for me, which would take me to Rue Royale, where Mary Chocolatier is.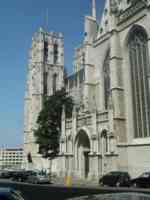 Saint Michel Cathedral.

To the right is the cathedral I passed.

Mary was closed for the holiday. I will try again Friday or Saturday. Not too far from Mary was an address I had for Le Chocolatier Manon. However, the store was gone. I do not mean just the business was gone, I mean the building was gone. Some large building was being constructed there. Manon may be the same Manon that is in the northwest of the city that I plan to go to Friday.

Many parts of the city are very quiet, likely due to the holiday. The street that Mary is on has very little traffic, although it looks like a large main street. In a business area a few blocks away, there is a lot of traffic passing through but not turning off into the business area. This part of the city has modern streets and buildings. The tourist and shopping areas are very active.

Fountain in Parc de Bruxelles.
The tour took me into Parc de Bruxelles. After resting a bit (I had been walking for hours), I bought some cold water and continued.

Palais du Roi.


Just south of the park is the king's palace. The European parliament is about a kilometer away, but I did not go that way. The tour went down and up Rue de La Régence, passing several public buildings. The Museum of Musical Instruments houses a restaurant at at the top, and the public is invited to view the city from the top.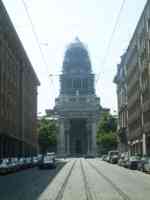 Palais de Justice.

Unfortunately, they have closed off the part of the terrace with the best view. I continued walking south to the Palace of Justice. On the way, a couple asked me for directions, and I showed them the street they were looking for on my map. That's three foreign countries I've given directions in. I should start studying the London map so I am prepared to give directions there.

To the left is the Palace of Justice.

After seeing the Palace of Justice, I walked back north on an adjacent street, to Grand Sablon, where there are two more chocolate stores, Pierre Marcolini and Wittamer. The pictures below are taken around the Palace of Justice and Grand Sablon.


At Marcolini, I bought three pieces, and I sat on a bench in the small park between Marcolini and Wittamer to eat them. I had to eat quickly because it was warm and sunny, and the chocolates were melting as I was eating. Marcolini is fine chocolate and good quality but misses the mark. I crossed to Wittamer and found the chocolates to be better. Wittamer also has a café with very attractive pastries.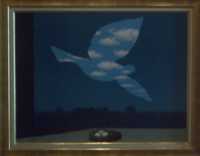 Le Retour (The Return), 1940.

The next stop on the tour, one block north, was the Museum of Modern Art of the Royal Museums of Fine Art of Belgium. I would not have bothered to go in, because all they have inside is art, but they have some original works by René Magritte, a surrealist Belgian painter, including Le Retour (The Return). My photograph of it is to the left. I have a print hanging in my living room. I found an okay Magritte t-shirt in the museum shop and bought it, although I wish they had had more interesting works of Magritte available.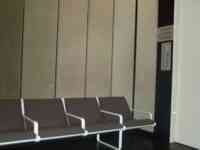 Art museum elevator.

The floors in the museum go down to -8. That is a lot of floors below ground, but it does not take the elevator very long to traverse them, so I do not know why it has seats.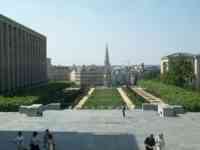 A park in Bruxelles.

After the museum, the tour route headed quickly back to the main tourist area, first going through the park shown to the left.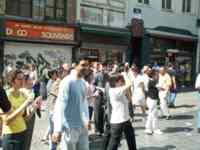 Spectators.

After the park, the route wound through some unremarkable streets, and then I came into view of a crowd of people at the end of the block I was walking. The tourist areas are like that—there is almost nobody at one end of the block, and there are throngs of people at the other end. However, this seemed like a particularly sharp transition. As I got closer, I could see they were standing around and taking pictures.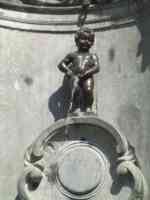 Mannekin Pis.

It was not until I got around the corner that I could see they were staring at this statue, named Mannekin Pis. Throngs of people were coming by, gawking, taking pictures, and posing for pictures.

Okay, the statue is amusing for a moment, but I do not think it is worth all that fuss. I will leave it to your imagination what the nearby souvenir shops are selling.

North from Mannekin Pis are three unremarkable chocolate stores. I tried one, called Moeder Babelutte, but the other two were packed with tourists, so I planned to come back later. I could have skipped the other two entirely, as they appeared to be low-quality chocolate for tourists (and mostly mass-market prepackaged stuff you can buy anywhere), but I wanted my Bruxelles chocolate research to be thorough. Moeder Babelutte was pretty good for its price and had a good marzipan and a good hazelnut.

I finished by taking some pictures of Grand Place in the afternoon light and went back to my hotel. I had been walking for seven hours. I hope that burned off most of the calories I consumed.

After a rest and transferring pictures from my camera to my computer and organizing my chocolate records for my reviews, I went back out. I revisited the two chocolate stores near Mannekin Pis that I had passed. My visual assessment turned out to be correct, based on taste at one shop and customer service at the second. (They would not sell me my choice of chocolates from the display case, even when the tourists had cleared out and I was the only customer there.)

One difference between Bruxelles and Germany is that German cities have bakeries all over, around every corner. I did not see nearly so many in Bruxelles.

The density of restaurants may be different, although I presume the wall-to-wall terrace-to-terrace restaurants in the tourist area of Bruxelles is an anomaly. Just a couple of blocks away from the packed, busy restaurant area is a fine-looking pizza-and-pasta place that was completely deserted at an hour when the other restaurants were very busy. I passed it on the way to a natural food restaurant that turned out to be closed for the holiday.

Since my first choice was closed, I went back to an Indian restaurant in the busy area and was given a fixed-price menu for the terrace, different from the a-la-carte menu in their window. The cheapest meal was €20. having eaten chocolate all day, I did not need a huge meal, and I saw no reason to accept a restricted menu when restaurants just a few blocks away were begging for my business. So I walked a little farther and picked out another Indian restaurant.

Friday, May 30, 2003
Friday morning, I walked to the train station, Gare du Midi, to buy stamps for a couple of postcards and to make sure they had lockers in which I could store my luggage after checking out of the hotel the next day. I also located the check-in area for the Eurostar. Most of the trains in Europe, you just walk onto. The Eurostar has check-in procedures like airplanes.

Then I bought a day pass for the Bruxelles transit system and headed to Laeken to visit Confiserie d'Haene La Praline. They sell the Les Cygnes brand of Kim's Chocolates. The line includes the Pythagorus, the chocolate with the mathematical expressions on it that I want, but d'Haene did not have that piece.

Getting to the store involved riding a streetcar. Bruxelles has old streetcars that are creaky jerky things and shudder a lot when going around a curve. Also, they have a very loud and unpleasant buzzer that goes off when the doors are about to close. It is enough to make children cry. Some of the Bruxelles transit stations smell, and there is dust and soot on the escalator and stairway railings.

Germany gives streetcars more rights of way, so they move through traffic quickly. In Bruxelles, the streetcars are slowed by traffic more.

One of the streetcars I rode worms through very narrow streets. There are only inches between parked cars on the right and opposing traffic on the left. Space is so tight that the external mirror mounted on the right side of the streetcar folds up when the streetcar is in motion.

I continued north to the factory of Le Chocolatier Manon, but it was closed. I did find some of Manon's chocolates in town later.

The streetcar took me through different parts of the city. There are tourist areas with brick streets and old (or old-style) buildings, business areas with modern buildings and modern streets, and residential areas with neighborhood groceries and other stores. That is not overtly remarkable, because you might expect it. It is similar to the way New York has different kinds of areas. However, that is not the way it appears to be in Germany. The German cities I have seen appear to be more homogenized. Of course, they have various districts, especially a pedestrian shopping district, but the different parts of the city feel like parts of the same city. In Bruxelles or New York, the different parts of the city are different enough in character that they could be from different cities.

Three views from a transit transfer point in a residential neighborhood.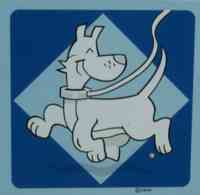 Dog-friendly park sign.

I continued to Chocolaterie Duval, but they were also closed. Near Duval is a dog-friendly park, marked by the blue sign to the left. Inside the park are separate areas for specific dog activities, marked by the green, yellow, and red signs below.
Signs for specific areas within the dog park.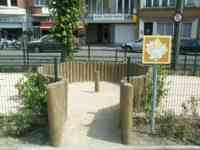 Dog facility.

The green sign marks an enclosed pen where dogs may run off their leashes. The red sign marks a sandbox. The yellow sign marks the facility shown to the right.

The way from Duval back to the center of the city took me past a flea market I had seen from the streetcar on the way to Duval, so I stopped to see what it was like.

Street market.

The two photographs to the left were taken in opposite directions from the same spot. You can see the market goes on for blocks. I do not know how this works, because it is a weekday, and the map shows bus routes running through this street. In the market, I saw fruit, vegetables, cheese, spices, clothing, fabrics, cheap toys, and rugs.

I tried Mary Chocolatier again and found it open. I really liked one of their cream-filled chocolates, which I usually do not like much, but their pieces were not all hits, and their customer service should be better. The first clerk did not speak much English and got another woman who might have been the manager. She helped me but had to be pressed to tell me what was in their chocolates. (Why do some chocolate stores not label the chocolates in the display case? Are you supposed to pick randomly? Then what's the point of displaying them for selection?)

I also found Planète Chocolate open today. I had to buy a box to get the chocolates I was interested in, because they were not available separately. To protect them from the heat, I took them to the hotel right away, where it is a little cooler.

I wrote a postcard to my favorite chocolate store. I told them I had reached the chocolate motherland, and they would never see me again, except Bruxelles had too much chocolate, so I could not stay.

I visited La Maison du Chocolat Artisanal again to get the picture shown above (where I first mentioned Maison), and I found some chocolates by Le Chocolatier Manon there, so I was able to try those even though the factory was closed. I gather Manon's products are largely cream in chocolate shells, and Maison had only white chocolate shells, so I did not get the sample I preferred, but it will do.

I went a block north to the restaurant area and walked around looking for something interesting for a late lunch. Nothing great struck my fancy, but I found a pizza that was nice except it did not have enough tomato sauce. The pizzas in Germany do not have enough tomato sauce either. I hope when Alex and I go to Italy, there is more tomato sauce.

Back at the hotel, I took a nap and then transcribed my notes from the day, so I would be able to write this journal for you and keep all my reviews of the chocolate stores straight. Actually, I worked on the journal for some time, and eventually it was dinnertime.

I tried the natural food restaurant again, and it was not closed for a holiday, but it was closed because it is only open for lunch. The tourist office had listed several natural food restaurants for me, so I tried another one, Tempo. They had only large fixed-price meals, and I was not that hungry after a late lunch. One meal had a base of calf's blood. I am sure the calf was raised very naturally before it was slaughtered and its blood was drained. Not that I'm against using animals for food, but it did not seem to jibe with the restaurant theme I was expecting.

I stopped in an Internet place to check my email. A recruiter had written to me about a possibility that might be interesting, so I responded to him. Typing a message was not easy, because the computer had a French keyboard. The letters are in different places, I suppose to account for different usage frequencies, and some symbols are moved to shifted keys to make room for accented letters and other symbols. The period is shifted, which seems strange. I would think you would need to use the period frequently even in French.

Back at the hotel, I caught a BBC television show about an English family bemused by cultural differences in Spain. It seemed apropos given that I am a US citizen living in Germany and traveling in Belgium.

I went for a quick walk around Grand Place around 11:30 p.m. to see what was going on. The place was still bustling with tourists.

Saturday, May 31, 2003
In the morning, I stored my luggage at Gare du Midi and took the #81 streetcar to the Atomium. From under a bridge at Gare du Midi, the 81 goes underground through tunnels for several stops and then emerges in the northwest part of the city. Then it crosses train tracks, the river, goes through residential areas, and ends up in parkland.

The Atomium represents a crystallized iron molecule, expanded 150 billion times. It was built for the 1958 World Fair. The diameter of each sphere is 18 meters. The structure weighs 2400 tons. (If the mass were in the same scale as the length, it would weigh 150 billion tons.) For a fee, you can go inside, look around, look out, and see exhibits about the Atomium's construction.


Near the Atomium is an entertainment park. It includes a waterpark, a multiplex theater, and Mini-Europe. Mini-Europe is a park with 300 models of European buildings and sites on a 1:25 scale, such as the Eiffel Tower, Mount Vesuvius, and the Colosseum. But I am going to see the real things, so who needs models?

I rode back to Grand Place and walked around. Chocolate is not the only thing Belgium is famous for, so I had a Belgian waffle for lunch. It was good but tourist priced. As the time left to me in Bruxelles wound down, I started heading out of the Grand Place area toward the train station. Just outside of Grand Place, I noticed one more chocolate store, Elisabeth Brussels. I am glad I found it, because it is a good store, not one of the tourist traps.

Also, if I had not found Elisabeth Brussels, I might not have bought any chocolate in Bruxelles that day. Would you believe I spent only €30.65 on chocolate in Bruxelles? What a shame. It is because it was too hot to buy more than I could eat, and chocolate is cheap in Bruxelles.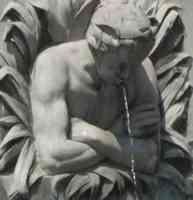 Companion to Mannekin Pis?

Also on the way out, I noticed this fountain. Perhaps it is a companion piece to Mannekin Pis.

Continuing out of the tourist area, the foot traffic dropped off tremendously. In just the distance of a block, it goes from bustling to empty.

At Gare du Midi, I went through the Eurostar boarding process. This is more like the airplane procedure than like other European trains. First, there is a wait in an outer waiting room. Then there are lines where they check your ticket. Then there is a luggage security screening. Then there is a wait in an inner waiting room. Finally, you go through boarding gates and get on the train. All this adds to the time it actually takes to get from point A to point B. The fact that other trains are easier to use is one reason I prefer them to planes for moderate distances. However, when they add this nuisance to the train, it might not be worth it, because cheaper plane fares can be found.

The train left promptly, and we headed for London, with two stops. The passage through the Channel Tunnel itself takes only about twenty minutes. As we passed through the tunnel, I set my watch to the time zone for 0º longitude. (Not UTC, unfortunately, as we were on Daylight Savings Time.)


© Copyright 2003 by Eric Postpischil.