Eric's Germany Journal, Ulm with Simone
Monday, March 17, 2003
We woke up on the Liegeplatzes, bought Simone a Wochenkarte, and went to my apartment in Söflingen for a nap. After unpacking, we walked to Marktkauf for groceries for dinner and Brie and Wassersemmel (water rolls) and fruit for lunch the next day. We also bought stamps for Simone to mail postcards.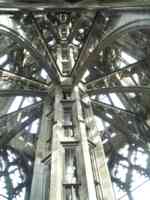 The final set of stairs in the Münster.

Then we went back into town. It is a lot nicer walking around Ulm than Paris. It is quiet, and drivers and pedestrians are much more respectful of each other. I showed Simone the monument at Einstein's birthplace.

You can climb almost all the way up the main spire of the Münster, 768 steps to the viewing platform at 143 meters. I had not done that yet because it is one of the things I want to do exactly once, and I was saving it for when somebody came to visit. Simone visited first, so I climbed the steps with her. When you come visit, you are on your own. The steps are in helices tight enough to make you dizzy as you climb.

So, here are pictures of Ulm from the heights of the Münster, higher than the pictures of Paris from the Tour Eiffel.

| | | |
| --- | --- | --- |
| | | |
| View to northwest. Top-left to bottom-right: Ikea, train tracks, Ulm Theater, Neue Straße, Hotel Ibis, Olgastraße, center of Ulm. | View to north. Top to bottom: Jungingen, Michelsberg, train tracks, north Ulm, Olgastraße, courthouse. | View to northeast. Top-right to bottom-left: Friedrichsau Park, Alter Friedhof, Olgastraße, Volkshochschule. |
| | | |
| View to west. Left-to-right: Roter Berg, Söflingen, train tracks, parking garage, shopping district. | View down. Compare the people seen from the Münster to the people seen from Tour Eiffel. | The view to the east is obscured by the east end of the Münster, which is under renovation. |
| | | |
| View to southwest. Top-right to bottom-left: Rote Wand, Neu-Ulm, Donau, Fishermen's Quarter. | View to south. Top to bottom: Stadtteil Schwaighofen, train tracks, Neu-Ulm, island, Donau, Rathaus roof. | View to southeast. Top-left to bottom-right: Stadtteil Offenhausen, Neu-Ulm, Donau, Gänsturm, Ulm. |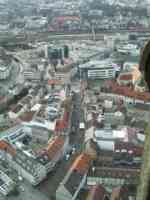 A closer view of Ulm's shopping district.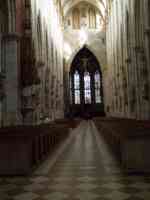 Inside the Münster.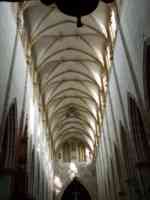 Ceiling of the Münster.

After taking pictures for a while, we went back down. The last set of stairs winds in the opposite direction from the others, so you can undo your dizziness. Simone bought a few postcards, and I found one I liked too.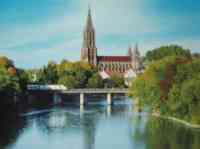 A nice postcard image of Ulm.
We had a late lunch in Café-Restaurant im Stadthaus. Simone had a dish with spätzle, linsen beans, and sausage (wienerle, I think), and I had vegetable strudel. The strudel and its herb cream sauce was very good. Simone liked the spätzle dish. I have not had much luck cooking spätzle at home. Simone thinks it may take more cooking, that the package directions underestimate cooking time compared to US package directions.
After lunch, we strolled around Ulm for a while, passing various historical buildings, stores, the big construction site on Neue Straße, and so on. I cannot remember the route we took. It included the good game store in town, Spieleladen Morgenland, and the Volkshochschule, where my German class is.
We did not have enough time for a proper tour of the town since I had to go to class. Simone wanted to make her own way back to my place. That made me nervous because being on my own would have freaked me out my first day in Ulm. I know Simone has traveled on her own to more countries and more continents than I have, but I was being the host. We compromised on me escorting her to the Straßenbahn. My stop is simple, the end of the line, and my place is not far from there. Even so, the only map I had with me to give her did not cover the area around my apartment, so she had to rely on her memory from that morning.
So, I saw Simone off and went to class. When I got home, Simone had made chocolate-chip cookies and written most of her postcards. The kitchen was spotless, and her first batch, made without measuring the small-quantity ingredients, came out better than my first batch. We had a simple dinner of pasta and sauce. Oh, and there was some black currant juice. Simone agrees with my assessment of the nuisance of the juice container opening.

Tuesday, March 18, 2003

Sign for the Ulm zoo.

Tuesday we got some pastry for breakfast. I tried a sort of poppy-roll (like a cinnamon roll, but with poppy instead), but I did not like it as much as Mohnstreizel (poppy strudel).

Then we took the Straßenbahn to Friedrichsau, a public park with ballfields, a stadium, an event center, Biergärten (I think Biergärten is the plural of Biergarten, but I am not sure), a lake, works of art by "artists of repute," and the zoo. The zoo is at the end of the Straßenbahn line, but I got us out two stops early, because I have not gone that far before and was not sure. We were in the park by that point, so we walked through and around to the zoo.

Red squirrel.

In the park, a red squirrel with odd distinctive ears crossed our path. Then it hid from the camera, and the photograph to the right is the best shot I could get.

The zoo is not bad for a city the size of Ulm, but the cages are sadly too small. I took a lot of pictures, and the best are below. I did not make notes and do not recall what all of the animals are. If you know, please correct my guesses and fill in the omissions.

| | | |
| --- | --- | --- |
| | | |
| Lionfish. | Lizard. | Zebrafish. |
| | | |
| Catfish. | Gila Monster. | Red birds. |
| | | |
| Lemur. | Caiman (not an alligator or crocodile). | Monkey. |
| | | |
| Birds. | Ostrich. | Alpaca. |
| | | |
| Scarlet Macaw. | Peacock. | Fish in yellow plants? |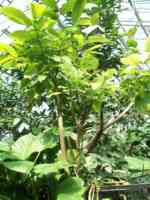 Theobroma Cacao.

Here is another reason to like Ulm. The zoo is not just a zoo. They have a few interesting plants there. This one is Theobroma Cacao (Food of the Gods, Chocolate).
Lake in Friedrichsau Park.

We sat down to lunch next to this lake, and this fellow came to visit.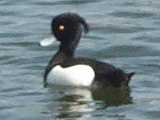 Lunch visitor.
After lunch, we started following the Danube Art Landscape, a seven-kilometer tour of both banks of the Danube. There are 45 sculptures along the route.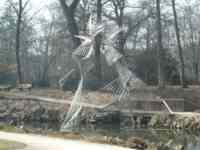 Twisted art.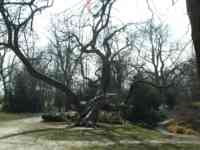 Twisted nature.

It was not clear exactly where the route was, so we ambled a bit and stayed on the Ulm side of the Donau. I was not sure where the path might cross the river. Later, we asked at the tourist office, and they did not have a clear answer either. Maybe the next person who visits can help me find the Neu-Ulm side of the path.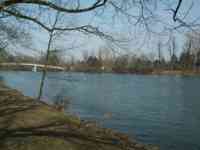 Blue Danube.

The art did not move me, but the park is nice. The weather has been getting warmer, so people were out enjoying the park. Actually, at the temperature I think it was, most parks in the US would be deserted, but people here have a different idea of warm.

Six pictures from one spot along the Danube are below. This is after we left Friedrichsau, passed through Adlerbastei and Rosengarten, and reached Donauschwabenufer. I think the name of the park means something about the banks of the Danube.

| | | |
| --- | --- | --- |
| | | |
| Donauschwabenufer. | Simone photographing Donauschwabenufer. | Metzgerturm (Butchers' Tower). |
| | | |
| Diverse architectures in Ulm. | Donauschwabenufer. | View of Metzgerturm. |
We passed the entry in the city wall to Fischergaße, so I took Simone in to look for the Crooked House, a half-timbered house with a "strong inclination to the River Blau," that is now a hotel. It took a while to find the building. We found some crooked buildings, but they were not all that crooked, and none appeared to be a hotel. We walked across a bridge over the River Blau. We wandered up the street and did not find a hotel. From my earlier journal entries, you know what you find when you wander around Ulm: sparrows. We encountered three new sparrows.

| | | |
| --- | --- | --- |
| | | |
| Yellow sparrow. | Blue-flower sparrow. | Orca sparrow. |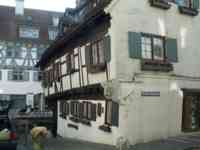 Crooked House.

We were about to give up when we noticed some people walking purposefully, so we followed them and found the Crooked House. It sure is crooked, but not as crooked as the Louvre, Simone points out, because I didn't almost lose €10 here. Still, the inclination of the house illustrates the state of the building industry in Europe. You pay good money for a house, and the builder isn't around when you need repairs made, just half a millennium later. (Part of the building goes back earlier, to 1443.)

Note that the windows are level, so they were redone after the building shifted.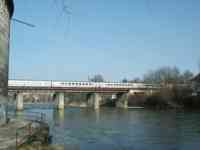 ICE train crossing the Danube.

Simone and I resumed our walk along the Danube, and I caught this train crossing the river.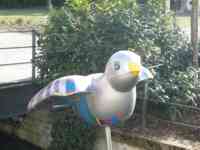 Silver sparrow with colorful stripes.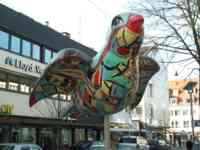 Another artsy sparrow.

We wandered for a while and then headed back into town. We passed a sign for Psychosomatisches Gesundheitszentrum, which I think means Psychosomatic Health Center. I hope you pay them in play money, but sadly there are probably people who give them real money. That is foolish, because everybody knows the cure for psychosomatic problems is homeopathy.

We checked the Ulmer Museum, but it was only open for an hour more that day, so we saved it for the next day. The tourist office gave us a map for the University of Ulm Art Path, which we would also see the next day. We picked up some chocolate and pastry at Café Ströbele and ate the pastry at the edge of the Münster Square. Then we caught a bus to the mall.

The mall is a lot like a US mall, although I showed Simone something that puzzles me, something called Tchibo, which is a brand of coffee and leotards. That was in Real Markt, where we also picked up groceries for dinner, but Tchibo is in other stores, and there is also a separate Tchibo store at the mall with coffee, leotards, garden furniture, and a few other items that I cannot relate to the others. [I learned later that Tchibo's speciality is offering a different product each week.]

We walked to my neighborhood from the mall, took a diversion along the stream that leads to my gym, and then walked back home. Simone and I made dinner together that night. My small kitchen is barely big enough for one person, let alone two trying to work at the same time, but Simone is good to have in the kitchen, with the right rhythm and interaction.

Wednesday, March 19, 2003
Wednesday we walked to another bakery in my neighborhood, and Simone commented on the number of people walking about the streets at that time, around 10 a.m. In the US, most of them would be at work, and most of those who were not would be indoors for some other reason. I am not sure of the distribution of people on the streets during the day who work but are running errands, who are unemployed, or what.

Also of interest on the street, construction work was going on the sidewalk, and people were walking through the area while a front-loader was in use. It was not just in the area; it was right there—people would step up and go through as the front-loader was backing away, and so on. The lawyers just would not let that happen in the US.
Bus stop and another bus stop.

Then we took the bus to the University of Ulm. We got off at this stop, but, as you can see, we could have ridden all the way to the university. Compare the short distance between these two stops in Ulm to the huge distance between the Stalingrad entrance and the train in Paris.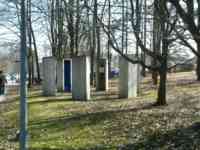 Environment by Eckhart Rotter, 1990.

Winding around the university is the Kunstpfad Universität Ulm (University of Ulm Art Path). It is a 1.5-kilometer trail with 46 large works of art. Simone entertained us by guessing the sexes of the artists. She got most of them right but missed Environment, pictured to the left and described here [2021: Link is dead, may be #23 in this map]. She guessed female because it is unassuming and the important parts are inside, but the artist is male.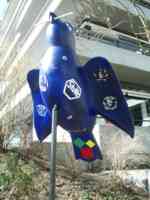 Student sparrow, named Heureka.

Near the end of the path, Simone found this student sparrow.

We took the bus back down the hill, got off at a transfer point and finished lunch, and took the #6 bus to the Rathaus, near the Ulmer Museum. There is a diverse collection in the Ulmer Museum, but they would not let us take pictures. You can see for yourself when you visit.

After the museum, we did some shopping. In one store where we walked in and Simone started looking around, the saleswoman asked in German if we wanted help, and I asked Simone, and Simone said something in English, and the saleswoman looked at me like I would be translating. That's an odd feeling, somebody thinking I know something about German.

Then we went home, and Simone packed. Foo. In the evening, she came to German class in the Volkshochschule with me. Simone agrees that German is hard.

After class, we zipped to Hotel Bäumle for a late dinner. A guidebook, Lonely Planet Germany recommends trying the spinach-filled Fröschle, so I ordered it. I am not strictly vegetarian, and I wanted to give Swabian food a fair chance, so I followed Lonely Planet's advice. The name on the menu is Laubfröschle, which means forest frog. Simone and I are not sure whether it is actually frog, and I cannot say the taste was anything special. In any case, I have done my duty of sampling foreign food and am entitled to pizza and Chinese food for a while.

By the time we walked from the hotel to the train station, most stores had been closed for hours. Simone observed they all have their names in bright lights and have lit window displays even though they are often closed before dark, and the area is deserted then.

So, I waited with Simone at the train station and saw her off. The conductor at her car closed the door as soon as she was inside, which makes me think it likely they knew just one person would be getting on that car in Ulm. (Reservations are required for the Nacht Zug.)

Upon leaving the Hauptbahnhof, I was greeted by a bus marked 1 Söflingen, not a Straßenbahn. I wrote about seeing a #1 bus in my early days in Ulm, but I had convinced myself I had seen a #11 with part of the sign not visible. Now I think I was right the first time, and they run a bus when the tracks are out of service. The bus passed some construction or maintenance in a new place, so that may be why they were running a bus on the route that night.

Simone's visit was not long enough. We did not try the Mohnstreizel or the Vollkornsemmel, visit the German Bread Museum, finish the Danube Art Landscape, walk along the Blau, go to a Biergarten or examine more of the monuments around town.


© Copyright 2003 by Eric Postpischil.