Eric in California
I reported sporadically while I lived in California.
Saturday, August 28, 2004
My apartment search is finally over. It has been a long process. All my previous apartment searches were quick, most of them just a day or so. This search included four days of driving around visiting and many hours of collecting information. Overall, I collected information on more than sixty apartment complexes and visited thirty.

| | |
| --- | --- |
| | |
| Approaching the Peartree apartments. | Front of Peartree apartments. |
If you want to know more, here is the apartment-hunt story. After much searching and visiting, I had a final selection I was prepared to choose, but I visited one more place and ended up with a place I happened to walk by en route to that visit.

What I saw while walking by is pictured to the right. Those tall trees have been growing a while. That road is three lanes wide for traffic, in each direction, not counting space for parking and turn lanes approaching intersections. Traffic was light when I took the picture Saturday morning, but it was heavy during the day Friday. There is a lot of road noise, but it diminishes well inside the apartment grounds and should be okay inside the apartment.

| | |
| --- | --- |
| | |
| Peartree office. | Back of office. |
So, I stopped in and asked about their apartments. I considered a lot of factors. This place is four miles from Apple, less than a mile walk from a Caltrain station, 900 feet2, $1160/month (no utilities included), and has more guest parking than most complexes (which is not much in this area) and some street parking. Sunnyvale has a low crime rate relative to nearby areas, although there have been some break-ins to cars near the street at this complex. Online reviews are okay. The room dimensions work for me. The interior appearance is nice.

Disadvantages include that the commute to Apple involves lots of traffic signals and alternate routes may be much longer, the water fees are apportioned based on apartment size and number of occupants rather than individually metered, some tenants have complained of plumbing problems and slow maintenance. There is no air conditioning.

| | |
| --- | --- |
| | |
| Pool. My apartment is at the right edge of the willow. | My apartment. |
One absolute criterion I had was a ground-floor apartment, because I need to be sure that using my treadmill will not disturb a downstairs neighbor. After I put down a deposit, I discovered the agent had made a mistake and the unit we signed for was not a downstairs unit. I had several hours to fret about that before she confirmed that some folks are moving out of a downstairs unit, and I can have it. Also, it is a corner unit, with an extra window, in the kitchen.

After settling the apartment, I drove up to San Francisco for chocolate. In the future, I will seek to go by train, perhaps with my bicycle, because parallel parking on a steep hill with a manual transmission is hard.

Monday, August 30, 2004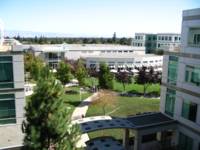 Apple campus.

Today I started work at Apple. A picture of part of the campus is to the right, but it does not do the place justice. The main part of the campus is a ring of buildings, and the picture shows a view into the center. The area, colors, and architecture are nicer than the picture portrays. There are several other buildings in city blocks adjacent to this ring, including an entire building dedicated to fitness and health, and some buildings elsewhere in Cupertino.

At orientation, I was immediately swamped with things to do. Largely, instead of filling out forms, new employees are given pointers to things they have to do—URLs of web pages with benefits information, and so on. There were some forms to fill out, of course, and there are a lot of accounts to create, for benefits access, bug-tracking systems, file servers, and more.

The awnings in the picture are part of the cafeteria, which is superb. Areas in the cafeteria include: chef-prepared salads; a grill for burgers and fries (and vegetarian options like veggie or soy patties); general hot dishes; a sushi counter; made-to-order pizzas in a wood-fired oven; a pasta counter; a salad bar for greens; a salad bar for beans, avocadoes, potatoes, and so on; a sandwich bar; and a burrito bar. If you are in a hurry, there is a cooler with prepared sandwiches and salads. I do not know what all the beverage options are yet; there are several dispenses and several coolers and a smoothie counter.

Smoking is not allowed anywhere on Apple property, not even away from the buildings.

Apple and Electronic Arts are polar opposites in some ways. At Electronic Arts, I was given a computer system that had been configured by the IT department, and it was supposed to stay that way. The IT department remotely controls aspects of the systems and installs patches and upgrades. At Apple, I was given four different systems and told to install systems on them myself. Apple employees are generally responsible for configuring and upgrading their systems themselves.

Electronic Arts has a few accounts that need to be set up for each employee. Apple has many. Most are linked and share common data, but there is still a lot more work than at Electronic Arts.

Tuesday, August 31, 2004
I have a cool email address, edp@apple.com.
Wednesday, September 1, 2004
Today I became an official California resident. I read the Division of Motor Vehicle's web site last night and learned I had ten days from my first day of work to get a driver's license, and no appointments were available for three weeks. So I bit the bullet and waited in line. Lines, actually; at least six. I arrived eighty minutes before the office opened and spent time reading Apple's 230-page benefits book, and the 50-page addendum, and the eight-page update. This day was not fun, but I had resigned myself to it and brought reading material and listening material (public radio programs I recorded last weekend).

First I was sent to the line to get my car inspected for identification—a DMV employee checks the VIN, stickers, license plates, and engine. The I got in line to get a numbered ticket. Then I waited for the number to be called, which took about an hour. We started the registration paperwork, but I had to get a smog test, even though the car is new, certified for operation in California, and an ultra-low emissions vehicle. We also did the driver's license paperwork, and I paid for both. Then I stood in line to get my picture taken. Then I took a written test, which is harder than other states' tests. It is a good thing there was an hour wait, because I read the California driver's handbook during that time. Then I stood in line to get my test scored and take an eye test. I was rewarded with a hole punched in my Florida license and a piece of paper that said I was licensed to drive in California. The permanent license will be mailed.

Then I left to get a smog test. The nearby station was busy, of course, so I drove around and located a place that could test my car right away. Find the place took about half an hour, and the test took another half hour. Then I went back to the DMV and got another numbered ticket. They put you in a shorter queue when you come back, so I only had to wait ten minutes, after which I received a piece of paper saying my car was registered and moved to another counter where I quickly got the actual plates.

The last time I went to a New Hampshire DMV office, there was no line at all. I walked in, walked across the empty room, showed my previous license, paid, took an eye test, and got photographed. I only had to wait for them to manufacture the card.

Tomorrow I might actually do a little software development.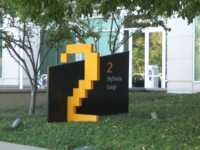 My new office address.
Thursday, September 2, 2004
I took some more pictures today while the light was better, so I replaced the original picture above with a better one. To the right is the sign for my building, IL2 for Infinite Loop 2, pronounced "aisle 2." Below are views of IL1 and IL2.

I got closer to doing work today. The personnel administration stuff has reduced. Instead, I spent time installing and configuring systems, and I received an introduction to the source code I will be using in my work. I hope to build and run the software soon.

| | | |
| --- | --- | --- |
| | | |
| Main entrance, IL1. | My building, IL2. | IL2 seen from interior yard. |
Monday, September 6, 2004
I spent some time this weekend learning my new neighborhood. Near the Caltrain station, less than a mile away, there is some shopping that includes a farmer's market on Saturdays (small, just one block) and a variety of small shops, plus a bankrupt mall with only a Macy's and a Target open. Sunnyvale's library looks good, and Mountain View's library is not much farther away, and there are plenty of other city and county libraries around, plus lots of university libraries in the area.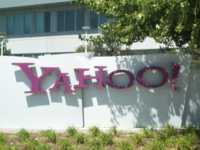 New neighbor up the street.

I thought I was getting away from theme parks, but Paramount's Great America [2021: now California's Great America] is just five miles away. (All these distances are by road. Great America is just three miles away physically.) Two miles north of my new home is a dirigible hangar. It is part of Moffett Federal Air Field.

There are other surprises to be found. My new apartment complex is at 330 Mathilda Avenue. Driving around 1400 Mathilda Avenue, I found YaHoo!. Colorful local names include:
YaHoo!: 2.2 miles from home.
Google: 6.2 miles from home.
ebay: 7.3 miles from home.
The Caltrain station is mostly good for getting to San Francisco, but there are buses to local destinations, and there is a light-rail station two miles away with service to San Jose, Great America, Great Mall of the Bay Area. San Jose International Airport is eight miles away.

Wednesday, September 8, 2004
I am told there was a heat wave this weekend. I did not really notice it. I was driving around with the car windows open and the air conditioning off most of the time and was surprised when some people at the office commented on it. It seems I was getting used to Florida.
Saturday, September 25, 2004
I rode Caltrain to San Francisco today. Now I know the station is an eleven-minute walk from home. This might be the first time I have traveled more than twenty miles from home in the United States without using an automobile in over two decades. In Europe, I traveled all over by train. In the US, even a trip to the airport requires starting by car or shuttle van. The only way I had gotten twenty miles from home without a car is by bicycle.

Here is a comparison of train trip statistics between Sunnyvale and San Francisco and between Ulm and München:
| | | | |
| --- | --- | --- | --- |
| | Time | Distance | Fare |
| Sunnyvale to San Francisco | 80 minutes | 40 miles | $4.25 |
| Ulm to München | 80 minutes | 140 kilometers | €17.60 |
In San Francisco, I checked out six chocolate store leads. Several were stale, and the stores were closed or at least moved, but the ones left were mostly good, and I will enter reviews on my chocolate page soon.
After the chocolate stores, I walked by an interesting-looking pizza place and looked to see what they had. Those of you who followed my Germany journal may remember that I said pizza with corn on it is not "American pizza." I stand by that, but this place in San Francisco had pizza with corn on it. It was cooked more than the Munich version.
Then I walked to Exploratorium and became a member. The Exploratorium really is a great science museum. It has lots of novel exhibits that strongly demonstrate things science has told us about nature.
In my Florida web page, I mentioned the tube illusion at the WonderWorks. It is a flickering tube (or single column of multi-colored lights) that appears as an image if you move your eye across it while it is flickering. The Exploratorium used to have one, but now it has a greatly improved version. In the original, you had to tug your eye back and forth. You had to be instructed to do it, and it was not easy to time it well. In the new version, there are several tubes spaced apart. The different tubes flicker in quick sequence, first one, then the next, then the next, and so on. Your eye naturally moves from tube to tube, following the light, with the result that you see a good two-dimensional image because each flicker appears at a different place on your retina. When I saw it, the illusion was strong enough that I was not sure there was not a full screen there. I had to get closer and force my eye to stay in place to be sure it was just a set of motionless vertical columns.
Many exhibits at many science museums are wimpy; you look at something and maybe press a button, and something happens that if you think about you might realize is demonstrating some physical law. At the Exploratorium, many exhibits are startling; the demonstrated effect is surprising and very clear.
I rode the Muni here and there in town. I was amused by the streetcar that passed by while I was walking down Market Street—it was an old car with a sign saying "Boston Elevated Railway."
The Muni has some rough edges they should work out. For one thing, the Muni web site says there is a day pass, but you can only buy it from a cable-car conductor. So you cannot readily buy one when you get into town; you have to get around first. From the Caltrain station, I took Muni rail to Market Street, where there is a cable-car terminus. The rail station attendant affirmed the web site's information, and I went up to the street and asked a cable-car conductor about a day pass. He said I had to buy them from some place across the street, and he pointed. I went there, and there was nothing evident except some kiosks with ticket machines that had been taken out of service.
Later in the day, I wanted to get off a bus. A sign by the rear door says:
CAUTION:
DOORS OPEN INWARD
FOR YOUR SAFETY
DO NOT STAND
IN STEPWELL
So I did not stand in the stepwell, and the doors did not open. It turns out that if you obey that sign, the doors will not open. There is another sign that says:
WAIT FOR LIGHT
STEP DOWN TO OPEN DOOR
STEP UP TO CLOSE DOOR
Another issue is that the Muni rail gates require exchange change in coins. At one station, there was a machine that changed $1 and $5 bills into coins. But the station at Market and 9th has no such machine. It has one machine that will change $10 and $20 bills into $5 bills, and it has BART machines that will change $1 bills into quarters. There is nothing that will change $5 bills, and, of course, I had run out of singles. The attendant showed me that the BART machines will allow you to add 5¢ to a farecard and give you $4.95 in change. So I did that and went home.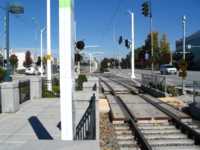 Tracks of the Valley Transit Authority's light rail.
Saturday, November 6, 2004
After studying the maps of the local transit system, I concluded it did not seem useful for me. The frequency of service, connections, and service areas appear not to combine to anything that I cannot do more easily by car. Still, I tried an experimental trip. I drove to a rail station and took a roundabout trip to downtown San Jose, including a transfer. I think it took about four times as long as driving would have.

So, I do not expect to use the buses or light rail. I do expect to use Caltrain to get to San Francisco occasionally and maybe to get to San Jose airport.
Sunday, November 7, 2004
A relative of a friend gave me and a couple of German tourists a tour of San Francisco. Here are some pictures.

| | | |
| --- | --- | --- |
| | | |
| Sutro Baths. | Bison in Golden Gate Park. | Palace of Fine Arts. |
| | | |
| Golden Gate Bridge. | Spectator. | That steep street with all the curves. |
Historic streetcars.
Friday, November 26, 2004
I was in San Francisco again, for a Mensa event, and they were running some historic streetcars by Fisherman's Wharf.

Thursday, December 23, 2004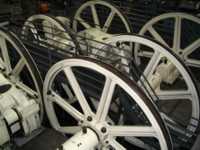 Driving and idler sheaves. The driving sheaves are turned by motors and pull the cables. The idler sheaves push the cables around larger arcs of the driving sheaves, giving more friction.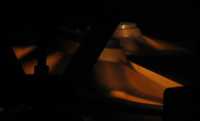 Sheaves under the street.

When Dad and Alex came to visit, one of the things we did was visit the San Francisco Cable Car Barn. There you can see the cables that pull the cable cars.
Cable room. The sheaves on carriages at the far end of the room move to keep the cables tight.

Four cables wind under the streets of San Francisco, and motors keep them moving at 9.55 miles per hour.

To move a cable car, the operator uses the grip to clamp onto the cable below the street. The grip supports 20,000 pounds, necessary to pull a car and its passengers up steep San Francisco hills. To vary the car speed, the operator loosens the grip, so the cable slides through it. The cable is coated with pine tar to make sliding smooth, and a grip does not completely hold the cable until the heat from friction evaporates the pine tar.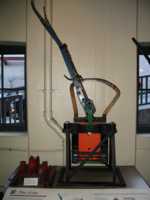 Grip.

Other exhibits in the barn show how the cable is held under the street, how the grip passes by or through the various mechanisms, the design of curves where the cable cars are pulled through or other curves where the cars have to coast through.

From 1982 to 1984, the cable car system was renovated. The old cables were chopped up for souvenirs, and I now own six inches of San Francisco cable-car cable.

Thursday, December 30, 2004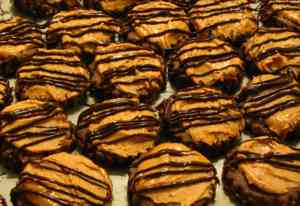 Chocolate Peanut Butter Bengal Cookies.

I made Chocolate Peanut Butter Bengal Cookies today. The recipe is from Death by Chocolate Cookies by Marcel Desaulniers.

| | |
| --- | --- |
| | |
| Tree. | Waterfall. |
Friday, February 25, 2005
Sandi visited yesterday and today, and we toured the area a bit. While heading up a mountain, we passed Hakone Gardens, part of which is shown here.

| | | |
| --- | --- | --- |
| | | |
| Pond. | Koi. | Duck seeking lunch. |
Sunday, March 20, 2005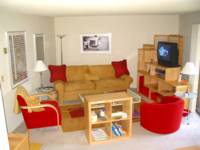 Living room.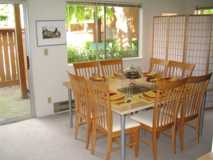 Dining room.

Here is my new apartment. I was waiting for the shelves you see in the living room. Those were delivered last week, and then I hung the prints, finishing the rooms. You might notice the Ulm Spatzeninvasion print on the left wall and the Buffy image on the television, but you probably cannot make out the item in one section of the coffee table. That was the wrapper from a five-kilogram (eleven-pound) chocolate bar, but I put it in the display case, so now it is art. [I replaced the living room picture in June 2006 after I had rearranged the furniture some. The room is a bit nicer now, and it is likely to stay this way for a while, although I would like that display/bookcase in the foreground to be a little shorter.]

The pictures are not bad, but the rooms are even nicer—I am pleased with the results. Also, there is more room than may be apparent in the photographs. In the dining room, there is room to walk completely around the table; it is not a tight squeeze to get into the chairs. That is a bit rare in Silicon Valley's stressed real estate, but this apartment layout has worked out well for me.

In addition to seating eight people, the dining room table can hold two strategy board games in play, and a third fits on the coffee table, so this apartment is a good place for hosting games nights.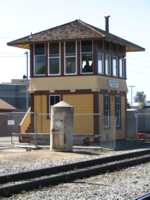 Santa Clara Tower.
Saturday, April 9, 2005
I visited the South Bay Historical Railroad Society's open house. Their layouts, museum, and restored passenger and freight depot are inside the current working CalTrain station in Santa Clara, and they have also restored the tower (to the right).

This is a nine-minute ride from the Sunnyvale station. Still on my list of things to do is get a day pass and visit several stops along the line to see what is there. I need to get a Saturday when I can allocate the entire day for that, though.

| | | |
| --- | --- | --- |
| | | |
| Close up. | Layout. | Room. |
| | | |
| View from tower. | Controls. | Display board and timers. |
Tuesday, April 19, 2005
Today I redeemed beverage containers for the first time in California. California's process is like Germany's in that there is a lot of procedure to follow. California's process is unlike Germany's in that it is bad. Unlike other states, you do not redeem containers at the place where you bought them. Instead, you have to go to a redemption center. I did that today. It involved a special trip, parking, getting the containers out, having them counted (or weighed if more than 50) by an attendant, filling out a form with name and address, signing the form, restarting the car, driving to the office and parking again, going in, processing the form, and getting your money.

It does not seem worth it for 48¢ (for ten cans and one bottle). I rarely buy soda these days but figured I would try stocking some for guests. Given all the trouble of returning the containers, I will not bother. I figure I will put the remaining cans near the dumpster where gleaners can collect them, and I will avoid buying soda in the future.

In other news, California is finally getting highway exit numbers. However, it may still be years before we see them.

Saturday, May 21, 2005
I went to the Exploratorium to take photographs to show you. The Exploratorium has a lot of exhibits that are hard to portray with photographs. They have machinery, motion, sound, and heat. Here are a few pictures. Unfortunately, they do not show you much of the Exploratorium. I picked these to show different subject areas. There is plenty missing, though. I did not get a good picture of the cloud chamber illustrating cosmic rays.
Optics and Perception
Instead of using my photographs of these two exhibits, I found the original of the left one on the web and reproduced the right one in HTML.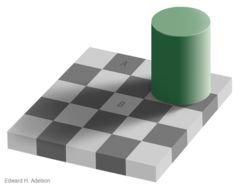 Shades of Gray. Compare squares A and B. They are the same shade of gray. More information is here.
GREEN YELLOW WHITE BLUE
PURPLE RED BLUE WHITE GREEN
YELLOW RED ORANGE BLUE
PURPLE BLUE RED YELLOW
ORANGE WHITE YELLOW GREEN
PURPLE WHITE BLUE ORANGE BLUE
RED GREEN YELLOW GREEN PURPLE
Color Conflicts. Say the colors of these words as quickly as you can. Do not say the words. For example, for GREEN, say "red," not "green." This is called the Stroop Effect, after J. Ridley Stroop, the psychologist who discovered it in 1935.
Biology

Bacteria. These bacteria make food from light using a variety of pigments.

Walkingstick. Somewhere in this tank, right at the front in fact, is a large Walkingstick.

Fluids

Fluid dynamics.
Sound

Sound waves made visible.

Electricity

Plasma.
Light Display
The Exploratorium has a light display that I have mentioned before, and it has been improved from the single vertical strip I first saw years ago. The current display has about a dozen vertical strips of colored lights, as seen in the left photograph below. The lights are flickered, and the flickers move in a pattern from strips on the left toward the right or vice-versa. When your eye follows the flickering, persistence of vision smears the colors horizontally. Once you find the right speed, you see a picture painted there. Notice the clear bicycles in the middle image, while the rest of the room is blurred—I was moving the camera while taking the picture. On the right is an imperfect photograph of a butterfly winging across the strips.
| | | |
| --- | --- | --- |
| | | |
| Strips seen by still camera. | Strips seen by moving camera. | Butterfly. The images change every few seconds. |
Saturday, May 28, 2005
I have been in California as long as I was in Germany, nine months and five days, so it is time for some comparisons. Ulm wins. Sunnyvale and Silicon Valley have not grown on me the way Ulm did. I do not think I am even 10% as fond of this area as of Ulm.

Certainly I had a lot more experiences in Germany, in terms of seeing new places, learning things, observing culture, and so on. Even so, the area here seems sort of homogenized. That is ironic, consider the diverse subpopulations here. However, the cities blend into one another. This area is a gigantic dense suburb.

Reviewing my Ulm journal, after this long in Ulm, I was appreciating a lot more of the history, culture, and lifestyle than I am here. I collected lots of Ulm souvenirs and mementos. Here, there is little I expect to miss when I leave. One of the best things about the area is the active strategy board game groups, so I get to play games much more frequently than in New Hampshire. The weather is nice, and my new apartment is nice. Other than that, I would rather be in New Hampshire or Ulm. Life here is okay, but it is not charming.

One odd difference between California and Ulm is that I have not settled on a grocery store here. Of course, I expect more of the stores here; I did not expect to find my favorite brands in Ulm. But I was pretty satisfied with Marktkauf. Here, I have to split my shopping among several stores, and that includes not one but two companies for which I occasionally shop at different stores because the different stores of the same company do not stock the same things.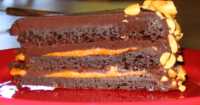 Gooey Chocolate Peanut Butter Brownie Cake.
Saturday, June 11, 2005
I made Gooey Chocolate Peanut Butter Brownie Cake for movie night.

Sunday, July 10, 2005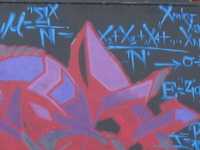 College-punk graffiti.

While leaving San Francisco this evening, I saw a truck with a strange paint job, and I cannot tell which part is the owner's design and which part is graffiti. Did some statistics-class-thugs deface this truck?

Saturday, July 30, 2005
Gilroy Garlic Festival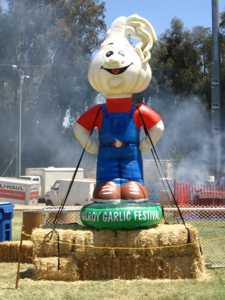 Herbie welcomes you to the Garlic Festival.
Garlic bulb.

I went to the Gilroy Garlic Festival today with Elizabeth. There is a lot of food at the festival, and a number of artists and craftspeople selling their works, and some music and entertainment.

I tried the garlic chocolate ice cream. I think the garlic pistachio ice cream would have been better. Other items included garlic fries, garlic bread, and garlic chicken. There were a lot of non-garlic items, though. Generally, I think the garlic theme could have been incorporated into the festival better. Only a few of the artists had garlic featured in any of their displayed works.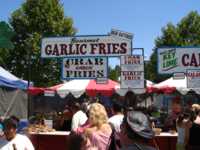 Garlic fries stand.

The food was more expensive than usual festival prices. Take a look at the price for the garlic fries and the size of the fries, in the lower left of the picture.

Gilroy has several sister cities, some of which have garlic festivals of their own, including Monticelli d'Ongina, Italy, and Takko Machi, Japan.


Food stands.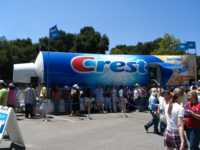 What to do on your way out of the Garlic Festival.

There were a lot of people there, and a long line of cars going there, as well as lines for the shuttles from the parking lots to the festival and for the shuttles back. I would have taken the train, but Caltrain does not run trains to Gilroy on weekends. In previous years, a private group chartered trains for the festival but not this year.

Monterey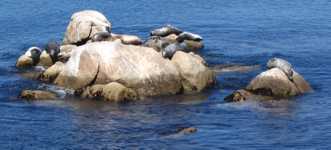 Sea lions.

After the festival, we drove to Monterey. We did not have much time left. There was just enough to see the sea lions on the bay and walk around Cannery Row.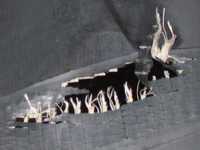 What happens when you step on a treadmill five million times.
Friday, August 5, 2005
I wore out my treadmill belt. I mean really wore it out; the belt is coming apart at the seam.

Saturday, August 6, 2005
Angela and Justin are vacationing in California and were in the San Francisco Bay area this weekend. I went to San Francisco to show them around. They were staying near North Beach, so we headed for the piers first to see about getting tours of Alcatraz and Angel Island. We passed by Ghirardelli Square and the cable car terminus. At the pier, we found there were no tours available for two days. Now I know that future visitors have to plan for this. Angela and Justin were able to get tickets for when they come back to San Francisco after touring south for a while.
| | |
| --- | --- |
| | |
| Gate at south end of Chinatown. | A street in Chinatown. |
We walked along the Embarcadero, made my mandatory stop at Recchiuti in the Ferry Building, turned into the Financial District, and walked to Chinatown. I have not spent much time there before. We shopped at the Canton Bazaar visible in the photograph and had lunch. Lunch was okay, but I still need to find a Szechuan restaurant I like. After lunch, we visited the Cable Car Barn.

We had been walking a while, so we tried to catch a bus back to the motel. Some main bus routes run through Chinatown. The first bus passed us because it was full, but the second stopped.

From the motel, we drove to a good viewpoint for the Golden Gate Bridge. Except it was not a good viewpoint today. A thick fog concealed the top of the bridge, although the bottom was clear. I noticed the view back toward the main part of San Francisco showed a more interesting skyline than other views I have seen. However, I left my camera in the car, so I will have to show it to you another time.

We went to Golden Gate Bridge, drove along the coast briefly, entered Golden Gate Park, stopped to see the bison, and went to Haight-Ashbury. It may be that some of the counterculture stores are not as counterculture as they used to be, even neglecting the interloping of the Gap store.

It was past dinnertime, and I found a restaurant in my vegetarian dining guide that seemed to suit everybody, Crepevine. Dinner crêpes was a new idea for Angela, so we went. Along the way, we passed an empty bus that was not picking up passengers, so I dubbed this the Goldlocks bus system—no stopping for you if the bus is empty or full, only if it is just right. Crepevine was good; I will be back.

Sunday, August 7, 2005
I recommended we visit the Exploratorium, and it had several new exhibits, as well as a temporary exhibit on Nobel Prize winners. I did not plan on spending a lot of time there, but Angela and Justin appeared to get absorbed in many of the exhibits, and I was happy to look at the new ones. The Nobel exhibit is a bit out of the Exploratorium's usual presentation. Many of the exhibits are do-it-yourself things, and most are at least actually-see-science things, better than just words-about-science that you find in so many museums. The Nobel exhibit is about science, or not even quite that; it is about scientists. However, it is a good exhibit.

We ate at Extreme Pizza, which I do not think is very extreme, made another mandatory stop at Cocoa Bella. Cocoa Bella had gotten Cluizel chocolates since the last time I was there, so I bought a pound.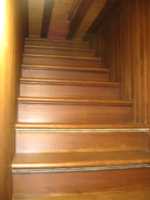 Staircase to nowhere.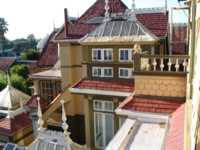 Exterior of part of Winchester Mystery House.

Then we drove to Sunnyvale, saw my apartment, drove by Apple, and went to the Winchester Mystery House. This is a 160-room house built by a person with too much money, Sarah Winchester, who was heir to the Winchester gun manufacturing fortune. After her infant son and husband died, she embarked on continuous building for decades. This may have been instigated by a fortune teller telling her that building continuously would appease or defeat the spirits of those killed by Winchester guns.

It is dubbed the Mystery House because of staircases leading nowhere (shown to the right), windows built into floors, a chimney that rises four floors but ends below the final ceiling, and doors that open onto blank walls.

However, it is overpriced and not much of a mystery. I know plenty of people that would build a staircase planning to finish the stairwell later. And putting windows in the floors of a large multistory building brings sunlight to interior rooms, as well as giving visibility between the public rooms of different floors.

After the Mystery House, I drove Angela and Justin past some Internet landmarks, like eBay and Yahoo!. For dinner, we went to Murphy Avenue. This is part of downtown Sunnyvale within walking distance of my apartment, and there are about three dozen restaurants in a few square blocks. We tried Il Postale. I thought it was a local chain and did not expect much, but I was confusing it with another place. Il Postale is in Sunnyvale's old post office, hence the name. I was quite pleased. The pasta was outstanding.

Sunday, August 14, 2005
| | |
| --- | --- |
| | |
| Salt pond. | Plants at salt pond. |
[Retroactively posted; I left these photographs in my camera for three weeks.] Since my treadmill was out of commission, I substituted some bike riding. There are some trails by the bay behind Yahoo!. The trails are unpaved and skirt a variety of pools used for water treatment and other things. One set of pools is filled and left to evaporate in rotation, and salt is harvested from them. They have some weird plants growing beside them.

Since I was looking for paved routes, I left the bay trails and headed east for a bit to explore Mountain View.

Monday, August 15, 2005
Finally I played games at Yahoo! tonight. Not online, in the cafeteria. I have been wanting to go for months, but it's been tough to squeeze a free night into my schedule. Maybe someday I will get to the group that meets at Adobe.
Sunday, August 21, 2005
I biked south and west eight miles to the mountains and then some more in the mountains. The land is mostly flat until you hit the mountains.
Sunday, August 28, 2005
I biked south and east to Los Gatos and got there just too late for the farmer's market.
Sunday, September 4, 2005
I biked east this time, which took me past National Semiconductor, Analog Devices, Motorola, Hewlett Packard, and, looping north for the return, Hitachi, EarthLink, eBay, Cisco, SanDisk, Palm, Yahoo!, and others. There was a crafts fair in downtown San Jose, which I perused.
Saturday, September 17, 2005
| | |
| --- | --- |
| | |
| Women of Buffy. | Friends of Buffy. |
I have Buffy the Vampire Slayer souvenirs from Nashua, Ulm, London, Paris, Heidelberg, and Orlando. But, even though I have been here over a year, I did not yet have a Buffy souvenir from California. So I decided to spring for these collector plates.

Thursday, September 29, 2005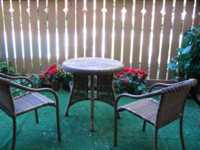 Patio.

I bought patio furniture. I have been toying with the idea for a while but did not see anything I liked. Today I tried a new store and found a chair and table set that was attractive, comfortable, and well priced.

The "grass" rug is not very good, but it looks better than the cement. The fake flowers and the tall fake plant in the corner are better. The branches growing in on the left are real. The glow behind the fence is sunlight reflecting off the swimming pool.
Saturday, December 24, 2005
I went to Christmas in the Park in San Jose. This is a display started by businessman Don Lima in 1950 and now operated by volunteers and donations. Much of it is trees decorated by schoolchildren or other groups, but there are many other displays too. Here are pictures of some of them. None of the snow is real.

| | | |
| --- | --- | --- |
| | | |
| Snowmen and trees. | Elves rescuing Santa. | Penguin flight school. |
| | | |
| Lima train. | Elf mail car. | Bear forge and foundry. |
| | | |
| Southern Candy Cane Railroad. | Southern Candy Cane Lumber Mill. | Reindeer barn. |
The reindeer in the barn are in stalls. My initial impression was that they were reindeer heads mounted on the wall, and Rudolph had had his revenge.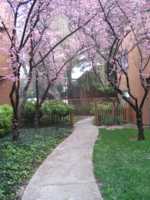 Walking to the laundry room.
Sunday, February 12, 2006
Sorry to you folks in New England with the snow storm today, but the trees outside my apartment blossomed, and I wanted to show you. It was a little foggy this morning, but it actually looked nice with the blossoms. Don't worry, the fog cleared up, and it was clear, warm, and sunny today. Note the petals sprinkling the sidewalk, like somebody came along and decorated your path. (As usual, if you cannot see the details, click on the image for a larger view.)

Sunday, February 19, 2006

Roaster.

Melanger.
Scharffen Berger.

Finished bars.

Conche.
The local Mensa chapter toured the Scharffen Berger chocolate factory.

Saturday, March 18, to Monday, March 20, 2006
I visited Alex in Las Vegas. Sunday, we went to Valley of Fire State Park.
| | | |
| --- | --- | --- |
| | | |
| Red hills. | Big red hill. | Red hill with black stuff and a cave. |
| | | |
| Approach to Mouse's Tank. | Mouse's Tank. | Red hill with holes. |
Valley of Fire is not named for heat or being a desert; it was cold and rainy. I do not know how the government manages to maintain a desert there, what with the rain. I suppose it was named for the color of the rocks.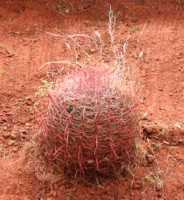 Strange plant.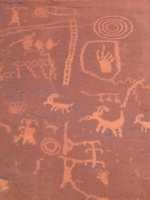 Petroglyphs.

One of the features there is Mouse's Tank, named for an Indian who hid there, taking advantage of the water that collected.

Another attraction is the petroglyphs (shown to the left), which are more than four thousand years old. I think the plant on the right is more interesting; it has a pretty weird arrangement.

Later, we went to the Atomic Testing Museum. Then we went back to the strip and saw the Venetian hotel, with the indoor gondolas. Back at Bally's Paris, we rode the elevator up the "Eiffel Tower." There, I took the pictures below of the mountains and the strip.

| | | |
| --- | --- | --- |
| | | |
| Gondola. | Mountains. | Strip. |
Outside the Venetian is a replica of Ponte di Rialto. Here you can compare it to the real Ponte di Rialto and the Legoland Ponte di Rialto.

| | | |
| --- | --- | --- |
| | | |
| Vegas Ponte di Rialto. | Real Ponte di Rialto. | Lego Ponte di Rialto. |
Monday, July 3, 2006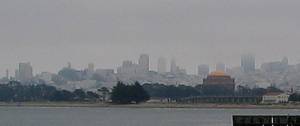 San Francisco skyline.

San Francisco's skyline is unappealing to me, but the view from near the Golden Gate Bridge is not as bad as others. I was in the city today, so I took this picture for you. Even though I waited until afternoon, it was still foggy. The photograph is a good representation; I do not find San Francisco very colorful either literally or figuratively. The embedded image is cropped; click on it for a wider view.

Paramount's Great America.
Thursday, July 27, 2006
I took today off and went to Paramount's Great America [2021: now California's Great America]. It was okay, but I do not think I need to go back anytime in the next several years. I rode all the big rides. I place it around the level of Legoland Deutschland, but different, perhaps a notch above Canobie Lake Park, and of course well below Disney and Universal.

Saturday, February 24, 2007
It has been a while since I posted anything—I have pretty much settled in to California (for now) and am not exploring much. There are some places I want to get to someday, but they will have to wait until opportunities arise.

In the meantime, I thought I might mention some differences between California and New England. These are in random order.

I have gripes with the traffic engineers around here. Amazingly, California does not have numbers on highway exits. If you are looking for the Lawrence Expressway exit, and you see Wolfe Road, you cannot know whether you have gone too far or not unless you check a map (or are familiar with the area). California is adding highway exit numbers now (several decades late), but it is going to take years to finish the job.

Another traffic problem is that lanes start and end too frequently and with too little notice. So traffic is frequently forced to merge, sometimes unexpectedly. This happens on local roads, expressways, and highways.

There is a lack of synchronized traffic signals, at least in my area. This wastes time and fuel because traffic has to stop more frequently than if the signals were coordinated between intersections. They also seem to be timed poorly; I frequently observe stretches of time when no cars are passing through an intersection.

Obviously the weather is better here. It essentially never snows and rarely rains during hours when you want to be outdoors. I am a bit inland, so the temperature is even more moderate than in San Francisco. I never need a winter coat, just a light jacket, and sometimes light gloves and a headband for the few days in winter when it is chilly.

None of the grocery stores here are completely satisfying, so I rotate my shopping between them.

The area from here to San Francisco is one big suburb. The cities do not have much individual character, although there are pockets here and there.

Being Silicon Valley, the area is nerd central, which has various effects. There are plenty of game groups (e.g., strategy board games) and game events. There are plenty of computer stores, including Fry's Electronics and Weird Stuff Warehouse. Fry's is like CompUSA but bigger and better. Some people complain about Fry's, but the inventory is pretty good. There is a CompUSA in the area, but it is pretty lame; it is clearly suffering from Fry's competition. Weird Stuff Warehouse buys and sells old computer parts, so you can find all sorts of things there.

The chocolate environment is different from Boston. There are several fine chocolatiers in the area, mostly up around San Francisco. That is fine for premium chocolate, but the tier below that (still above average) does not seem to me to be as well served here as in New England.

One of the most visible differences are the businesses. Driving around the area is like driving through the Internet—Yahoo!, eBay, Cisco, IBM, Hitachi, Apple, Adobe, and more.

New England obviously has more history than California.

I like my apartment here quite a bit. I will miss that when I leave.

The geography is different here. New Hampshire is hilly all over. Here, it is flat (and easy to bicycle) for miles, right up until you reach a mountain, when it becomes steep quickly. The settled area is a narrow strip running up the peninsula, bordered by uninhabitable areas of bay, mountains, or desert.

There is an 8.25% sales tax here (varying by county) and an income tax up to 9.3% for ordinary incomes (10.3% for incomes exceeding a million dollars). Think about what that means to people who are struggling to get by, on top of the US income tax, and all the other fees and taxes. I will not miss that when I leave.

Thursday, April 5, 2007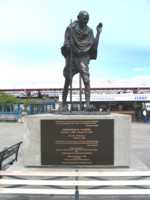 Mohandas K. Gandhi walks to the ocean and boards a ferry.

Lynn and Paul are in town this week. Paul has a new job with a company headquartered here and is here for training. Thursday, Lynn and I took a guided tour of San Francisco.

The tour starts in the Ferry Building. The Ferry Building is a landmark at the end of Market Street, and I am familiar with it because Recchiuti Confections has a shop there. It turns out there is also a ferry there, right behind the statue of Gandhi.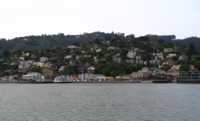 Sausalito.

The ferry is a regular operation, separate from the tour company, and it goes across the bay to Sausalito. During the ride, the tour guide talked various things in the bay, such as the Bay Bridge goes right through a tunnel drilled through Yuerba Buena Island, Treasure Island was made from all the stuff they drilled out of Yuerba Buena Island, and Alcatraz was closed down because it was too expensive (e.g., there is no drinking water there, so it had to be shipped in).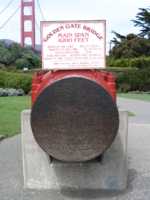 Golden Gate Bridge cable.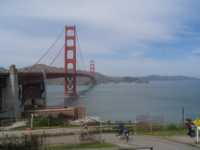 Golden Gate Bridge.

The ferry delivered us to Sausalito, where there is a road near the shore with shops and restaurants, and the tour gives us an hour to eat and walk around. It is just six blocks, not much to speak of. After Sausalito, we boarded a small bus, which we rode for the rest of the tour.

The first stop was a vista point for the Golden Gate Bridge. I have seen it many times before, so no big deal, but Lynn is a first-timer in San Francisco. There is a sample of the cable used on the bridge on display. If you look at the larger picture, you can (sort of) see the individual wires in the cable.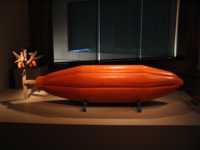 Coffin shaped like a cacao pod.

The next stop was the Palace of Fine Arts, which is a fancy name for a rotunda, some colonnades, and the building that houses the Exploratorium. The tour stops there for the tour guide to talk about the Palace of Fine Arts, which was built in 1915 for the Panama-Pacific Exposition and rebuilt in 1962. The tour does not leave time to experience the Exploratorium, but I raced Lynn through so she could at least see the place.

The tour went to Golden Gate Park and let us off in front of the new building of the de Young Museum. We had only a few minutes, but I found this coffin shaped like a cacao pod. I am sending the picture to all the chocolatiers I know.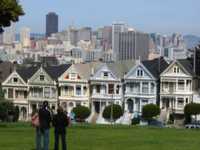 Six Sisters.

Next up was a stop to see the Six Sisters, which is a name surely made up by tour companies for six Victorian-style houses.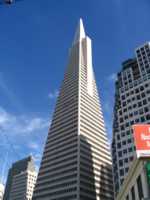 Transamerica Pyramid.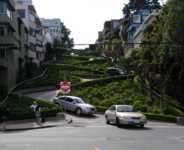 Lombard Street.

There was another stop to see some cathedral, but I do not have a picture of that. Then there was Lombard Street. I think vehicles other than the cable cars are not permitted to stop by Lombard Street, so the tour bus let us off a couple of blocks away, and we walked to Lombard Street.

After that, we walked through Chinatown and passed by the Transamerica Pyramid.

The tour was quite long, and it was not uninteresting, but anybody else who visits me is on their own if they want to do a guided tour. I will be happy to show you the Exploratorium or tourist sites myself, although I cannot tell you nearly as much of the history. But I can show you more chocolate stores.

Friday, July 6, 2007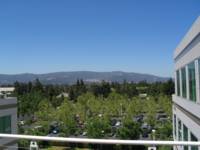 View west from Apple.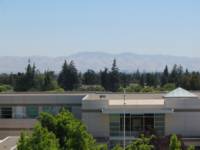 View east from Apple.

My group's offices at Apple are in a short corridor with windows at both ends. When you are in the corridor, you can look east or west to different mountains. It is an interesting framing of the corridor. These are the mountains that make Silicon Valley a valley.

Wednesday, May 14, 2008
Life in California has become routine, so I am not writing much in these pages, obviously. Someday there will be more adventures.

In the meantime, I am going to plug one bit of software I started using recently. Apple employees get some discounts and a few freebies, one of which is 1Password. I do not use most of the discounts available to Apple employees, but 1Password seems worth endorsing.

It is a utility for organizing web site login information. It solved a couple of problems for me. The first is securely storing passwords while making them easy to use when logging in. There are a number of programs that do that, but 1Password also stores passwords securely on the iPhone. There are a few applications that make your data available on the iPhone by storing it on a web server, but I prefer to have it stored on my own device. 1Password stores the data encrypted in a web page embedded in a bookmark and decrypts it using JavaScript.

Baseball game.
Thursday, May 15, 2008
Apple treated Core OS to a Giant's baseball game today. Here is a photo from the game. It shows something happening on the field, which is atypical. There was more action at the food concessions. Fortunately Apple provided food before the game, because it would have been necessary to get a home equity loan to buy a meal at the ballpark.

Apparently I was there for the good part of the game, when the home team was winning (hurrah). The score when I left was 7-3, but it ended at 7-8.

It was unusually hot in San Francisco, which was a problem because I had made a chocolate run before the game, getting samples from a couple of new stores. I had cold gel packs, but they were not enough to completely protect the chocolate. Fortunately, the best stuff seems to have survived.

Thursday, June 12, 2008
Apple's Worldwide Developers Conference (WWDC) was held this week. I spoke on Friday, about using vector (SIMD) code to increase performance. Thursday evening, at the bash, Barenaked Ladies performed.

One ticket to WWDC gets you into the bash and my talk, so I performed on the same ticket as Barenaked Ladies. That is so going into my biography.

Friday, June 11, 2008
My college (Rochester Institute of Technology) held its first west coast officer and alumni meeting at the Computer History Museum, just three miles from home. I have been meaning to go to see the new second Babbage Difference Engine #2.

The Science Museum in London built the first Difference Engine #2 from Charles Babbage's 1847-9 plans, starting in 1985 and finishing the calculating section in 1991 and the printer in 2002. Nathan Myhrvold commissioned a second one and has loaned it to the Computer History Museum until May 2009.

As usual, the small pictures here are linked to larger versions, but I have the even larger originals if anybody would like them. I also have video of the machine in operation.
Registers. These stacks hold the current sums and perform addition.

Overview. Most of the machine is visible here. The printer is on the right. The drive crank is on the left.
Crank. This makes it go. It takes some effort, naturally, but not as much, judging by appearance, as the bulk of the machine might lead you to expect.
Printer. Results are printed on paper and impressed in plaster to cast printing plates.
Stamping wheels.
The Difference Engine would not be called a computer today, because it is not programmable. It performs one simple calculation, producing the values of a polynomial. It does that by keeping seven sums of 31 digits each, adding a number to the first sum, adding that sum to the second sum, adding the second to the third, and so on.
The desirable thing about polynomials is they can be designed to approximate other functions, like logarithms and trigonometric functions. So the Difference Engine could have been used to making printing plates for books of logarithms and trigonometric functions, which were essential for engineering calculations.

Saturday, August 23, 2008
When a Googol Is Not Enough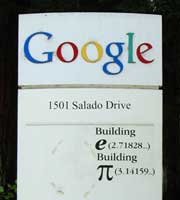 Sign for buildings e and π.

It appears integers are not enough. Google's expansion plans seem to go beyond a countably infinite number of buildings as they turn to real numbers for labeling. This is where they send the irrational engineers, and some of the transcendental ones.

Wednesday, October 15, 2008
Dena and I did a San Francisco Gourmet Chocolate Tour. It was an entertaining way to spend the morning, although all the chocolatiers were known to me already. It did visit a café featuring Leonidas that was new to me. The café opened earlier this year.

In the afternoon, we visited the Tactile Dome at the Exploratorium. The Dome is a set of dark chambers and passageways that you feel, walk, crawl, slide, and climb through. I recommend it.

Saturday, October 18, 2008
I went to the Half Moon Bay Art & Pumpkin Festival with my neighbors Ben and Katie. It was already crowded when we got there, at 9:15. No pictures from the festival, but here is a pumpkin patch we stopped off at on the way back.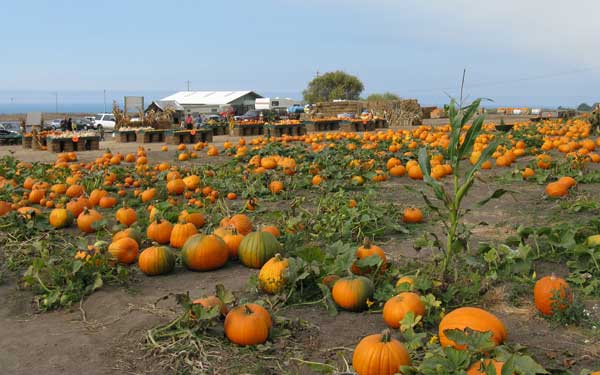 Pumpkin patch.
Saturday, May 16, 2009
I bicycled around the Internet: South to Apple, east to eBay, north to Yahoo!, west to Google, and back home. According to my bicycle's odometer, the perimeter of the Internet is about 35 miles.


© Copyright 2009 by Eric Postpischil.