Eric in Florida
Welcome, visitor. This page has pictures and notes I prepared for family and friends while I was living in Florida. Although I wrote it just to stay in touch with friends, it is a popular web page.

See my site map for lots of other pages, including my chocolate store reviews.
| | |
| --- | --- |
| | |
| Apartment complex entry. | Fountain. A view of this fountain adds $45/month to the rent. |
I did not keep a journal about Florida the way I did about Germany, but I have a few pictures to share. To start, here are two of the apartment complex. The complex adds premiums to the rent for units that are on the ground floor or have views of the fountain, lake, pool, or woods. I rented a ground-floor unit so I can use my treadmill without bothering a downstairs neighbor, but I am not paying for any view. If I could not live without seeing some of the views, I would add photographs of them to my computer desktop wallpaper collection.

Kennedy Space Center
Tuesday, August 3, 2004
While I am waiting for Apple's relocation people to get in touch, I have some time to spare. So today I went to Kennedy Space Center. A day there is mostly about looking at stuff, so pictures are below. You also get to touch a piece of Mars; they have a fragment of a rock that was blasted off Mars by an asteroid collision a long time ago and that drifted to Earth.

The first six pictures are of a space shuttle. It does not feel as big in person as it does on television.

Space shuttle orbiter.
External fuel tank and solid rocket boosters.
Orbiter main engines.

Orbiter cockpit.

Orbiter bay.
Orbiter wheel well.
A module for the International Space Station.
A module being prepared.
One of the two shuttle launch pads.
Saturn V engines.
Lunar Rover.
Rocket Garden.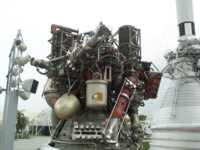 Rocket engine.

The rocket engine to the left is notable because it could be shut off before burning all of its fuel, thus giving a lot more control over navigation.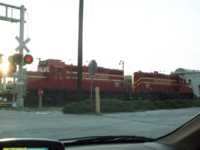 Florida Central Railroad engines.

The NASA Up Close tour (extra cost on top of the large admission price) takes you on a bus near the launch pads and various buildings, including the famously huge Vehicle Assembly Building. I do not have a good photograph of that because it was raining heavily when we were near it. Also, we never got close enough to get a good sense of the scale. Back at the main exhibitions, there are various displays and movies. There is a little history of space exploration, but several of the exhibits are pointless, like the "Robot Explorer" presentation. Generally, I have to say European museums are better. I was satisfied with the day, but it was too expensive, so I would not recommend Kennedy Space Center to other people generally.

On the way home, I had to stop and wait for a train to pass, nearly in the middle of Orlando.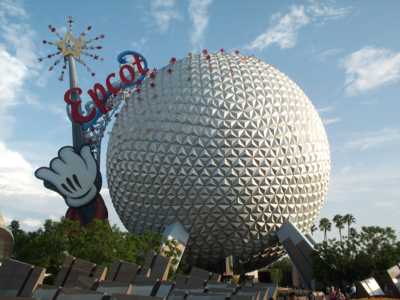 Spaceship Earth.
EPCOT
Thursday, August 5, 2004
Today I visited EPCOT at Walt Disney World, which is only 40 minutes from home for the next week or so. I was in the park for ten hours.

I arrived just as the park opened and was able to get onto the Mission: Space ride quickly. Disney has a Fastpass system that reduces waiting times somewhat. You go to an attraction, insert your park ticket, and get a ride ticket with a time period on it. When you return during that period, you can get in the shorter Fastpass line. This reducing your time waiting in line, but not all of that is time saved, since you end up walking to and from attractions multiple times. I am sure the system benefits Disney significantly, since people who are not waiting in line can be shopping instead, especially if there is not time to squeeze in another attraction while waiting for the allotted period.

However, some of the attractions have single-rider lines, and I was able to take advantage of a couple of those.

The Mission: Space (presented by HP) ride simulates a rocket blast-off very well. The machinery includes a centrifuge, and the simulation of vibration and g-forces during take-off is pretty good. I did not even feel that I was going around in a circle during the ride; aside from the machinery functioning so well, you are enclosed in a compartment and have no visual cues that you are spinning. I only noticed it when I got off and started walking, and my balance took a second to recover.

Unfortunately, the ride is too short and becomes goofy shortly after take-off; your "mission" goes wrong, and your ship dodges asteroids and crash-lands on Mars. As if simulating a real mission to the moon or Mars would not be exciting enough. Really, the simulation is good enough that they could do a credible take-off, various burns to orbit and to lunar or Martian transfer, a de-orbit burn, and a landing. As it is, the ride leaves you feeling excited but unfulilled. In fact, the park as a whole has that feeling.

On the technical side, Disney has the machinery nearly perfect. The mechanisms are out of sight or camouflaged or incorporated into the theme or unobtrusive, and they work smoothly and quietly.

Near Mission: Space is Test Track (presented by GM), and I was also able to get on that in a reasonable time, although the wait was longer.

With the big rides out of the way, I proceeded around the World Showcase Lagoon, visiting Disney's portrayals of various countries. "Mexico" is first in clockwise order, but I did not take any pictures. Like most of the "countries", you can ride and shop and eat.

"Norway" is shown below. I looked for chocolate in every "country," because somebody had pointed out to me that Disney's international stores might have some interesting chocolate. Nope. The best I found was Fauchon in "France," and Fauchon's chocolate does not do it for me. There was also Peruga in "Italy." "Norway" offered some candy-grade chocolate, and I tried a Nidar Troika gele trøffel and a Freia Firkløver melkesjokolade med hasselnøtter. They were okay for what they were.

| | | |
| --- | --- | --- |
| | | |
| Stavkirke, Stave church. This church is a mix of Christian symbols and Viking images. 28 of 1,000 Norwegian stave churches build in the Middle Ages survive today. | Village scene. This is part of the village at the end of the "Norway" ride. | "Norway" has an immigration problem. This lizard is native to Florida. |
"Norway" is next to "China," which has a lot of people in different regions and a pretty lily pond.

| | | |
| --- | --- | --- |
| | | |
| Lilies in pond. | Pond with bird. | Building in "China." |
After "China" is a little "African" area which is not described or even listed on the EPCOT map except for a little box labeled "Outpost."

| | |
| --- | --- |
| | |
| "German" town square. | "German" model village and train. |
Moving on, there is "Germany." "Germany" did not feel the least bit German to me. Many of the things on sale weren't even German. Toblerone is Swiss. The pastries did not even look German. One of the stores did have Milka chocolate bars, but only three kinds, and not the Joghurt. There was Sauerkraut and Spätzle but no Schupfnudeln or Dampfnudeln. They had pretzels with American toppings but not like Germans have them.

After "Germany" is "Japan."

| | | |
| --- | --- | --- |
| | | |
| Building in "Japan." | "Japanese" shrine. It is interesting how the building resembles a character in Japanese writing. | Monster, robot, and superhero tin toys. |
| | | |
| Circus tin toys. | Vehicle tin toys. | Space tin toys. |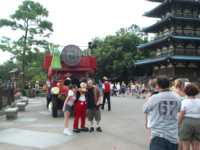 Mickey Mouse poses with guests.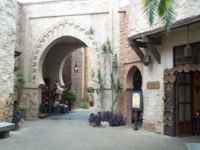 "Morocco."

Lest you be caught up in the overwhelming realism of the World Showcase, Mickey Mouse and other Disney characters come by and mime for the kids and pose for pictures.

I continued to "Morocco," which was represented largely by a bazaar.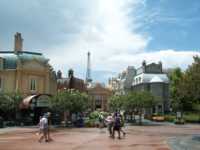 "France."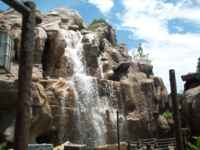 "Canada."

"France" was next. This area has a pâtisserie with pastry that looks pretty good, but the taste and feel fall short. One might think with the prices they charge for food inside the park, it would not cut too far into their profit margin to retain good chefs and maintain a standard.

Out of all of Canada, Disney found a waterfall and some mining accessories to represent the huge country.

| | |
| --- | --- |
| | |
| A street in the "United Kingdom." | Not the Beatles. Not even close. |
The United Kingdom fared a little better, with fish and chips, red telephone booths, pubs, and the Beatles.

By the way, it rained about five times while I was in EPCOT. If you go, bring rain gear. A lot of people lose time standing under awnings waiting for the rain to stop. Also, you do not want to get wet at a theme park, because they keep the air conditioning pumped way up inside the buildings, so it feels very cold if you are wet.

That wrapped up the World Showcase Lagoon, and I went back to the Future World side of EPCOT.

| | |
| --- | --- |
| | |
| Figment in the Imagination ride. | Mini-show in the Imagination attraction. |
I registered for a Fastpass for the Honey, I Shrunk the Audience show (presented by Kodak). The lines were longer at this point in the day, so I had time for the Journey Into Imagination With Figment ride. This ride involves singing and dark and light and a little purple dragon and not a single sentence I can remember, and it ends in a place with lights and sounds where you can buy stuff.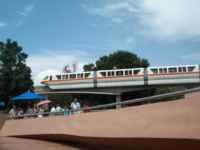 The monorail goes by.

Disney's imagineer-marketers have been improving over the years, finding better and better ways to sell people stuff without devaluing the park experience so much that they will not pay for a ticket anymore. The mandatory gift shop at the end of an attraction has been mixed into the exhibits themselves. Many of the attractions had open areas laid out to encourage wandering, with various carousels and displays for entertainment interspersed with shop displays.

My time for the Shrunk show arrived, so I went back and sat through that, and then I moved on to The Living Seas.

| | | |
| --- | --- | --- |
| | | |
| Nemo characters. | Jellyfish. | Jellyfish. |
The Living Seas attraction has a variety of exotic sea life displayed so the creatures are quite visible, including jellyfish, rays, dolphins, manatees, coral reefs, and more. Although they are easy to see in person, my only good photographs were of the jellyfish, because it is difficult to shoot moving animals (cannot get a focus) through glass (flash would reflect) and water. I suspect the manatee tank is too small. The dolphin tank was also small, but the dolphins were going in and out through doorways to some other tank I could not see.
Next to The Living Seas is the Coral Reef Restaurant, where you can eat some of the creatures you just saw.
My final Fastpass of the day was for Living with the Land (presented by Nestlé). There was a long wait for that, so I had time to walk to the opposite side of Future World, take the 45-minute Ellen's Energy Adventure ride (presented by Mobil), and walk back. Ellen's Energy Adventure shows that energy has something to do with Jamie Lee Curtis, realistic models of Ellen Degeneres getting attacked by a little dinosaur, Jeopardy and Alex Trebek, and riding in the dark. In one bit of realism, they portrayed a contestant earning $17,800 in the first round of Jeopardy, which is in fact the maximum possible (five $100 questions; six each of $200, $300, $400, and $500; and betting everything on a Double Jeopardy question in a $100 position).

| | |
| --- | --- |
| | |
| Theobroma Cacao. | Watermelon. |
Living with the Land is generally not an exciting or entertaining ride, but it does feature a rare special attraction also found in Ulm and Köln, a Theobroma Cacao tree.

Disney also grows watermelons in an odd way.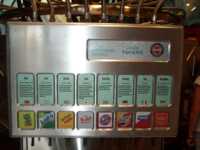 World-wide soft-drink dispenser.

Coca-Cola has a shop in Future World where you can satisfy your critical needs for things with "Coca-Cola" printed on them and taste soft drinks from around the world: Smart Watermelon (China), Kinley Lemon (Israel), Lychee Mello (Thailand), Vegitabeta (Japan), Fanta Kolita (Costa Rica), Mezzo Mix (Germany), Beverly (Italy), and Krest Ginger Ale (Mozambique).

I finished the day on Spaceship Earth, which either replaces the ride that used to be in the big silver sphere or has had some things changed to make it more humdrum.

Wednesday, August 11, 2004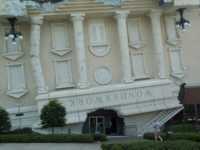 WonderWorks.
WonderWorks
Orlando's big attractions attract tourists, and they also attract lesser attractions. One such is WonderWorks. Their building, seen to the right, is obviously distinctive, and the first exhibit, the inversion tunnel, is very well done.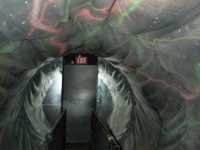 Inversion Tunnel.

That is the inversion tunnel to the left. Those of you who were at the Montshire Museum of Science with me should remember it. Basically, you are in a dark room in which the walls rotate around you. Because your brain wants to interpret the walls as stationary, you feel like you are rotating the other way, and you are off balance when you walk. The effect in this tunnel is much stronger than the one in Montshire. I am not entirely sure why. The walls in this one are loose fabric, so they flex as the tube turns. As I recall, the Montshire tunnel was very dark with a pattern of pinpoints (as stars) on the walls. The WonderWorks tunnel is brighter, so you simply see a lot more moving surface, and the wall is mostly grey with colorful streaks.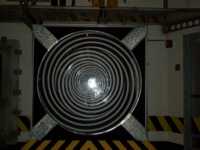 Squirming Illusion. When you look at your hand after staring at the spirals (moving but not shown in this still photograph) for about twenty seconds, your hand appears to squirm in-and-out for several seconds.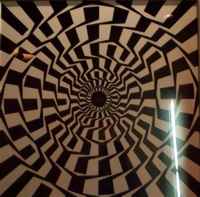 Circle Illusion. The lines going around the center are actually circles.

The inversion tunnel was best exhibit. Several other exhibits were broken or in poor condition. I have a conjecture that they spent so much money on the upside-down building that they could not afford to keep an engineer on staff to maintain the exhibits. So, once everything was done, the business has been on autopilot. There are a variety of things to push and pull and throw and look at and listen to, but it is not really worth your time or money. I spent just over an hour there. Also, I have seen a number of their exhibits in other places.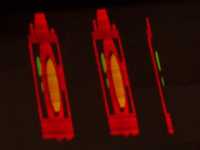 Tube Illusion.

The Exploratorium in San Francisco, which is an excellent science museum, has what looks like a tube, flickering with color. If you whip your eye past it quickly, you can see an image or word. The colors flicker in a pattern that, when spread out in space instead of time, form an image. I tried to show that by turning the camera as I was taking a picture. The best photograph I got is to the left, and the image seems to be that of a camera.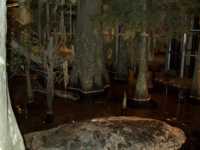 Wetland.
Orlando Science Center
I also visited the Orlando Science Center. I spent a little more time there, but not much. The first exhibits I saw were very disappointing, lots of flashing lights and flickering displays and controls that do not much model what they are purportedly about. Later in the museum, I did find some good exhibits.

The wetland display to the right is in the center of the building. The silver columns on the right are the elevator housing.

The math section needs a total overhaul. One exhibit is two ramps, one a straight slope and the other perhaps sinusoidal. Balls placed at the tops of the ramps and released simultaneously reach the bottoms simultaneously, although the one on the sinusoidal ramp speeds up and slows down. However, there is no information about why this is interesting or why it occurred. The Mathematikum in Gießen has a similar display of two ramps, but with interesting properties that are stated on the exhibit labels. The rest of the math section was generally simple arithmetic stuff.

However, the exhibit on light and at least part of the dinosaur exhibit were not bad. Overall, I would say the Maryland Science Center in Baltimore, which is comparable in size, is better.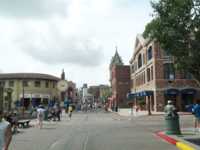 Street in Universal Studios park.
Universal Orlando Resort
Thursday, August 12, 2004
It is nice to be able to leave the house around 8 a.m. and arrive at a major theme park, using back roads even, before it opens at 9 a.m. On the whole, however, it is nicer to be able to leave the house around 8 a.m. and arrive by train in Paris by 3 p.m.

I visited Universal Studios first and Islands of Adventure later. Universal has some nice attractions, but, to make a long story short, I suggest you visit Disney before Universal.

Universal has an Express Plus pass like Disney's Fastpass, but you have to pay $30 more for it. Disney's egalitarian Fastpass is nicer. At 11:22 a.m., I saw a sign saying, "Express Passes for Revenge of the Mummy have been distributed for the day." That must be annoying, to pay extra for special access and find out they will not provide it.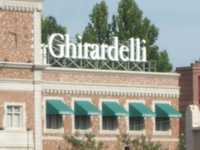 Not Ghirardelli.

Universal does have some single-rider lanes. Ask about them at rides even if you do not see signs. Also, even if you are in a group, use the single-rider lane. You will be split up, but you will get on the ride a lot faster, and the members of your group just wait for each other at the exit.

I passed the Terminator 2 show because the first show was not until almost 10 a.m. Okay, Universal, for the prices people pay for tickets, you should open the whole park at 9 a.m.

Some of Universal's rides do not permit carrying on items, and they have lockers nearby that are free for an hour or two. They are very high-tech lockers. You use a touch screen to start a rental, and you put a fingertip on a scanner, and the machine assigns you a locker number. Put your stuff in close the door, press a button, and walk away. When you come back, you have to type in your locker number and scan your fingertip again, and the door unlocks.

Okay, great, but what is wrong with having a key in each locker? Put your stuff in, take the key, and walk away. This has many advantages: It is cheaper. You will not forget your locker number, because it is written on the key. Several people can open lockers simultaneously, whereas the high-tech locker system has only one access panel for about 50 lockers. The high-tech locker system does allow the park to charge for using a locker beyond the free period. Is it worth it?

When I returned to my locker, some woman had forgotten her locker number, and an attendant was opening lockers one by one, looking for her stuff, while four people had to wait to get into their lockers. Their high-tech machine ought to print a receipt with the locker number on it. Or give each locker a cute, memorable name instead of just a number. Or try to match your fingerprint with one of its lockers. Or have windows in the doors so you can see your stuff.

The Men in Black: Alien Attack ride has new features, with fancy spinning carriages and interactive laser guns with which you shoot at evil aliens. (As far as I noticed, all the aliens in the ride were evil, unlike in the movies.) The system keeps score for each rider-player, and I did not see how it could tell when you were hitting an alien, let alone how it could tell which alien you were hitting. (It had to know which to avoid giving you points for hitting the same alien twice.) Anyway, the ride is interesting, but overall it is not greatly entertaining.

Jaws set. The Jaws ride is okay.

The E.T. ride is boring.

Funny, I made a note that the Revenge of the Mummy ride was good, but now, 12 hours later, I can barely remember it. I guess I will take my word for it. It is one of the newer rides, and the technology has improved. Oh, wait, I seem to recall fire and real heat and a false end-of-ride.

| | |
| --- | --- |
| | |
| Blue screen demonstration. Monitors above the stage show the people in the conning tower, prepared background footage, and the combination. | Earthquake ride. Notice the foreground and background cars are at different angles. |
| | |
| A tanker fallen into the subway station from above. We are in trouble now. | The scene resetting. |
Scenes from the Earthquake attraction are to the right. This is one of the older attractions, and it still holds up. It is also one of the few attractions that retains the "Look behind the scenes at how movies are made" theme that Universal's park in California had when I visited it many years ago.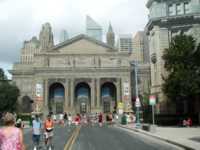 Ghostbusters scene. There is a show here periodically, but I did not catch it.

The Twister show is okay, complete with flying cow, but the wait for it was too long.

I skipped Shrek 4-D and Jimmy Neutron's Nicktoon Blast because the wait times were 70 minutes and 65 minutes, respectively.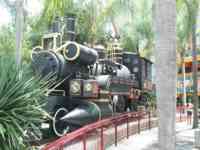 Locomotive from Back to the Future.

The Back to the Future simulator is still one of the best. Sit in front so you do not bump your head. Even though its story is more fantastic than Disney's Mission: Space, the ride feels more realistic because the pace is a bit slower, so you get more into the story. In contrast, in Mission: Space, most of the motions are jerks and are over before you realize what has happened, so you are not really "in" the experience; it is just something that happens to you.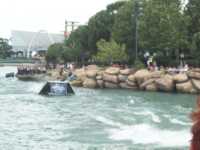 Jet ski stunts.

I only spent four hours at Universal Studios, and then I paid for the upgrade to go to Universal's Islands of Adventure. When I got to the second park, it was raining, and there had been lightning, and most of the outdoor rides were closed. Most people were huddling under awnings and arches. Of course, when it stopped raining, and the rides reopened, many of those people hiding from the rain boarded water rides and got soaking wet.

| | |
| --- | --- |
| | |
| Lake at Islands of Adventure. | Popeye & Bluto's Bilge-Rat Barges. The barge is empty. This was probably a test run before reopening the ride. |
The rides were closed long enough that I had time to walk around the entire park. If they had stayed closed any longer, I was ready to complain they should have told me about the rides being closed before I bought the upgrade and to demand my money back and leave. Some of the parks do not have this problem, because their rides are indoors. Anyway, the storm passed, and they finally reopened the rides.

Dudley Do-Right's Ripsaw Falls, pictured below, is not a bad ride. You will get drenched. It has several drops and surprises and has the redeeming virtue of being fun, something many of the flash-bang gee-whiz rides omit.

| | | |
| --- | --- | --- |
| | | |
| Waterslide. | Rapids. | Splash. |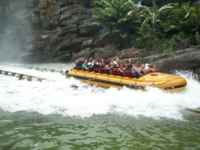 Aftermath of Jurassic Park.

The Jurassic Park River Adventure ride has only one real thrill, a long dive at the end and an unpleasant jerk when you hit the water.

Universal is not as advanced as Disney with the merchandising. Their offerings are less varied, and I was even able to exit one ride without going through the store.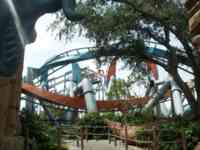 Dueling Dragons.

Dueling Dragons, pictured to the left, is a pair of intertwined roller coasters. They are painted different colors so you will not forget which one you are on in the middle of the ride.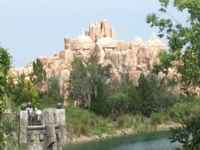 Rear of Poseidon's Fury.

If you circle the park clockwise, your first view of Poseidon's Fury is from the rear, shown to the right. It is a fairly remarkable view in the middle of a theme park; many people are surprised by it and stop to enjoy the view.

The Poseidon's Fury show itself is so-so. However, there is an interesting bit of engineering in its water tunnel. This appears to be a spinning tube of water, with centrifugal force holding water against the tube overhead. Pictures are below.

| | | |
| --- | --- | --- |
| | | |
| Front of Poseidon's Fury. | Spinning tube of water. | Water. |
The Amazing Adventures of Spider-Man ride is excellent. It is a combination of movement on a track, simulator motion, and projection with 3-D glasses, and it works well. At one point, they do a great job of making you think you are facing downward when you are really horizontal. Its length is okay, and the pace is reasonable.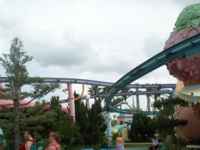 Elevated track.

The elevated track shown to the right is in the Dr. Seuss section, which is designed for younger children. It reminded me of the self-pedaled ride in Germany's Legoland. If so, I was right that the ride would not be popular in the US—it is not operating. I asked a store clerk about it, and she did not even know what it was for but thought it was not operating for safety reasons.

It rained again, so I missed a ride on Doctor Doom's Fearfall, basically a simple vertical drop, maybe accelerated downward. When the weather closure was decided, they took people off the ride rather than finishing up the current run.

I did not ride any of the roller coasters. I was considering riding Incredible Hulk Coaster but had gotten tired of waiting in lines.

It is a shame none of the theme parks have a Buffy the Vampire Slayer attraction.
Hurricane Charley
Friday, August 13, 2004
To complete my experience as a Florida native, Hurricane Charley passed through the state. The news media made a big deal of it, and it may have been serious where the hurricane passed through, but Orlando just got some rain and wind. They were predicting yesterday the storm would miss Orlando. This morning, the storm was expected to pass far to the west, and the theme parks were open except for Disney's Animal Kingdom. Orlando was named as a place that evacuees might evacuate to. In spite of this, almost all businesses closed, including restaurants, most around noon. As it happened, the storm changed path and did pass near Orlando.

The weather was fine in the morning, when I went out. Around 2:30, the wind and rain surged and was quite heavy for about an hour. It calmed down and picked up around 6:00 and again around 9:00, at which point the electric power flickered repeatedly. I was out from 6:40 to 7:10, and the rain was so light my windshield wipers were on low speed. In spite of that, the roads were nearly empty. So I was surprised when I got on Interstate 4 and saw an electronic sign informing me that the congestion cleared at Princeton Street. Perhaps the sign was incorrect and never says the road is clear because it never occurred to the designer that this could happen.

In one place, somebody had propped up trees with planks. I think that may have been recent landscaping, so the trees were not firmly rooted yet.

Supposedly there were winds up to 145 miles per hour. You couldn't tell by me. Certainly I have seen worse storms in New England than what I observed here, and I have even seen heavy traffic on Route 3 in rain as strong as it got here today. This makes Floridians seem like wimps.
Saturday, August 14, 2004
I went out this morning. What I saw gives the impression the storm bypassed my apartment but laid waste to Orlando. There are leaves all over the place, tree limbs down, and even some fallen trees. There was a cable down in one place, but I do not know if it was a power cable. Some places are without power. My apartment has power but grocery stores in opposite directions from it do not. Both are open, using generators to power some lights and the check-out scanners and computers. One of the stores is next to an electric power substation and in the same plaza as a Borders that was operating normally. My ISP is up and running, and its office is beyond one of the grocery stores.

WMFE's public radio and public television stations are both off the air, and so are some other television stations. Do not count on them when a real disaster strikes. Traffic signals at many intersections are not functioning. A few are in a fixed blinking pattern (yellow one way, red the other), but many are simply off. There are police directing traffic at some of them. By and large, Orlando does not seem to be prepared for Florida weather.

I had to go out again in the afternoon. The weather was nice when I started, but a downpour began and became heavy quickly. After I crossed Orlando and left I-4 for surface streets, driving conditions were bad, and power was still out in many places. I aborted most of my trip. However, I did notice a sign for a fine Swiss chocolate store. So, in the middle of the hurricane aftermath, I found Orlando's best chocolate store, Notter. It is a shop incidental to a school for pastry chefs.

After Notter, I turned around and went home. Back on I-4, one section of the road was flooded with a few inches of water. Perhaps that would not be surprising after a hurricane, except this was an elevated section of the road, standing on columns above Orlando streets. It would drain all by itself unless you went to the trouble of sealing it, so I cannot imagine what the road designers were thinking. Several other sections were flooded across two lanes, the inside and low lanes of banked curves. These were not elevated, but they were on hills or embankments, and I would not expect an interstate road to flood so easily. The hurricane had been the day before; this water was just the result of an hour's rain.

Downtown Disney
Monday, August 16, 2004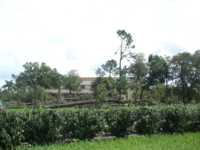 Fallen tree.

The movers finished packing very quickly, so I was free in the afternoon. And all my stuff was packed, so I had nothing to do at home. So I went to Downtown Disney. That's not a theme park; it's mostly just a shopping area at Disneyworld. There is some entertainment there too. Cirque de Soleil has a theater there.

On the way, very near Disney, I saw the downed tree at the right, probably a result of Hurricane Charley.

There is a Lego store in Downtown Disney, which of course reminded me of Legoland in Germany. Below are several photographs of an alien fixing its flying saucer.

Alien with flying-saucer trouble.
| | |
| --- | --- |
| | |
| Dragon. | Dinosaur family. |
There was also a Lego dragon in the water and a Lego cartoonish dinosaur family, shown to the right.

I walked around Downtown Disney, confirmed there really was not much to see, grabbed a sandwich at Earl of Sandwich, and went home. And that is it for Florida. The movers loaded my stuff the next day. That was also finished early, so I drove to Atlanta that evening, a day early. I will describe the cross-country drive in another web page.


© Copyright 2004 by Eric Postpischil.