Europe 2006, Budapest
Here is my narrative about my trip to Europe in October 2006.
Parts
Friday, October 13
I took public transportation to the airport—Caltrain to BART to the international terminal. Arrival, check-in, and screening went well, and I boarded the 10-hour flight to Amsterdam.

Saturday, October 14
We landed in Amsterdam. I had about an hour and a half until my flight to Budapest, so I wandered around the airport. Amsterdam airport is plain and boring. I bought forints and zlotys at exhorbitant rates. (Later in the trip, I used ATMs. Bank-affiliated ATMs typically charge less exhorbitant fees than money-exchange offices. You need to be careful about non-bank ATMs. When coming home, I kept some euros for future trips, enough for a little food and transportation, maybe even a hotel, until I can get to an ATM.)

The flight to Budapest was two hours. I turned on my mobile phone, with my Liechtenstein SIM installed, and Vodafone Hungary welcomed me with a text message.

I was able to get going quickly, since I had only carry-on luggage. No waiting for checked luggage, first in line through Customs. At the airport, I bought a Budapest Card, which provides unlimited use of the local transit and various discounts at tourist attractions. Then I took the airport minibus to my hotel. The minibus is a nice service that delivers you anyplace in the city for HUF 1950 (with the Budapest Card), which was about $10. Next time, though, I might take the regular bus to the metro.

Incidentally, the Budapest card is a good deal; it is useful at a number of attractions. In contrast, in Berlin, just get the standard Welcome Card that covers only transit. I got the premium version and found that it provided few discounts or admissions that I wanted to use.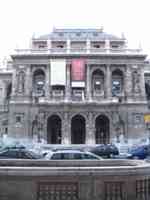 Budapest Opera House.

I had arranged nice flights, so I was in Budapest and checked into my hotel by late afternoon, and I set out for a first look at the city. And an errand. Jessica left a Bach mug in Budapest, so I went to the Hungarian State Opera House to seek a replacement.

Before I had been in the city an hour, and less than two hours after my plane landed, somebody asked me for directions. I guess I look like I know where I am going no matter where I am. Anyway, I went to the Opera House and found a Bach mug similar to Jessica's, but different. Both have copies of handwritten music notation and Bach's signature, but at least some of the writing is different, and the replacement is smaller. I bought two, one to mail to Jessica and a spare in case the first broke in the mail. It didn't, so now I have a Bach mug from Budapest. Anybody want it?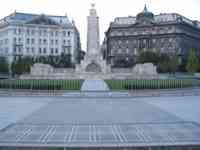 Communist soldier memorial.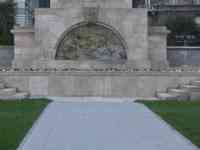 Flowers on the communist soldier memorial.

After the Opera House, I visited Szabadsag Tere (Freedom Square). Among other things, it has a monument to communist soldiers who died liberating Budapest, shown to the right. Jessica points out is ironically barricaded so you aren't free to visit it. Somebody must have access to the memorial, though, because those flowers are fresh. Or plastic.

Also in Szabadsag Tere, there was a statue of US General Holtz, with a quote to the effect of, "I just obeyed the orders of my country as best I could understand them." I tried to look up more information on General Holtz when I got home—but I cannot find any significant mention of him. It is like he came to Budapest and did something the city thought was great enough to put up a statue for, but the US did not consider it significant.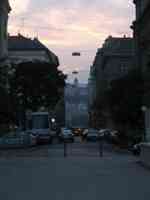 Zoltan Utca.

This is a view from Szabadsag Tere looking along the street Zoltan Utca toward Buda. The Danube is in there, just before the hill. Since I do not have any good overview photographs of Buda and Pest together, you cannot see this, but the terrain is very different on the two sides of the Danube here. Buda is hilly, and Pest is flat.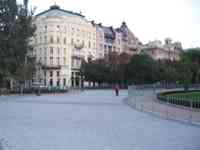 Buildings by Freedom Square.

Here are some buildings by Szabadsag Tere. I do not know much about architecture; is there anything particularly Hungarian about these buildings or others you see in these photographs? It is funny; I got a distinct sense of different architectures in Germany, Belgium, United Kingdom, and so on, but much of Budapest struck me as general European. Maybe my memories of other countries are too distant now.


As you can see, the sun was setting, and it was getting a bit late. Most tourist things—museums, castles, and so on—were closed. The city's big mall was not too far away, so I walked over to see what Hungarian shopping is like. Plus I figured I might as well grab something quick for dinner. I had just finished 12½ hours of plane travel, so I was not in the mood for a regular restaurant.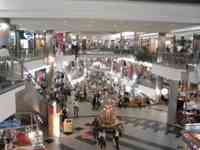 Mall, West End City Centre.

The mall, West End City Centre, was fairly impressive. It may beat anything I have seen in the San Francisco area, in both volume and variety. There are four floors, and it is pretty long.

The food court had some exotic choices, in addition to the usual McDonald's, Burger King, and TGIFridays. I chose some potato-vegetable thing from Fözelékfaló ételbar Kft. (Kft. stands for Korlátolt Felelõsségû Társaság, which means Limited Liability Company.)

After the mall, I figured the next tourist thing to see was Chain Bridge, since it is (a) a landmark, and hence open all the time, and (b) lit, and hence visible at night. On the way, somebody asked me to recommend a restaurant. I do not recall any passersby anywhere in the US asking me to recommend a restaurant. Why when I am in a foreign country am I suddently the guy to ask?

| | | |
| --- | --- | --- |
| | | |
| Castle hill. | Chain Bridge. | Chain Bridge and streetcar. |
The Chain Bridge was suggested by Count István Széchenyi. Around 1831, he suggested that Buda and Pest be united as Budapest, and he organized folks to construct the bridge. The bridge had a toll for nobles and commoners alike, which was a big political step, and now it is a symbol for the Hungarian Age of Reform.

That is Buda Castle on the hill and the rebuilt Chain Bridge crossing the Danube.

I also walked across the Danube on the Chain Bridge. The Danube is much wider in Budapest than it is in Ulm.

Sunday, October 15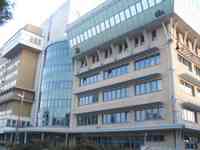 Hospital.

This hospital was across the street from my hotel. I only photographed it because I thought the architecture was a bit quirky.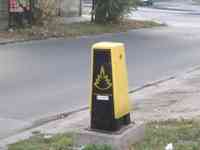 Fireplug? No, gas.

When I first saw this thing on the right, I thought "fire hydrant," but I do not see where the water would come out. The writing on it is the name of the Budapest Gas Works Company (Fövárosi Gázmüvek Zrt.). Maybe inside is a gas control valve?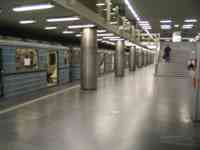 Metro station.

This is the metro station near my hotel. Metro service was excellent. At rush hour, a new train arrived less than 100 seconds after the previous one left. I measured a few times, and it seemed consistent.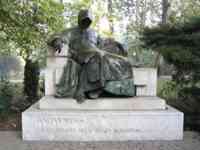 Anonymous.

A good chunk of Hungarian history is known only because this guy wrote it down. However, he did not write down his name (which was not uncommon way back when), so he is honored in this statue of Anonymous. Anonymous is famous in Hungary. (Jessica noted this place because Erdős Pál (Paul Erdős) and his friends used to meet here to talk about math.)

You cannot see his face in the shadows under his hood.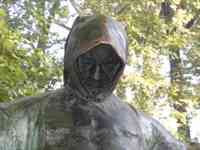 Anonymous' face.

Oh, wait! A camera flash solves that problem. If you recognize this person, please call Hungary immediately.

Anonymous' pen is shiny because many people rub it for good fortune in writing endeavours. I am unsure what kind of good fortune it is to be simultaneously famous and unknown.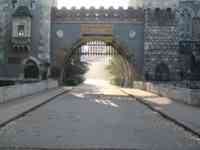 Anachronistic castle in Varosliget Park.

Anonymous sits in Varosliget Park, in a cluster of buildings that were built around 1896 for the celebration of Hungary's 1000th birthday. The temporary buildings juxtaposed different architectures to feature different historical periods. The buildings were so popular, the city rebuilt them as permanent buildings. Much of the city was rebuilt either around 1896 or after World War II.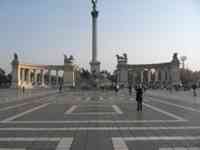 Heroes Square.

To the right is Hősök Tere (Heroes Square). Various monuments here memorialize seven Magyar chieftains of the late 800s, an unknown insurgent of the 1958 Uprising, rulers and statesmen, and Work and Prosperity, War, Peace, and Knowledge and Glory.

| | |
| --- | --- |
| | |
| Old Metro station. | Old Metro station. |
I took the Metro south a little. This is the oldest subway line in continental Europe.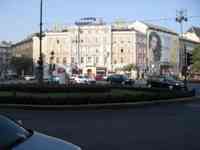 Burger King at Oktogon capped by McDonald's sign.

I went to the Oktogon stop to visit the Terrorháza (Terror House). I was early, so here are some photographs from the area. I wonder how much the landlord got for the McDonald's sign on the roof above Burger King. Burger King has a big presence in Budapest, maybe bigger than McDonald's.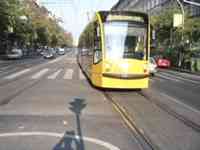 Streetcar.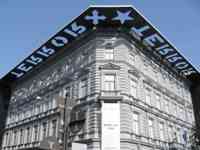 Terror House.

The Terror House building was headquarters of the ÁVH secret police. Now it is a museum about the crimes and atrocities committed by Hungary's fascist and Stalinist regimes.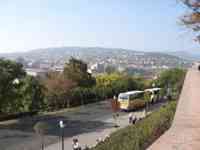 Buda from castle hill.

On the left is part of Buda seen from the castle hill. Since it is hilly, you can tell I am west of the Danube.

| | |
| --- | --- |
| | |
| Labyrinth entrance. | Stairs into labyrinth. |
One of the larger attractions in the castle district is hard to locate because only the small entrance is aboveground. This is Budavári Labirintus (Budapest Labyrinth).

| | |
| --- | --- |
| | |
| Doorway. | Well in labyrinth. |
Here is (almost) a well inside the labyrinth. ("Almost" because I edited out some of the garbage people had thrown in.)

| | |
| --- | --- |
| | |
| Drawing. Who drew this? | Turning the corner. |
To the near right, we have some drawings. Not all the "exhibits" had signs or English, and I expect most of these were constructed as exhibits, so they are not original to the time they depict.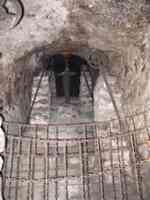 Church.
| | |
| --- | --- |
| | |
| Water fountain. | Carving. |
| | |
| --- | --- |
| | |
| Wine fountain. | Wine fountain basin. |
The fountain on the right dispenses wine. It is probably not naturally fed.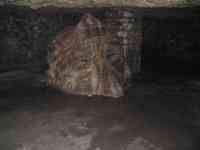 Partial giant head carving.

There is a huge random carving of a head in the labyrinth. I did not see a sign, so I cannot tell youa about this.

Footprints.

The sign for the footprints at the right says they were found in the labyrinth and are about 42 million years old.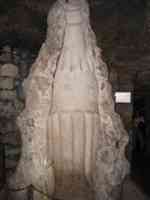 Bottle imprint. Evidence of Homo Consumeris.

Just beyond that we find this imprint that a sign tells us is 38 million years old. It is over two meters high, so apparently technology was unable to miniaturize Coke bottles until the last million years or so.


Another part of the labyrinth is unlit. There is a metal cable attached to the wall, and you follow it around the room, blindly. It is a large room with some turns or side passages, and the floor is not completely even, so it is an interesting experience to walk through the dark. Sorry, I do not have pictures for you. Well, maybe one (see right). At the end is a lit star pattern on the wall.

I entered the labyrinth with mobile phone service from Vodafone Hungary but had T-Mobile Hungary when I came out.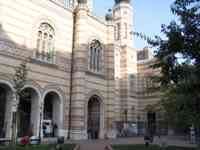 Synagogue.

I headed back to Deák Ferenc tér Metro station to take a guided walking tour of Budapest, with Absolute Walking Tours. Part of the tour retraced ground I had already covered, such as Varosliget Park (where Anonymous is). We also passed the Synagogue at the left.

| | | |
| --- | --- | --- |
| | | |
| Castle Park steps. | Pest from castle hill. | Castle Park. |
Then we went to Castle Hill. You can see from the picture of Pest in the center how flat it is. There is not a hill in sight, unlike the picture of Buda earlier.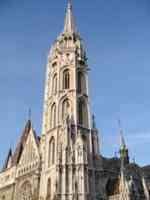 Castle Park Church.

Here is a church in the castle district. There is quite a complex of buildings on top of the hill, with the castle buildings, this church, various restaurants,the labyrinth, and a number of buildings that look residential.

For dinner, I went to Fâtal, a restaurant the tour guide recommend, and had Beef Gulyas. Eh.

Monday, October 16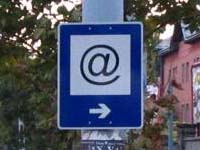 "@" sign.

I passed this sign each day on my way from the hotel to the metro station, and I never figured out what it meant. Obviously, the first thing that jumps to mind is that the @ stands for the Internet. However, the building it points directly to appears to be disused, and I could not see anything else relevant. Plus, there is not much reason to have a sign for the Internet; there were Internet cafés scattered here and there around the city, including one inside the Metro station a couple of blocks ahead.

| | |
| --- | --- |
| | |
| Tram. | Keleti Pu, train station. |
This morning, instead of the metro, I took a tram to the train station, Keleti Pu, to store my luggage for the day and familiarize myself with the station.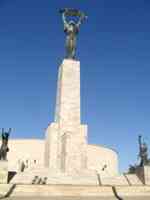 Liberty Statue.

From the train station, I traveled by metro and bus and foot to the citadel, on another hill, to photograph Szabadságszobor (Liberty Statue). Jessica tells me college students call it the bottle opener on the hill, but I do not think even they have that much beer. I do not know what the two statues to the sides mean, but the center one depicts a lady with the palm frond proclaiming freedom throughout the city. The statue has a mixed history of purported purpose. For decades, it was a tribute to Soviet soldiers who died liberating Budapest, but their names and the statues of the soldiers were removed in 1992, and the monument is now dedicated to "Those who gave up their lives for Hungary's independence, freedom, and prosperity," according to Lonely Planet Budapest.

| | |
| --- | --- |
| | |
| Companion to Liberty Statue. | Liberty Statue close-up. |



I took a bus down the hill, crossed the street, and made my way up Castle Hill again, this time to visit the history museum. No pictures from inside, sorry. I did note that if you commission a statue, pay extra for a reinforced neck. Judging by the broken statues in the history museum, standard necks do not last a long time.

One thing I did not observe in Budapest was signs of a recycling program, such as bins for paper, glass, or metal. I also did not see any good chocolate stores. If you want a location to sell fine chocolate without competition, Budapest is wide open.

Another thing I noticed was the temperature varied around Budapest. Not just with time of day, but also with winds and location relative to hills and the river.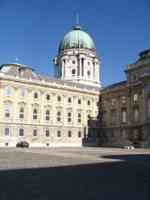 Yard at the history museum.

On the right is the courtyard at the history museum. I was there a few minutes before it opened—I was trying to squeeze what I could into my last day in Budapest.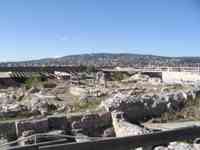 Archeology at Castle Park.

I have no pictures from inside the museum. I do not remember if they requested no photographs or I just did not find anything particularly photogenic. Most of what I recall was archeological in nature—possessions of people buried at various times and other historical artifacts. I do not recall much political history from the museum. They were doing some archeology outside. That finished my explorations on Castle Hill.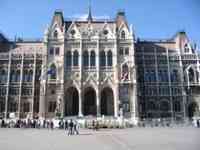 Parliament.

Next, I went to Országház, the parliament building, to take a tour. From Jessica: "One of my favorite symbols of Hungary is what I call the 'bumpy-head crown': The cross on the top of the crown is tilted as if the king who was wearing it bumped his head on a low doorway. For me it represents the strange and wonderful culture of the Hungarians."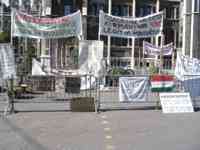 Parliament protests.

Unfortunately, there were protestors at parliament, and a tour was not available. A month earlier, an audio recording from a closed-door meeting had surfaced in which the prime minister said, "No European country has done something as boneheaded as we have. Evidently, we lied throughout the last year-and-a-half, two years. It was totally clear that what we are saying is not true. You cannot quote any significant government measure we can be proud of, other than at the end we managed to bring the government back from the brink. Nothing." (According to the Wikipedia article, that is a censored version.)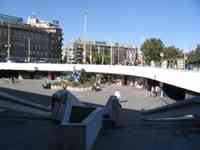 View from Metro station.

I took the metro to the end of the line in Buda to be sure I went under the Danube, completing a full circuit around it.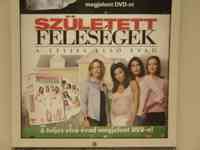 Strange Hungarian culture.

I noticed this strange bit of Hungarian culture in a metro station. I was in the metro stations a lot; I did quite a lot of zigzagging here and there through Budapest. My transit ticket was inspected three times while I was in Budapest, and I do not think that is just because I was on the metro so much; I think they were being vigorous about enforcement. Also, in Ulm, inspectors would board a bus or streetcar and inspect tickets while the vehicle was proceeding to the next stop. In Budapest, inspectors would take position at the station exits and inspect people leaving.

| | |
| --- | --- |
| | |
| Great Market Hall area. | Fungus. |
On the left in the far left image is Nagycsamok (Great Market Hall). It is where some locals shop and is the oldest market in town. On the right of that image is the start of the tourist shopping street. Nagycsamok's bottom floor is largely produce shops. The top floor has a few food stands, booths selling clothing, jewelry, tourist gear, and whatnot. At the back is a fungus display, eight cases filled with different kinds of fungus, yuck. One of them is shown in the near-left image.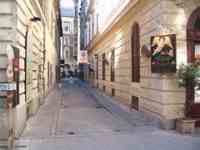 Fatâl.

The tour guide recommend Fatâl, so that's where I had dinner the night before. It was packed then; this photograph on the right is obviously before business hours. (It was a little after 1 p.m. on a Monday.)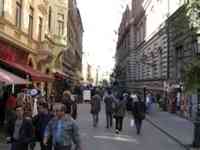 Shopping street.

Restaurant business hours, anyway; that street is off the street shown to the left, where everybody is busy shopping.

After taking a last look around, I traded the last of my forints for 150 zlotys and four euros (except for a few forints I kept as souvenirs).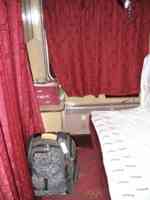 Train compartment.

Well, that is it for Budapest, time to go. Here is my train compartment. I bought first-class tickets with a compartment to myself, and it was not that much more expensive than a couchette in a shared room. (Well, not like the difference between first-class and economy-class plane tickets.) The room had a bed, a very thin closet with a hangar, electric power and light, running water, a sink, two candy bars, a chocolate-filled croissant, and two bottles of water. Except the electrical outlets did not seem to be completely working, or maybe I was missing something. The bathroom was down the corridor.

That is all the luggage I brought to Europe for 18 days.

Many people ask me about sleeping on the train. It was comfortable and would have been fine except that every time you cross a border, somebody wakes you up to see your passport. Sometimes twice, one person for the country you are leaving and one person for the country you are entering. I got a lot of stamps in my passport this trip showing entry/exit cities I had never heard of (including flying into Budapest, because the airport must not be in Budapest proper). Apparently I passed through Slovakia during the night.


© Copyright 2007 by Eric Postpischil.