Europe 2006, Essen
Here is my narrative about my trip to Europe in October 2006.
Parts
Thursday, October 19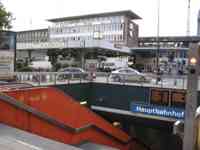 Hauptbahnhof.

I am in Essen, it is early in the morning, and my phone was greeted by Vodafone.de.

Essen has a four-day transit pass that is perfect for the four-day game fair. (If you buy the pass, know that each day you use it, you insert a different edge into a machine to stamp the date on it—top-front, bottom-front, top-back, and bottom-back. It took me a bit to figure out what to do on the second day.)

Essen is a city of about 600,000 people, but few people outside of Germany know the city. It is famous among gamers for Essen Spiel Tage (Essen Game Days), the world's largest game fair. Large and small publishers exhibit their games, vendors sell new games and old, and gamers play and buy games. There are many tables for playing games. Most of the activity centers around strategy board games and similar things. There is also a hall for comics, another focused a bit more on role-playing games, and there is a kids' area. (For gamers considering a trip to Essen Spiel Tage, Board Game Geek has a FAQ.)

Two important awards are announced at Essen, the Essener Feder (Essen Feather) for well-written rules and the Deutscher Spiel Preis, voted on by industry stores, magazines, professionals, and game clubs. However, I give more weight to the Spiel des Jahres (Game of the Year), which is voted on by German board game critics, and which is not awarded at Essen.

But, I will get to the fair later. It is early in the morning, and I have a few hours to kill. My luggage is in a locker at the train station, and I spend some time wandering around town. Throughout my stay in Germany, I was pleased to note that transactions and questions in German are much easier for me now than in 2003. Even though my Germany is still at a very rudimentary level, it is definitely better than when I left.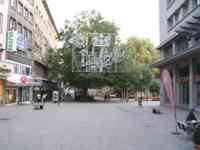 Start of shopping area.

Here is an entrance to the downtown pedestrian shopping area. Up ahead and to the left is a Games Workshop. There was one in Versailles, too, as well as several here in Silicon Valley—they are getting to be like McDonald's. They sell mostly war/miniature gaming supplies though, and not strategy board games, so I never buy anything there.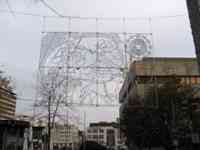 Art hanging over shopping area.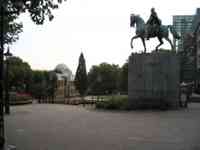 Small park by shopping area.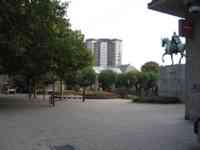 City Hall, seen from shopping area.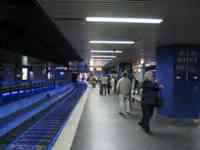 U-Bahn under the Hauptbahnhof.

This is the U-Bahn station under the Hauptbahnhof. It is pretty nice. Essen has a good transit system. For the most part, I only needed to use one line, which ran through the downtown area, the U-Bahn station, by my hotel, and to the exhibition center where Essen Spiel Tage was. However, connections to other places seemed convenient.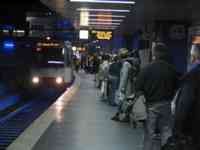 U-Bahn arrives.

Here is my train; I am going to the exhibition center, with a stop to locate my hotel first, although it is not time to check in yet.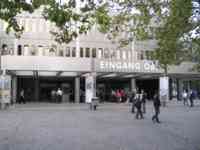 Messe entrance.

This is the Messe (exhibition center). It is early (8 a.m.) the first day of the fair, so the lines are not long yet. Many domestic visitors come on the weekend, but, if you are traveling internationally, you might as well arrive Thursday and take advantage of the lighter crowd. Also, you buy a four-day ticket for the fare, so you skip the ticket lines the subsequent days and only have to wait to get in the door. That can take a while at the start of the day but is not a problem later.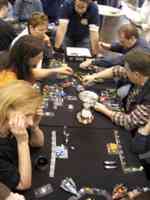 Space Dealer.

We are in! These (out of focus) people are playing Space Dealer. (Sorry, I had to hold the camera over some heads to get this shot, and it was hard to hold it steady.) On one hand, there is not much to Space Dealer basic game—you build various improvements to your mines, mine for minerals, transport them by ship, and drop them off. The gimmick is that the game is played in "real time"—all of your actions are stepped by sandtimers, and all players are playing at once. So you cannot waste time when you have a sandtimer not running; you have to decide what to do and get the timer going on a new action. Whoever has the most points after 30 minutes wins.

I bought the game, and I have played it with a few people in the US. So far, the majority opinion is that there is indeed not much to the game. After you play the first time, you are used to the timers, and it does not seem too frenetic. However, we have not played the advanced game yet, which introduces some battles and other special actions.

Actually, I think my first purchase was Buffy im Bann Der Dämonen: Gefahr über Sunnydale (Buffy in the Demons' Thrall: Danger in Sunnydale). What a great souvenir: It is Buffy, it is a game, it is German, it is a vacation momento. What more could you ask for? (Okay, it would be nicer if it were a better game. It is better than the United Kingdom Buffy game, but not as good as the US Buffy game.)

Hall.

Here is one of the halls in the Messe. These rooms were huge, and the fair used about nine of them. I kept getting lost. For my first session at the fair, I mostly walked everywhere, observing, and I did not do any playing or buying, until I saw the Buffy game. Later, after completing an initial survey, I started buying.

One of the newly released games at Essen was Der Dativ ist dem Genitiv sein Tod, which is a German word game named after a book about how crazy German grammar is. I bought a copy for my German teacher in Sunnyvale. One of the German players I played with later told me he was a German major, and German did not have the rules and regularity that English has. Hmm. Anyway, I think the title means "The dative is the genitive being dead," but since it is about word play, I would not be too sure.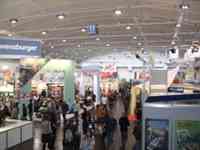 Hall.

Here is another hall. Somewhere around here, there is a food stand, and one of their items was Mexican Goulash. Well, how can you not try Mexican Goulash in Germany? So, I tried it. Funny, I cannot really remember what it tasted like. I made a note for future trips to take photographs of food for you.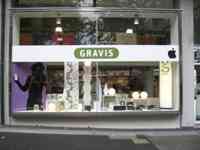 Gravis.

After making a circuit or two of the Messe, I went to check into my hotel. As you can see, my employer is everywhere. This store is between the U-Bahn stop and my hotel.

Friday, October 20
Deutsche Bahn call station.

In the morning, I tried to see a little more of Essen. Take a look at this column in the Hauptbahnhof. Note there are buttons placed at a convenient height for a standing person to call for information or emergency help. But at wheelchair height, there is only an information button. People in wheelchairs are not allowed to have emergencies?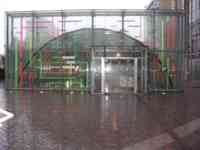 Library.

The city library has a fancy entrance. (Those are raindrops on the doors, though, not decorations.) Also, below this is Toys "R" Us, where I went to get a German power adapter for my Nintendo DS Lite. I used a combination of books and the Nintendo DS to fill time on trains and other waiting periods.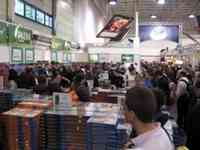 Galeria Kaufhof.

Back at the fair. Galeria Kaufhof did not bother with much furniture. They just stacked huge numbers of games in their area, leaving a little space for aisles. There are some shelves along the wall, and two tables at corners for cash registers.

Having surveyed the territory Thursday, I made several purchases here and at other vendors.

I left the fair to mail my purchases home. To save time buying packaging and wrapping and labeling, I went to Mail Boxes Etc. The guy there packed everything and then named an astronomical sum. I was shocked. I expect never to use Mail Boxes Etc. again. (By the way, they are owned or controlled by UPS.) However, my vacation time was precious, and I did not want to lug boxes around Germany, so I paid. This was for next-business-day service. There was a slower service for a minuscule decrease in price. I chose the more expensive service on the hypothesis that it had a slightly higher probability of not losing the package.

Over the weekend, I checked the on-line tracking information, and UPS was holding the package to get more information for customs. I checked my home answering machine and had a message. I called the number and got a recording saying they were open Monday to Friday. Monday afternoon, I called and was told the person (singular!) I needed to speak to had left for the day. Tuesday, I called again and was told she was out. I expressed my opinion (politely) that, for the price I paid, there should be a team of people available, any one of whom could help me. The person I was speaking to attempted to transfer me, but I was disconnected. I called the direct line of the person who was handling my package and got a message saying she only worked Monday, Thursday, and Saturday, and non-standard hours on those days.

How can they provide next-business-day service when the person who handles customs negotiation is not there most business days? Anyway, I left her a message detailing the package contents (which the packer in Germany should have recorded, language issues notwithstanding), and the package was delivered shortly thereafter. After I got home, I wrote to the CEO and asked if the service quality was worth what he paid. I received only a lame apology, not much more than "We are sorry." They did not express sympathy, they did not say they would try to do better, nothing.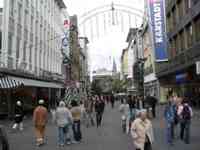 Shopping district.

After Mail Boxes Etc., I sampled Rü's Bonbonnerie, a chocolate store not too far away. It is a tiny store, and the chocolate is okay.

I went downtown again, to mail the Bach mug to Jessica and buy some supplies to mail things myself. Now it is shopping hours, so you can see there really are people in Essen.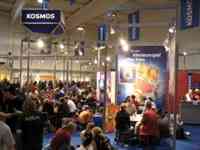 Tables.

I am back at the fair. On the left is Hall 12, and many of those people are playing Die Saulen der Erde (Pillars of the Earth). I played it once, but not at the fair—later, back home. It was okay, not a great game, and too complicated for the pleasure of playing.

Lots of tables.

On the right is a different hall and more tables. This is Days of Wonder's area. Days of Wonder is a US company. In fact, they are headquartered in Los Altos, just a few miles from where I live now. I have to remember to talk to them next time about taking packages home for me. Except I may live in New England by then.

Long view of hall.

On the left is Hall 10. You cannot see the floor, but you can see the distance from one side of the room to the other.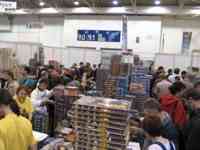 A shop.

This shop on the right is selling new and old games. I think this is Heidelbär, the same store I visited in Heidelberg. The aisle made a U shape, and there was a general flow of traffic counterclockwise. So once you were in, you were almost committed to going around.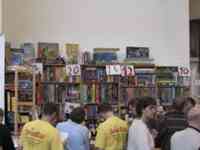 Another shop.

On the left is a shop selling mostly old games. You can find almost any game on sale at Essen Spiel Tage. At least anything that was published in Germany.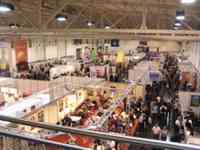 Hall from above.

On right right is a good overview shot that illustrates the scale of the hall. And this is only Hall 4, not one of the largest halls.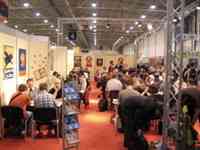 More tables.

More tables. This is a booth inside the hall above to the above right. Some of these people are playing Thurn and Taxis, a nice recently published game. It is light, meaning the rules are fairly simple and it does not feel like a very serious game, but it is nicely involving and there is some strategy. It is also one of my favorite games because it has Ulm on the board. (I have four games with Ulm on the board: Thurn and Taxis, Ticket to Ride Märklin, Wallenstein, and Railroad Dice Deutschland.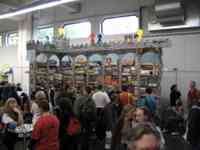 Shop.

Here is another shop. Somewhere around here may be where I bought Buffy im Bann der Dämonen: Gefahr über Sunnydale, which was never published in the United States. After returning home, I laboriously translated the rules, and then I had a new game to play. It is a travel souvenir, a game, a language lesson, and a Buffy treasure all in one!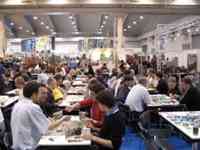 Rio Grande tables.

On the right are Rio Grande's tables. Rio Grande Games is another US company, and it does a great job importing and publishing English versions of games.

Since it is a US company, this was a good place to play games in English. I played Fiji and Yspahan here, both with native German speakers, using a little German and a lot of English.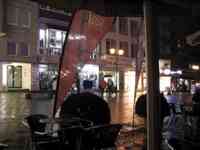 Cafe view.

I had dinner at Cafe Solo. It is a chain restaurant, but the food was very good—among the best I have had in Germany. So I ate there three nights in a row.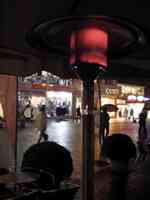 Cafe heater.

The weather was a bit chilly, but not too bad. And they heat the seating area with these heaters. New Englanders would be fine. Californians would be dead from the chill.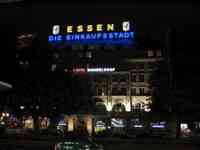 Essen / Die Einkaufsstadt.

This sign says, "Essen / The Shopping City."

Saturday, October 21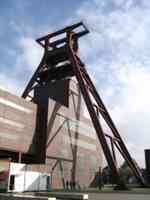 Zollverein.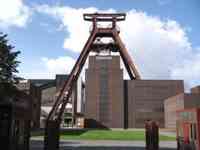 Zollverein.

Look, it is a UNESCO World Heritage Site! It is a coal mine. By happenstance, I visited five UNESCO World Heritage Sites on this trip: the city of Budapest, Auschwitz, the salt mine near Kraków, this coal mine, and Berlin's museum island.

Saturday is the most crowded day at the game fair, so instead, I made the trip out here in the morning. I did not tour the mine, though. One of the mine buildings is used for temporary art exhibitions. During my visit, they were hosting an architectural exhibition called Entry 2006, showing a number of conceptual prototypes or models, some displays about materials, and so on. For the most part, I was unimpressed. Many of them looked like student projects although they were purportedly the work of working architects. One thing I made a note of is that twenty cities around Essen are working to create a huge park, with an area of 457 km2. That might be good to visit in 2010, when I hope to return to in Essen.

My phone switched to T-Mobile Deutschland.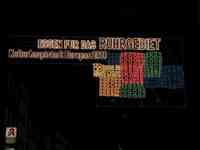 2010 Kulturhauptstadt sign.

Why 2010? Well, this sign announces that Essen will be a European culture capital in 2010. So, Essen will be spruced up and having special events. That should be a good time to visit Essen Spiel Tage again.

After the architectural exhibition, I visited the red dot design museum, which is also on the mine grounds. They exhibit contemporary designs and give design awards each year. A number of Apple products were there. One exhibit showed genuine and fake products. Some of the fakes looked good.

I did get back to the fair between the morning photographs at the Zollverein and the evening photograph of the sign, but I did not take any pictures for you. I played Der Dieb von Baghdad (The Thief of Baghdad). It is a light-medium weight game, and I might rate it about a six on the Board Game Geek scale. However, it was not clear to me whether there were good ways to block your opponents. If there were, that would add some strategy and make the game more interesting.

I also played Gloria Mundi, which is a medium weight game and maybe about a seven. It is a nasty game because it sets players against each other in mean ways. I suspect it is also prone to unbalancing, depending on the cards players get.

Sunday, October 22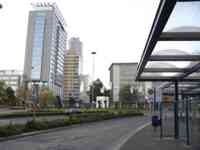 View from Hauptbahnhof.

It is Sunday, the last day of the fair. Here is another photograph of Essen, before the fair opens for the day.

My total haul from Essen was Buffy, Power Grid's Central Europe expansion, Der Dative (for a gift), two Space Dealer, two Formidable Foes (one German and a gift), Atta Ants and two expansions, Tal der Abenteuer, Figaro, and Medici vs. Strozzi (the last three by my favorite designer, and the last is now my favorite two-player game), two Hexantanz (one gift), Seenot in Rettungsboot (a reprint, Lifeboat Emergency), Die Säule der Erde (Pillars of the Earth), Fiji, Experiment, and Geschenkt (gift). Unfortunately, one Formidable Foes, one Space Dealer, and Die Säule der Erde were in a package that never arrived home, so they are gone. Fiji was too, but I bought a replacement in the US.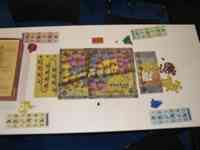 Yspahan.

I played Yspahan with some Germans. It is an okay game but not one of my favorites—there are others with more interesting strategy. I prefered Fiji, which actually has less strategy but which mixes things up and is sort of light-hearted. Fiji's goals and opportunities are selected randomly, so you have to adapt and scheme quickly.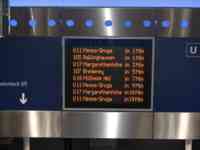 Arriving trains.

I took this photograph Sunday evening to show you how good the transit service is. Sunday is very much a day of rest in Germany, and it is evening, yet there are six trains arriving in the next ten minutes. (These are local light rail, like the Boston T or New York subway.) The light rail in San Jose (metropolitan area population one million) runs once every 15 minutes, even on weekdays, even in rush hour.

Throughout the weekend, I noticed many EVAG personnel, particularly at the Hauptbahnhof. EVAG is the Essen transit agency. I wondered why they had so many people on duty.

Another interesting thing about the transit system is that many of the escalators are two-way. At many entrances and exits, the escalators stop after a period of non-use. When a person approaches a stopped escalator, it starts moving in the appropriate direction.

This was my last night in Essen. The next morning was for travel to Berlin.


© Copyright 2007 by Eric Postpischil.