Europe 2006, Ulm and München
Here is my narrative about my trip to Europe in October 2006.
Parts
Thursday, October 26
I went to the train station in the morning. Since it seems to me that traffic flow is different between Germany and the US, I timed cycles of the signals at a couple of intersections while crossing them. At a medium-major intersection with active traffic in all directions, the signals went through a full cycle in 60 seconds. A smaller intersection cycled in 80 seconds. At an intersection near home that I guess is comparable, a cycle took 127 seconds. There are too many other factors to draw conclusions, but the difference is consistent with my impression that German traffic flows more fluidly than US traffic.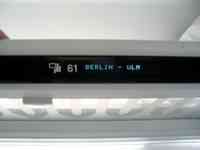 Train seat sign.

The ICE trains have automated signs showing the reserved seats. I am going to Ulm!

6½ hours and 837 kilometers later, we arrive in Ulm. (That is 129 km/hour, 81 miles per hour).

Fischerstechen.

I am back in Ulm! This has been a good itinerary. There has been a lot to see and do, I got to explore and play, my travel arrangements have worked out well, and now I finish with several days in Ulm.

Candidly, Ulm is somewhat noisier and dirtier than I remember. Hmm. Anyway, I spent a lot of time walking around and taking photographs so I would have more of a record to help me remember. I took a thousand photographs in five days. Some of them are things I have shown you before, like this sparrow sculpture, but now I have a better camera. (I reduce the photographs in size and quality for the web, but I have all the originals.)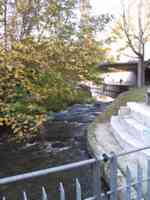 Blau.

After I checked into the hotel, I had only a little time before dark. Here is the Blau canal, near the center of town.

The following photographs are in Fishermen's Quarter. About 80 percent of Ulm's old city was destroyed in World War II, so much of this is rebuilt.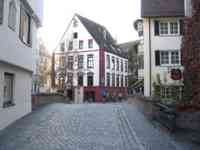 Fischerviertel.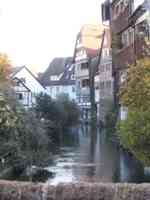 Blau.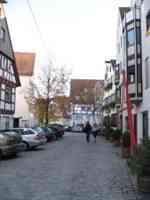 Fischergaße.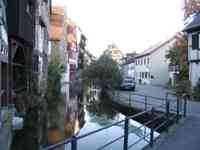 Blau.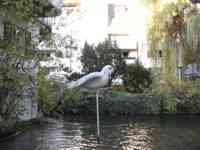 Michel.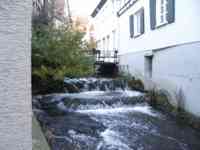 Blau.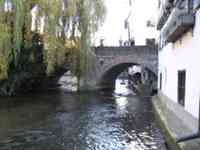 Blau.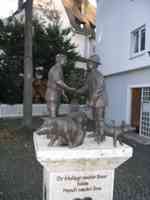 Butcher and Farmer.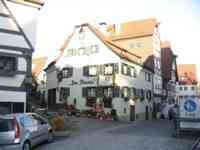 Zur Forelle.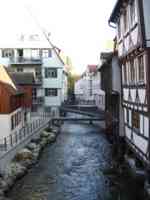 Blau.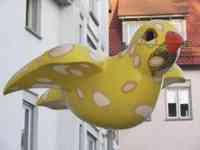 Kaes Spätzle 2.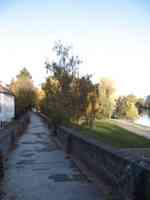 Stadtmauer.

Fischerman's Quarter extends to the city wall, which you can see to the right. Ulm is to the left, and the Danube is on the right. I followed that to Frauenstraße.

I stopped by my favorite game store in Ulm, Spieleladen Morgenland. (There is a picture below, taken in the daylight.) There were no new games for me to buy, since I just came from Essen, but I did find a t-shirt:
Ich bekämpfte Drachen
mit meinen bloßen Händen,
Ich rettete Jungfrauen,
Ich befreite Königreiche:
und alles, was ich bekam,
war dieses
lousige T-shirt!
I fought dragons
with my bare hands,
I rescued maidens,
I freed kingdoms:
and all I got
was this
lousy t-shirt!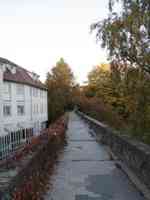 Stadtmauer.

Around the corner from the Spieleladen Morgenland is a small grocery store I hardly ever visited, but they were the only source for a cereal I liked. It appeared to be a small brand, sold in a clear bag, and was crunchy with some berries. Unfortunately, the cereal seems to be gone. That was not the last of the changes I found in Ulm.

Jumping ahead, here are some of the changes. The Hauptbahnhof train display changed from mechanical to electronic. Some of the city transit stops now have electronic displays with real-time estimates of times until the next streetcar or bus arrivals. In Blautal Center, the natural food store has been replaced by EB Games (a US video game store), which feels strange. Also in Blautal Center, my bank branch is gone. The sparrow sculpture at the west EADS gate is gone (but I hear that is likely temporary). The Wallenstein sparrow sculpture moved. The hiker sparrow sculpture was elevated and mounted. My gym moved the exercise equipment to a different building. In the old building, the men's and women's changing rooms were switched. The sporting goods shop near my apartment is now a kebap place. The building they were constructing across from my grocery store is done. The souvenir store I emptied when I left Ulm is now an Internet cafe. Mutschler Center, a mall in Neu Ulm, is dying—Möbel Mutschler, the department store, is gone, and a big toy and game store is gone.

I ate dinner at Kornhäusle, a pancake/crêpe restaurant that I often ate at before German class, in part because it was near the school. Afterward, I bought a German children's book and matching CD, so I can practice reading full sentences, whoohoo. (These were in the lost package, so I replaced them through Amazon.de.)

Friday, October 27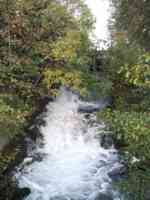 Corner park.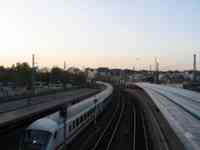 Tracks at Hauptbahnhof.

In the morning, I set out to document the path from the center of town to where I lived. Going south from the Hauptbahnhof (near right), you pass a stream (far right) while turning right onto Neue Straße.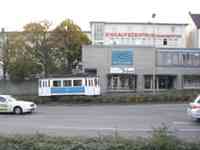 Strange Straßenbahn.

I saw this streetcar while walking walking west on Neue Straße. It is odd. It is not one of the usual passenger vehicles, and it does not seem like a service vehicle either.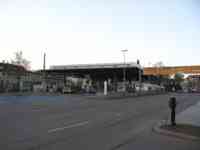 Ehinger Tor.
Ehinger Tor.

Neue Straße ends at Ehinger Tor, which used to be a city gate and is now a major local transit transfer point.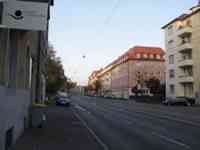 Wagnerstraße.

From Ehinger Tor, I walk west on Wagnerstraße, one of the larger streets in the area. The Straßenbahn runs down the this street.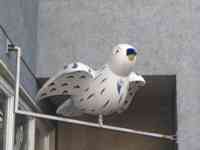 Objekt Spatz.

Here is another sparrow, just a new photograph of one you've seen before. EADS, where I worked, is just two blocks south.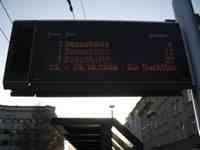 Transit sign.

Here is one of those new electronic signs. They tell you when the next streetcar is coming. (Sorry, the sun was in the wrong spot for me to get a good photograph.)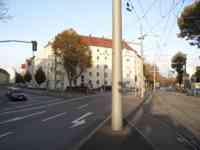 Westplatz.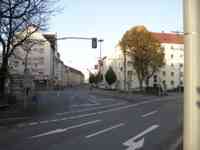 Soeflinger Straße.

This is Westplatz, at the intersection of Wagnerstraße and Söflinger Straße. This is where I would get off the streetcar to go to work at EADS. The near-right view is looking west on Söeflinger Straße (toward home) from Westplatz.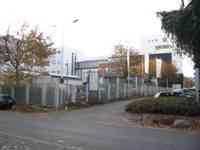 EADS west gate.

A quick detour two blocks south takes me to the west gate of EADS.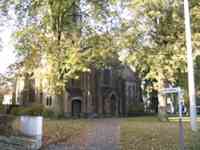 Söflingen Church.

Back on the route to home, this is a church in my neighborhood.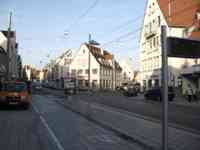 Fork.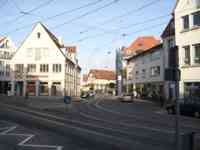 Uhrenmachergaße.

A block later, Söflinger Straße forks and becomes Neue Gaße, while Uhrenmachergaße (Clockmaker Lane) goes off to the right. This is my neighborhood; sometimes I shopped here, and the Straßenbahn loops around these roads to turn around.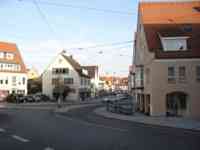 Loop.
Kapellengaße plaza.

Here is the last block; this is where my street, Im Baindtle, lets out, so I went through here every time I went to or from home, except for the small back exit that heads off to the gym. This is the block north of the streetcar terminus.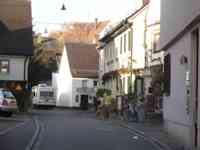 Front of Im Baindtle.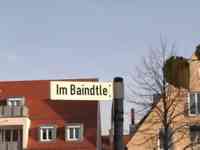 Im Baindtle sign.

Im Baindtle, almost home! But I am veering off, there is more to see, and I will come back later.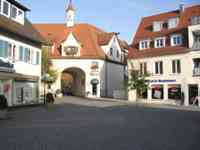 Klosterhof gate.

Continuing north, the plaza has a gateway into a courtyard. There is a pond, a church, some restaurants, a parking lot, and some residences.

Klosterhof pond.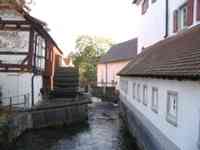 Klosterhof stream.

Now we will follow the stream, which is the Blau canal, out of the courtyard. It goes quite a ways. Follow it in the pictures—this is the path I used to get to the gym.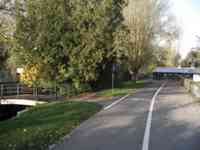 Path.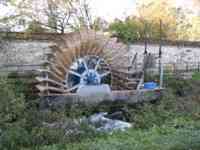 Waterwheel.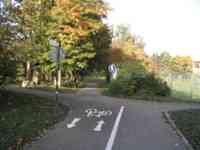 Blauweg.
Blauweg.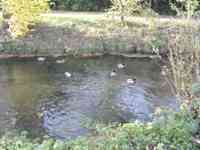 Blaukanal ducks.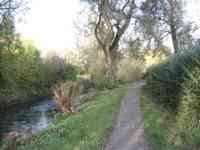 Blauweg.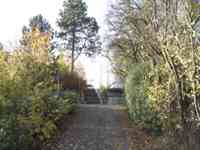 Up to gym.

I left the Blau canal and started up to the gym.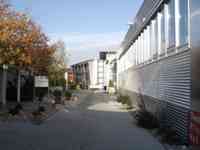 Gym.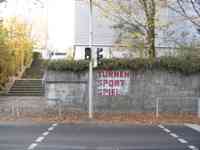 Gym entrance.

Here is the gym. It looks the same on the outside, but they moved the fitness equipment to a different building.

View from gym.

That was quick; I did not spend any time at the gym. Here is the view on the way out.

In the bushes next to the steps at the gym, there is a memorial to their dead (shown below). I do not expect many people die at the gym, but I suppose they pile up after 125 years.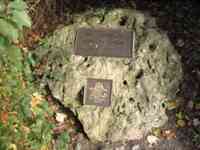 Gym memorial.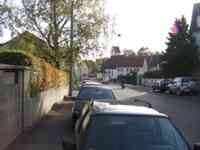 Approaching home.
Harthauser Straße.

I usually took a different route home from the gym, along this road following the hill down.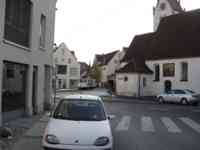 Strange Straßenbahn.

There is that strange streetcar again.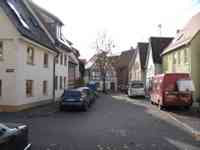 Back of Im Baindtle.

I am back at Im Baindtle, and I have gone in this time. Im Baindtle goes in about 20 meters and then turns left, and this is the left part. You can only see the edge of my house here; it is to the left of the one in the center.

Home.

There it is. I knocked on my landlady's door and on my neighbor's, but neither was home. I left them a little California souvenir and a note. They were in when I came back a few days later, and I was able to have a little conversation with each of them—my German has gotten a lot better, although it still has a long, long way to go.

A sign on a neighboring house says it was built around 1625 by Bartholomäus Vogt in the turmoil of the 30 Years War.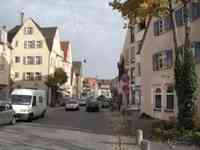 Schösslesgaße.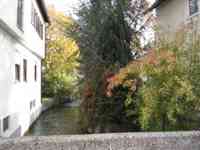 Stream.

I am leaving the neighborhood again. This is east of the courtyard heading north, on the way to the grocery store and the mall.

The Blau canal runs through here too (right).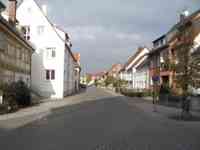 Klingensteiner Straße.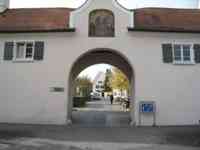 Klosterhof gate.

Klingensteiner Straße, hmm, Ringing Bells Street (far left)? This is north of the courtyard. The near left image is on Klingensteiner looking through a gate into the courtyard.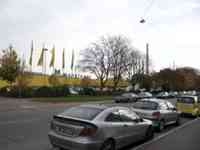 Marktkauf.

This was my grocery store, Marktkauf.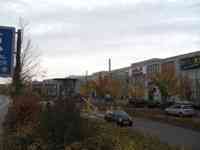 Blautal Center.

The mall, Blautal Center, is almost directly behind Marktkauf, but the Blau and some industrial buildings are in the way, so I had to walk a few blocks west, north, and east.

That is it for the trip out to the Söflingen section of Ulm.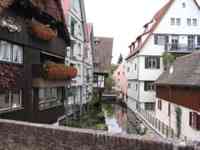 Fischerviertel.

Back in the center of town.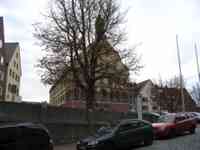 Schworhaus.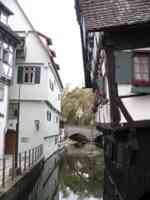 Schiefes Haus.

Near right is the Crooked House, one of Ulm's tourist attractions. Far right is the Schworhaus, the Swearing House where the mayor takes the oath of office. It was built in 1612 and 1613.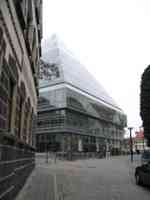 Library.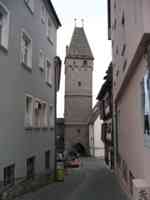 Metzgerturm.

Far left is the new library. I think it was still under construction when I left Ulm in 2003.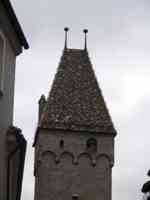 Metzgerturm.

Near left and right is the Metzgerturm, the Butcher's Tower.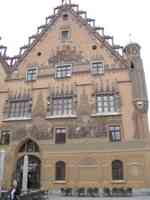 Rathaus.

Every town has a Rathaus. This one was built in 1369 and 1370. It was altered around 1525, and the mural was painted around 1540.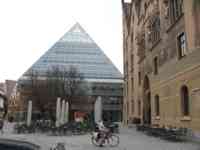 Library and Rathaus.

New and old together.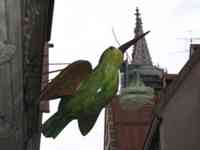 Kolibri Spatz.

This is Kolibri Spatz, Hummingbird Sparrow.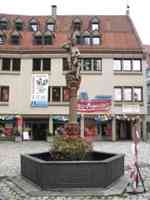 Fountain in Judenhof.

The fountain on the rightis in the old Jewish section of Ulm, within the town center.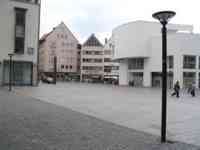 Stadthaus.

Here is the new Stadthaus, seen from the town square. The Stadthaus has some historical displays, and I spent some time there. After the war, there was disagreement about what to do with the space by the Münster. Some people wanted to rebuild there, and some wanted to leave it open. Around the 1960s, it was a parking lot. Now it is open space, which I think works really well here. It also serves as a good place for the farmer's markets and for festivals.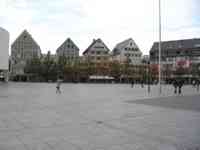 Marktplatz.

Marktplatz is an open plaza most of the time but packed with stalls or seats or other things during festivals and markets.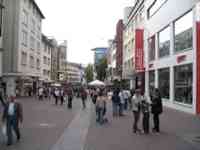 Hirschstraße.

Hirschstraße is the main shopping street.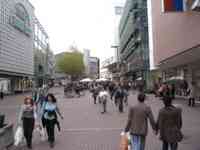 Bahnhofstraße.

Hirschstraße leads to Bahnhofstraße, which of course goes to the train station.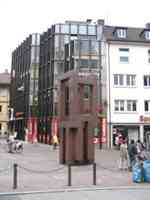 Albert Einstein's birthplace.

Albert Einstein was born here. Not in the open; his house was where the monument is now.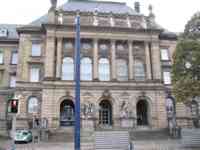 Justizgebäude.

This is the courthouse. The Straßenbahn stop where I would get off to go to German class is here.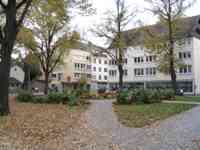 Park by Justizgebäude.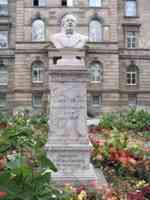 Mayor Carl Heim.

This is a little park next to the courthouse. Carl Heim was a mayor of Ulm. I do not know what he did to rate a monument, although it looks like he served as mayor for a long time, 37 years.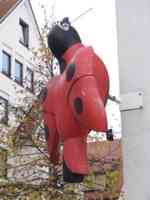 Marienkaeferspatz.

Here is a new picture of the Ladybug Sparrow.

I met Martin, Andreas, and Ottmar for dinner at Hotel Bäumle. Martin left EADS and is running a company for his father-in-law. Andreas and Ottmar said to let them know if I am interested in a job with six weeks vacation a year.

After dinner, Ottmar showed me one of the best changes in Ulm since I left. There is a new fine chocolate store in Rabengaße, Confiserie Chocolat. It was closed for the night, but I came back the next day. And Monday. I recommend the Meersalz, chocolate with sea salt. That's not good for your blood pressure, but the salt brings out the chocolate flavor.

Saturday, October 28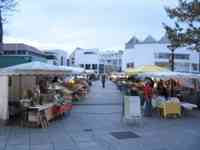 Wochenmarkt.

Each Saturday and Tuesday, a farmer's market is set up in Marktplatz. It is early morning, so not many people are around yet. I took several photographs to illustrate the size of the place. These photographs all show different aisles, not just different places along aisles. I will come back later in the day when the sun is higher and get a photograph from the top of the Stadthaus.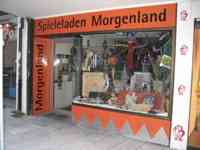 Spieleladen Morgenland.

Here is Spieleladen Morgenland in the daytime.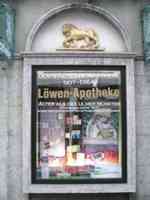 Löwen Apotheke.

This is Löwen Apotheke (Lion Apothecary), and their sign says they are Ulm's oldest apothecary, since 1364, are older than the Münster (started in 1377), and are in the 14th generation of the Maurer family.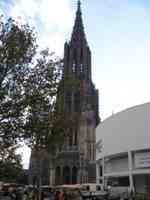 Münster and Stadthaus.

Back in the center of town, here is the Münster and the Stadthaus.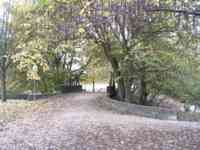 Friedrichsau.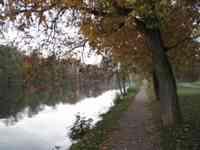 Donau at Friedrichsau.

This is way out from the center of town, at the Friedrichsau park, which houses the zoo, fairgrounds, a beer garden, sports stadium, and so on.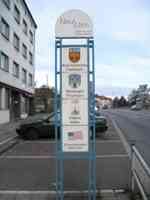 Sister cities.

I walked back toward the center of town and crossed the Danube into Neu-Ulm. One of Neu-Ulm's sister cities is New Ulm in the United States.

I walked to Mutschler Center (a small mall), which was a longer walk than I expected because there was a detour for construction. Mutschler Center was always a bit of a nuisance to get to because it did not seem to be on any convenient bus line, which is pretty unusual—public transit in Europe is usually excellent. Several stores in the mall have closed, including the big department store, Galeria Kaufhof, and a good toy and game store. It does not look good for Mutschler Center.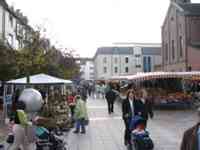 Neu-Ulm Wochenmarkt.

Neu-Ulm's weekly market is not as big as Ulm's.

Ulm across the Donau.

Here is a photograph looking across the Danube to Ulm from Neu-Ulm.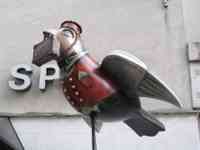 Updated Hotel Spatz.

The bellhop sparrow has been altered. It has been repainted, the decorative design on the wings is gone, the cap is a little fancier, and the suitcase is new.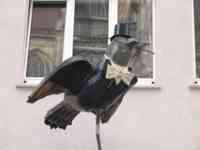 Spatz im Frack.

The sparrow in a tuxedo looks the same.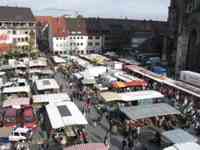 Wochenmarkt.

Here is part of the farmer's market seen from the roof of the Stadthaus.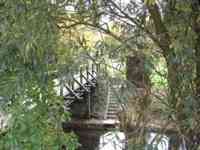 Blauinsel park.

Going west from the train station gets you to Blauinsel, Blue Island, between Kleine Blau and Große Blau. From the map, it looks like Kleine Blau runs under the train station and a few blocks of the city. Most of Blauinsel is a park.




I stopped by my former home again and found both Frau Moser, my landlady, and Herr Kling, my neighbor, in. I was actually able to hold brief conversations with them, another sign that my German actually improved while I was in the United States. Mostly just simply questions and answers, with some repetition or rewording, but much better than my ability in 2003. I used to speak with Herr Kling via his son, who spoke English very well, and with Frau Moser only through an intermediary or with prepared phrases. Frau Moser said I was her favorite tenant.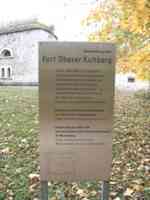 Fort Oberer Kuhberg sign.

As I mentioned, I learned at the Berlin Holocaust museum there are two memorials in Ulm. One of them is Fort Oberer Kuhberg. I am unsure whether Kuhberg is inside or outside Ulm's current border, but it is farther from the center of town than I normally went.

Fort Oberer Kuhberg was built from 1848 to 1857. From 1933 to 1935, it was used as a concentration camp for the state of Württemberg. Now it is a protected memorial site.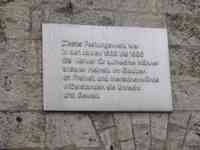 Plaque.

"Dieses Festungswerk war in den Jahren 1933 bis 1935 der Kerker fuer aufrechte Maenner unserer Heimat im Glauben an Freiheit und Menschenwuerde widerstanden sie Unrecht und Gewalt." ("This fort was in the years 1933 to 1935 the dungeon for upright men of our homeland. In the belief of freedom and human dignity they opposed injustice and violence.")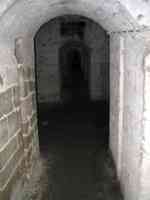 Corridor of cells.

The prison cells are underground, under one wall of the fort, down a steep dark staircase. They are a row of small, dark, cold rooms. There are about fifteen like those shown here. The last has the three stone toilet holes. Several had bunks, reconstructed I presume, and one had a wooden table and two benches.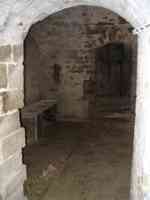 Toilets.

Plaques with words from the former prisoners mention iron gates to individual cells, so these rooms must have been subdivided in some way, although the gates are no longer there. Water ran down the walls, softening the clay soil, so you would sink into it up to your ankles.

Willy Pflugbeil described the meals: 7 a.m., thin chicory coffee with black bread. 12 noon, one tin bowl of stew consisting of beets, grits, rice, lentils, and so on. 6 p.m., black bread with butter, cheese, or black sausage.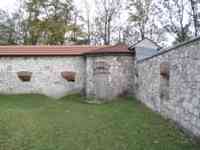 Prison door.

There were very few other people there at the time I was there, but there were signs of active programs to educate people and keep society aware of the events that happened at Fort Oberer Kuhberg. I saw notices of lectures, pictures of meetings, indications school groups visited, ongoing exhibit developments, and property maintenance.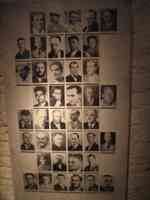 Former prisoners.

These are photographs of some of the people who were imprisoned here.

The main building of the fort has displays and information. I read a little of it. It was all in German, so I could not understand all of it, but I learned a little of what was happening in Ulm. There were also some newspapers printed at the time and photographs. Early on, there was criticism of Hitler, even parodies. Some of the pictures showed Nazis in Ulm's main square, which is very strange since I know Ulm as it is today.

I took the bus back into town. There are new LCDs in the buses. One panel rotates displays of information about the next stop (time until the stop, name, connecting buses and trams), names of upcoming stops, time until the end of the route, and the current time. Another panel next to it shows ads and transit system information.

At Müller, I bought the first season of Buffy the Vampire Slayer. It contains the original English audio, German dubbing, English subtitles, and German subtitles, so I can mix and match to practice German in various ways.

It's getting dark, so let's see what Fisherman's Quarter looks like at night.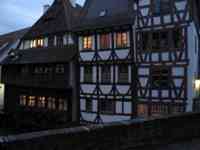 Fischerviertel at night.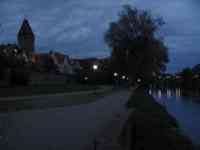 Donau at night.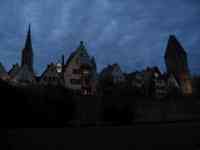 Ulm at night.
And the city center.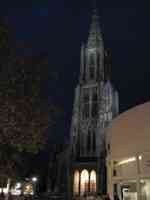 Münster and Stadthaus at night.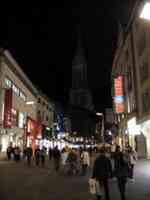 Hirschstraße at night.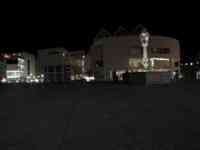 Stadthaus at night.
Sunday, October 29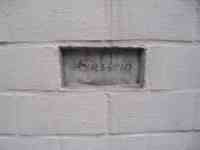 Ein Einstein Stein.

Morning again, and it is Sunday, so not much is open. I walked around to collect photographs for my own memories. You have seen Ein Einstein Stein before, if you read my original Germany journal. This is on the east side of town.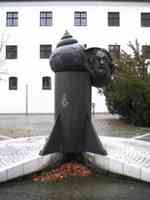 Einstein fountain.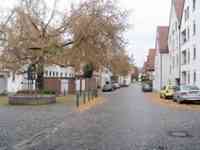 Griesbadgaße.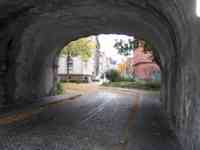 Bridge at Griesbadgaße.
From here, I walked north and explored a few parts of Ulm I had not gotten to yet. I found a new sparrow sculpture! And another! I took a lot of pictures, enough to drain my (rechargeable) batteries. Here is the first, Spektralfarben 4. I came back the next day when the light was better and took more pictures of the other sparrow, so its photograph is below, in Monday's section.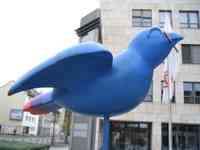 Spektralfarben 4.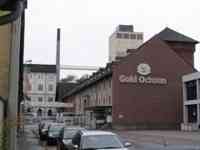 Gold Ochsen brewery.

To the right is one of Ulm's breweries.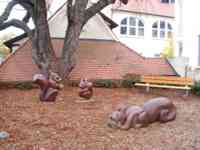 Squirrel sculptures.

This is a tiny park by the city wall, next to the Danube. Pretty much, I am just walking through town collecting photographs.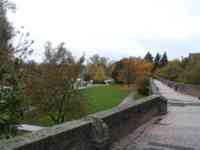 View from Stadtmauer.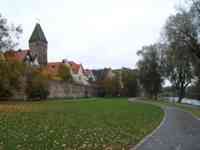 Donau Park.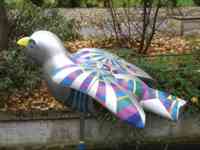 Albrecht Berblinger.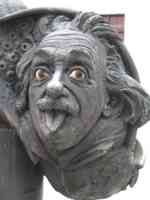 Sculpture on Einstein fountain.
Che Spatzeuvara.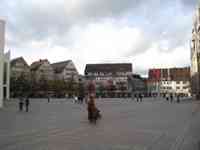 Münsterplatz.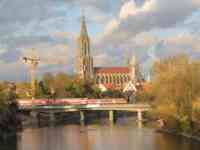 Regional train crossing the Donau.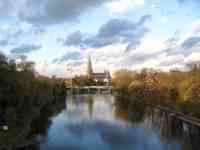 The postcard view of Ulm.

I suspect I took the photograph on the left with the "make foliage look good" setting on my camera. The foliage looks pretty good, but I really need a "remove crane" setting.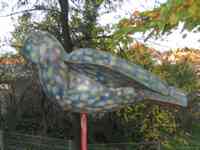 Noch Ein Eierspätzle.

It is another new sparrow! That is three sparrows I found this trip. This is Noch Ein Eierspätzle (Another Egg Sparrow). It was in the playground of what looked like a kindergarten or day care center.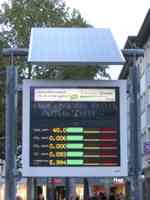 Air quality display.

I think this sign is new since I left. It is a real-time pollution display.


The Münster is lit at night, and I used long exposures to show you. There is a train passing through the third photograph.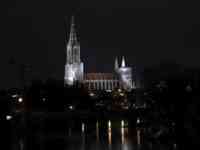 Münster at night.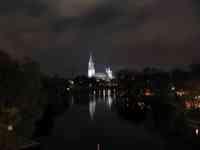 Ulm at night.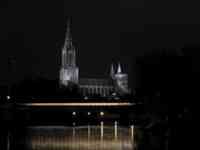 Train crossing the Danube.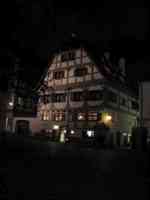 Zunfthaus Der Shiffleute at night.

The old Zunfthaus Der Shiffleute (Guild Hall of the Ship People) is now a restaurant. I had to wait forever for people to finish reading the menu on the door and deciding whether to go in or not before I could get this photograph.

Monday, October 30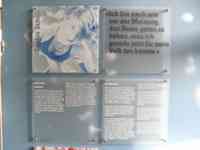 Sophie Scholl memorial.

Here is the second Holocaust-related memorial in Ulm. These displays are in the foyer of the Volkshochschule. I was there twice, to register for class, but of course I would not have been able to read German then, and I did not know what this was about.

These displays tell about members of Die Weiße Rose, The White Rose. These people opposed the National Socialism (Nationalsozialismus). They printed and distributed pamphlets and painted anti-Nazi graffiti. Hans and Sophie Scholl and Christoph Probst were caught distributing pamphlets in München, tried three days later, and executed that day.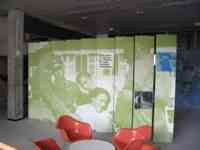 Center of the memorial.

I recently learned that around the time I was living in Germany, there was a television show in which viewers voted for the best Germans. Sophie Scholl came in fourth! And she was first among young people. Physically, The White Rose may have had little effect at the time, but they acted on their beliefs and are a powerful and respected symbol of what people should do.

The memorial runs along three walls and the panels in the middle of the room, and it tells briefly about the lives of The White Rose members, including Otl Aicher, Willi Habermann, Frido Kotz, Alois Schnorr, and Pfarrer Weiß.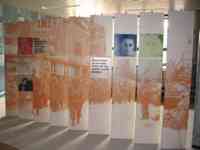 Reverse side of panels.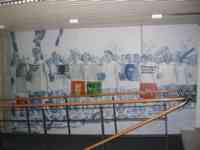 East wall with information about more White Rose members.
Right side of north wall.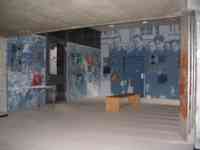 Corner.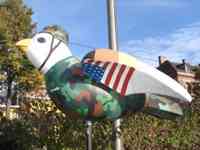 Der Bund Spatz.

I went back for a photograph of the first new sparrow I found. It is at some (German) federal building.

Then I found a neat t-shirt at Jeans Halle. It has an image of the Münster and the lettering:
Ja, ich bin die
ersten
10
von
768 Stufen gelaufen!
Yes, I ran the
first
10
of
768 steps!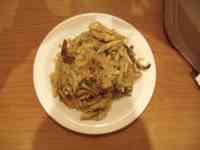 Schupfnudeln.

I went to the mall for lunch, because it is the only place in town that has Schupfnudeln when there is not a festival. Unfortunately, it is a bit dry, not as good as the festival stuff. But it did give me the idea to photograph meals on future trips; some of them have been pretty nice-looking.

I have a print of an 1835 woodcut of Ulm that I bought through eBay, entitled Ulm von der Wilhelmshöhe. I made a copy and looked for the viewpoint depicted in the woodcut. Clearly it was southwest of the center and above most buildings, so I went to the city wall and headed west. I got about as far west as you could go on the wall without being obstructed, and the view still was not right.

I was by a hill, and there was a wall or something at the top, so I looked around for a path that might lead there. When I got to the top, I found a small park and a wall with a zig in it like the one in the woodcut. The current wall is brick, and the woodcut shows a stone wall, so the wall has been rebuilt, but they kept the zig in it.

Three of the buildings definitely match up: The Münster, the Schworhaus, and the Rathaus. Most of the rest of the buildings are different. However, the woodcut shows a woman and two children, and, when I arrived, there was a woman and two children there. Not everything changes in 170 years. I should have asked them to wait while I got a picture to match the woodcut.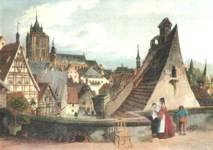 Ulm von der Wilhelmshöhe, 1835.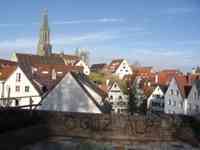 Ulm von der Wilhelmshöhe, 2006.
(Incidentally, my print of the woodcut is a bit larger than my scanner, so I had it scanned at Kinko's. They gave me a 172 MiB JPEG file with 1079 by 803 resolution. That is over 200 bytes per pixel, which is absurd. And the image is ruined by a moiré, so it is unusable. For this, they charged me $10.77.)

Stadtmauer.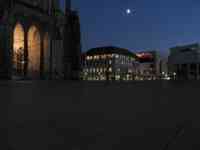 Münsterplatz Night.

This was my last night in Ulm. I hung out in Münsterplatz for a while and watched people go by. There are plenty of people in the photograph to the left, but they were averaged out by the long exposure.

Tuesday, October 31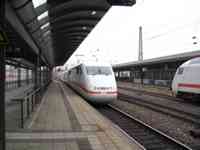 Train to München.

My trip is about over. I took a train to München and flew home. However, I did schedule a few hours to have lunch in a vegetarian buffet restaurant and wander around the city, so here are a few final pictures.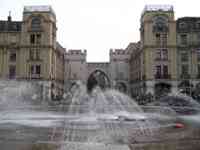 Karlstor fountain.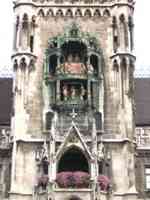 Glockenspiel.

There were some lion statues on display around München, for some project for needy children. None shown here, sorry.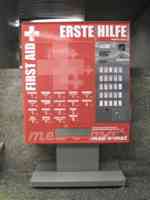 First Aid vending machine.

This first-aid vending machine is in the Hauptbahnhof. It is selling:
Pflaster Set.
Verband Päkchen.
Desinfektion Tuch.
Taschen Tuch (Papier).
Kondome Ritex BB1.
Tampons o.b. normal.
Tampons o.b. light.
Wasch/Dusch Gel.
Mundspray Odol.
Zahnputz Set.
Alkohol Test.
Drogen Test.
Schwanger Test.
Fieber Test.
Hals Lutschtabletten.
Husten Lutschtabletten.
Magen & Atem Kautabletten.
Energie Gums.
München airport is my favorite. The security screening area was huge, and there was essentially no wait even though only nine of the twenty lines for my gate area were operating. (There must have been others for other parts of the airport.) The United States has really messed up security. Since other countries prove it is possible, the customers and airlines ought to demand better in the United States. However, the procedures at München did have a flight check-in, a boarding pass check, security screening, passport control, another boarding pass and passport check, data collection, another screening, and a final boarding pass check at the gate. Those should be consolidated.

That ended my vacation. Then I flew home and took over a year to write it up.


© Copyright 2007 by Eric Postpischil.